Day 2 will be the final day for the offensive skill positions to show off their talents to NFL evaluators at the 2017 NFL Combine. On Friday, the combine was highlighted by the running backs — especially Christian McCaffrey and Leonard Fournette — but Saturday is for the perimeter game, with the wide receivers, quarterbacks and tight ends. We broke down which running backs to keep an eye on and hit it pretty much on the head (not to brag) and then we told you which receivers to keep an eye on for tomorrow.
With a limited number of quarterbacks and tight ends who will turn heads at the combine or represent any fantasy relevancy in 2017, we decided to merge them together into one, simple place.
Here are the quarterbacks to watch for on Saturday at the 2017 NFL Combine:
Deshaun Watson — If you're not a big college football fan but did watch the two Alabama-Clemson title games, you know that Deshaun Watson is a winner. He laid all out on the line in the first matchup, exposing Nick Saban's defense for what it's worth — even in a losing effort. Then he came back the following year, only to score a combined 66 points on Urban Meyer and Saban's defenses en route to a title. Scouts have had issues with his intermediate accuracy, but if I had to pick one of these quarterbacks to hitch my wagon to in this class, Watson would be my guy.
Mitch(ell) Trubisky — Mitch Trubisky lost serious points during his interview on Friday when he declared to the media that he wanted to be referred to as "Mitchell" from now on. Who the fuck wants to draft a Mitchell Trubisky to be the face of their NFL franchise? I think a Mitchell Trubisky is the name of an accountant at my day job, not the name of the first quarterback called at the 2017 NFL Draft. Next to that horrendous decision, the biggest question mark surrounding Mitchell is his lack of experience. This was his first season as a starter at North Carolina, and he honestly had a "meh" season. He showed flashes, but Cleveland has had talks about taking him No. 1 overall? Hard pass.
Deshone Kizer — Have you heard? Deshone Kizer's Notre Dame squad went 4-8 last season. Sorry, but I can't take any quarterback serious who led a team as talented as Notre Dame to a four win season. The Irish's talented offense put up 3 points against NC State, in which Kizer went 9-26 passing, and they also lost to Navy and Duke. Sure, he might possess the size (6-foot-4, 233 lbs) and elite arm strength, but you have to find a way to win games as a starter — especially at a school like Notre Dame — to be considered the first or second quarterback taken in the draft, in my opinion.
Patrick Mahomes — Mahomes has the most to prove at the combine out of these quarterbacks. Mahomes hails from Texas Tech, where he ran the air-raid offense under Kliff Kingsbury. He threw the ball a billion times, so of course he put up the stats, but there's something different about Mahomes compared to other air-raid quarterbacks. First, he can make every throw. He's not just a timing route passer in that offense, he can throw outside the numbers and make tough, NFL throws. Second, he possesses mobility to keep plays alive and he also brings a little physicality as a runner. He's the most intriguing quarterback in this class and he should put on a show at the combine and at his pro day, which could bump him into the first round.
Here are the tight ends to watch for on Saturday at the 2017 NFL Combine:
OJ Howard — Alabama just doesn't use the tight end enough, which is why it wasn't a surprise when Howard declared early for the draft. He balled out in the 2015 National Championship Game against Clemson, but was completely underutilized throughout his career in Tuscaloosa. He is big (6-foot-5, 251 lbs), physical and a talented pass catcher. Howard is the clear TE1 in this class and he should test off the charts on Saturday.
David Njoku — Njoku brings the most athleticism in this tight end class and is the clear TE2. He's 6-foot-4 with the longest wingspan in the group (35 1/4 in.), which makes him a matchup nightmare. Njoku was made for the NFL combine, as he is an elite athlete with an unfair frame. Similar to Howard, he will be fun to watch in every event on Saturday. During his interview on Friday, he declared that he was going to break the NFL Combine broad jump record… at 246 lbs.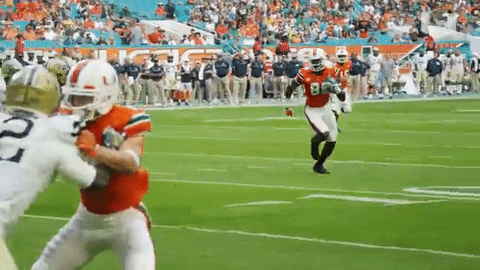 Evan Engram — Looking for a pro comparison for Evan Engram? How about Jordan Reed. He is an excellent pass catching tight end, who fits perfect in today's NFL. Engram will be utilized as a move tight end, who can flex out in the slot and outwide. Engram will shine as a route runner and it will be interesting to see if he can break the 4.6 mark in the 40.
Be sure to follow us on Twitter, Facebook and Instagram as we will bring you analysis throughout the 2017 NFL Combine, NFL Free Agency and the NFL Draft.