Now that the dust of Super Bowl LI has settled and the offseason is in full swing, it's time to install another episode of the coaching carousal. We've covered two NFL coaching changes and the way they have impacted the fantasy culture, so if you've missed those, click here for the LA Rams and Sean McVay, and click here for the LA Chargers and Anthony Lynn. Today, we're staying on the west coast, as we look at Ex-Atlanta Falcons offensive coordinator and new San Francisco 49ers head coach, Kyle Shanahan.
Just like the other two coaches we've dissected, this will be Kyle Shanahan's first ever experience as a head coach, but unlike the other two, he had a father who brought him up in this football life.
Mike Shanahan
Mike Shanahan is probably most well-known for bringing back-to-back Super Bowl titles to the Denver Broncos. The Broncos were a team that was completely dominant on offense, led by Pro Football Hall of Famers John Elway and Terrell Davis. Kyle grew up around the team, constantly around practice and games, and this could be a big reason why Kyle coaches the way he does now.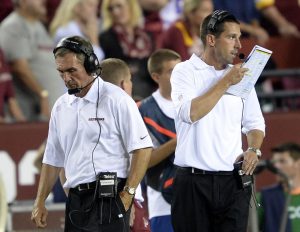 Kyle Shanahan
Growing up with a father who possessed an offensive mindset like Mike Shanahan could have helped mold the same type of mind that Kyle displayed as the Atlanta Falcons offensive coordinator the past two seasons. The big question for Shanahan in San Francisco is the talent discrepancy from what he was used to in Atlanta.
In Atlanta, Shanahan got the most out of Matt Ryan, turning him into the league MVP and putting him in position to blow the doors wide open in any given situation. When you have two stud running backs in Devonta Freeman and Tevin Coleman, and arguably (I think) the best wide receiver in the game, Julio Jones, almost anything is a step down, but the 49ers are biggest possible step down you could have.
2016 49ers
If we're being honest, the 2016 49ers were awful, downright pitiful, and they beat the Rams twice so that should tell you something about what Sean McVay is in for. Honestly, if the 49ers played the Browns this past season, my money would have been on Cleveland.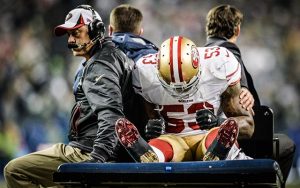 No clear stars emerged from the 49ers last season, and when they lost former All-Pro linebacker Navarro Bowman to injury, the 49ers didn't have a shot at shipping an athlete to the Pro Bowl.
The major issue in San Francisco is the uncertainty at the quarterback position. When Blaine Gabbert and Colin Kaepernick are your two main options at the league's premiere position, it's never a good sign.
A clear leader at quarterback needs to be determined for 2017, and it seems as if Shanahan's old friend Kirk Cousins could be the answer. NFL Network's Daniel Jeremiah was recently quoted saying, he "wouldn't be shocked at all" if the Redskins and 49ers came to a trade involving Cousins. This would be the biggest offseason quarterback pickup by any team, in a year where there are limited options.
As we've seen, Cousins has the ability to put up big numbers and is highly regarded across the league. Kyle Shanahan was a big reason why the Redskins drafted Cousins in the same draft as Robert Griffin III, when Shanahan was the offensive coordinator in Washington. Shanahan was able to develop Cousins behind RGIII and Matt Ryan had his best season under Shanahan, showing Shanahan's ability as a 'quarterback whisperer.'
Shanahan Calling the Plays?
Now as we've learned from Ian Rapoport, Kyle Shanahan doesn't plan on hiring an offensive coordinator at all. It looks as if he's targeting an offensive assistant instead, which is an extremely bold move coming from the first-year head coach. Sure, he has plenty of offensive expertise, but he's not bringing the Falcons heavy hitters with him. This could either be a great decision or a really, really disastrous one right off the bat.
The offensive assistant that Shanahan hired is, T.C. McCartney. A man who served the same position in 2015 with the 49ers and is coming back to the NFL from LSU as their offensive assistant as well. LSU was able to run the ball in 2015, but their passing game was a major question mark. McCartney could be a positive to the 49ers lone offensive threat, Carlos Hyde. It will be interesting to see how much input McCartney he has on the play calling, if any.
Running Game
There's no doubt Kyle Shanahan helped produce one of the most dominant one-two punch running back combos in the whole NFL. Devonta Freeman and Tevin Coleman created an almost unstoppable two-headed monster, and that could be something he tries to replicate in San Francisco.
Hyde fits the bill as an every-down power back with respectable hands, who could fill Freeman's role. As a matter of fact, Hyde is an inch taller than Freeman and out-weighs him by about 30 pounds, which should make him more effective between the tackles. Hyde, however, has struggled with his durability and has had troubles staying on the field, which will allow Shanahan to implement Shaun Draughn to limit Hyde's carries.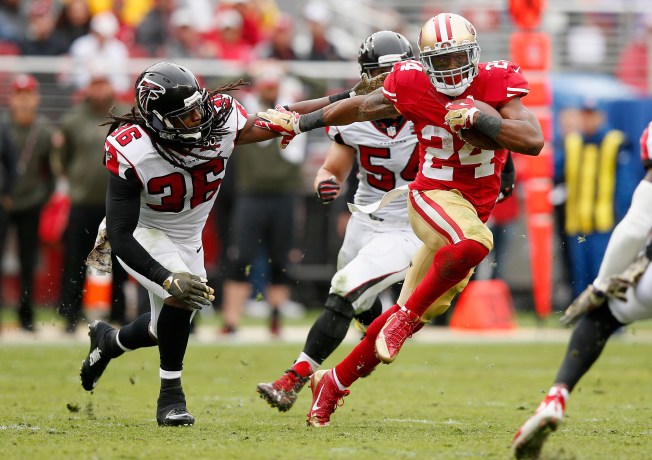 Draughn and Coleman are similarly physically, but Coleman is a legitimate burner (4.4 40-yard dash to 4.7 for Draughn). Coleman excels in the open field and out of the backfield, whereas Draughn does a lot of things well, but not great.
While Hyde has shown flashes of greatness and Draughn is a serviceable RB2, expect the 49ers to target a true pass-catching back in the upcoming running back-heavy draft. It will be interesting to find out how Kyle Shanahan can implement his offense which has heavily revolved around two workhorse backs.
Fantasy Impact
Quarterbacks
If Shanahan strikes out in free agency, doesn't draft a quarterback who could play immediately or cannot make a trade, he will have to settle for the trash that is Kaepernick and Gabbert. If it's Kaepernick, it's hard to predict what type of guy you would get. For fantasy purposes, because of his legs, he could do some things for you. Once Kaepernick took the starting job from Gabbert, he responded positively for his fantasy owners who took a flier for him. He finished the 2016 campaign with 16 TDs to only 4 INT, and he added 468 yards and 2 touchdowns on the ground. From a fantasy standpoint, you definitely want to see Kaepernick behind center, rather than Gabbert, who brings nothing to the table.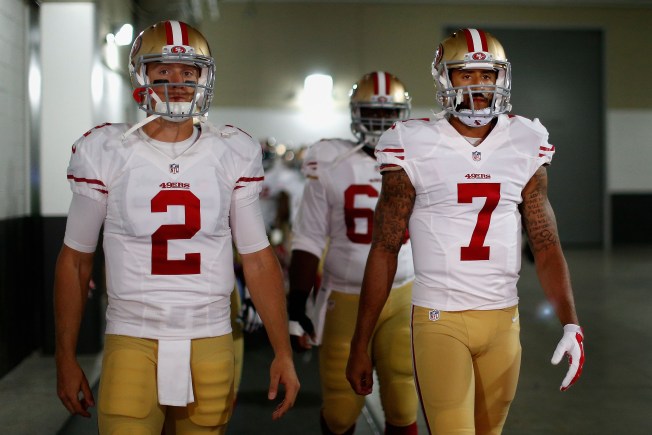 As mentioned, a franchise quarterback is Shanahan's biggest need. We referenced Cousins, who is looking for a long term contract from a team after playing under the franchise tag last season. The money is great under the franchise tag, but job security is the most important thing in the NFL. Cousins could be the face of the franchise that hasn't had one for a while. He is coming off a career year, has a connection to Shanahan and holds multiple Redskins' team records:
Attempts: 606
Completions: 406
Passing yards: 4917
300-yard passing games in a season: Tied at 7 with himself in 2015
A second trade option would be to New England for Jimmy Garoppolo. Garoppolo possesses certain traits that are similar to Matt Ryan and Kirk Cousins, as he is a quick decision maker, brings mobility behind center and is very accurate. He only has six quarters under his belt as a starter, which is his lone question mark. Would Shanahan be tempted to give up the No. 2 overall pick in the draft? Or would he put together a multitude of picks, including No. 34, No. 66 and their 2018 first round pick? Shanahan mentioned that he wanted the Browns to draft Garoppolo in 2014 when he was the offensive coordinator, but they went with Johnny Manziel in the first round instead (Browns gonna Browns). Garoppolo is ready to be a starter in the NFL, and he would succeed in Shanahan's system.
Carlos Hyde
Kyle Shanahan taking over could be best case scenario for the rising fourth year player out of Ohio State. Carlos Hyde averaged 4.6 yards per carry last season, and if used correctly, he could end up being one of most productive backs in the league.
Now when I say used correctly, I mean this: last season, Hyde averaged 17 carries per game. For a team that went 2-14, it makes no sense to ride an injury prone back in losing situations. Hyde has missed 14 games in his three-year career, and has played through multiple injuries, including a foot and a knee. If Shanahan can limit his touches ala Freeman, he would be a viable RB2 or Flex option in most leagues.
As we stated earlier, implementing Draughn on third down, ala Tevin Coleman should lessen the number of blows for Hyde. Reduce Hyde's workload and he could shine. The team was legitimately being carried on his back all of 2016.
Unlike the other two coaching carousals there isn't much to say on a fantasy impact scenario when it comes to wide receivers and tight ends. No one is going to overdraft the likes of  Torrey Smith, Quinton Patton, Jeremy Kerley or Vance McDonald. As of now, we're not sure who the quarterback or receivers will even be for this 49er team. It should clear up after the draft and free agency. Follow us on Twitter to stay up to date on all the transaction/news.