Player Stock Ticker
2017 Fantasy Football Quarterback Rankings: High End QB1s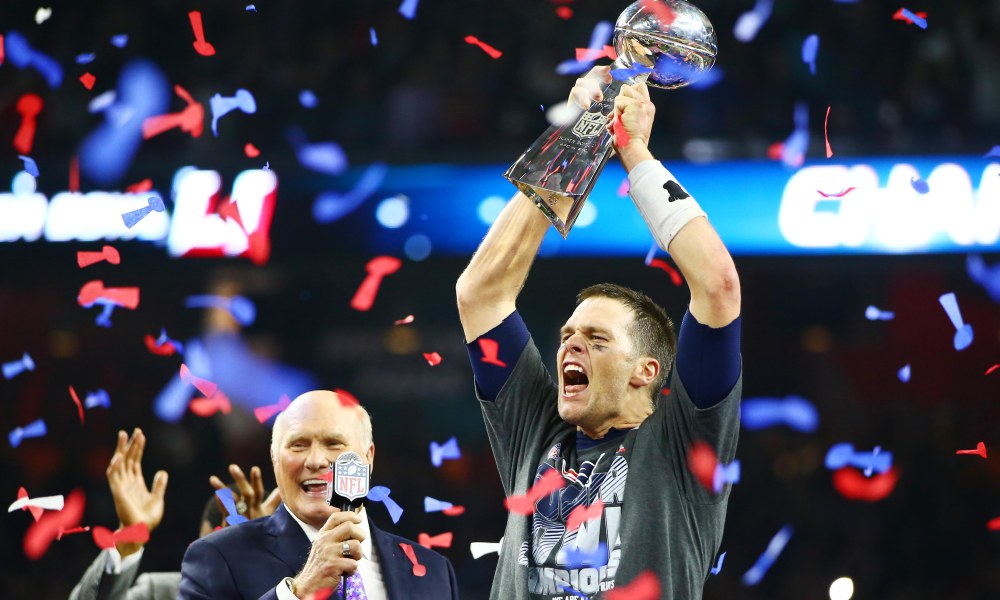 MARK J. REBILAS | USA TODAY SPORTS
We just made it through our first few Sundays without football, and depressing is an understatement.  The RSJ is here to help fill this deep, dark abyss with our "Not Soon Enough" 2017 Fantasy Football Quarterback Rankings. Be sure to check out our Running Backs and Wide Receivers if you missed out on our 2017 Fantasy Football Rankings.
Given we're only one week into this football-less world, fantasy values will obviously swing up and down as the waves of free agency and the draft come crashing in.  Still, it's crucial to recognize your original thoughts BEFORE all of the other "expert" rankings pollute and bias your mind.  This way, you have a base of your own, independent gut feelings (a "Stream of Gut" if you will), before beginning your offseason research.
Time to dig in. As a huge sucker for tiers, I'll be releasing different positional groups each day (i.e. RB1s, RB2s, Flex plays) before ultimately combining them all into a final Big Board by the end of February.
If you missed last week be sure to catch up on 2017's fantasy football WR1s, the upside WR2s to target, the safe WR2s to balance out a riskier roster, plus the top guys to target for your WR3 spot. We also released our RB Rankings the week before, and have already updated it twice, so don't miss it. Onto the signal callers.
Tier One – The Elite
The weekly game-changers. Genuine weekly 30 point ceiling / 20 point floor combinations. With the opportunity cost so high at other positions, I likely won't be investing in any of these gems, but floor seekers should snag one in Round 4.
1) Tom Brady (NE)
Who else but Jesus could top this list? All homerism aside, anyone with a pair of eyeballs can see it: Tom Brady, already the clear GOAT, is actually improving with age. Despite approaching 40, Brady is more agile than ever in the pocket, and his improvement under pressure has impossibly taken his game to a new level. The Second Coming posted his best TD:INT ratio of his career, tossed 3+ TDs in over half of his contests, and outscored Cam Newton — everyone's consensus #1 QB — in four less games.
The Reincarnate accomplished all this without arguably his top weapon in Rob Gronkowski. With Gronk's return, a likely step forward from exciting sophomore Malcolm Mitchell, another offseason of rapport development with exciting big play threat Chris Hogan, and of course his boy Julian Edelman, Brady might be looking at his most stacked supporting cast outside of 2007 (where he just happened to throw a then record 50 TDs). Plus, LeGarrette Blount and his league-leading 18 TDs could be moving elsewhere, opening up even further scoring possibilities. Most will rank Aaron Rodgers higher, but they're overlooking an enormous 45+ TD ceiling here. Give me the GOAT any day of the week.
2) Aaron Rodgers (GB)
Rodgers was 2016's clear-cut top QB, finishing 33 points ahead of second-place Matt Ryan; undoubtedly, this will place him atop almost everyone's 2017 rankings list, and everything is in place for another 380+ FP season. Rodgers remains the league's premier physical talent at the position, his weapons cabinet might be even more stacked if Davante Adams continues to ascend, and, with Eddie Lacy potentially gone in free agency, this offense may be even more aerial in 2017. Plus, Rodgers used his legs more than ever, trailing only Tyrod Taylor and Colin Kaepernick in rushing yards and TDs. If he had any type of sack, I'd say Rodgers will be more motivated than ever… but that remains questionable. Even with a lackluster mentality, you'll get your ho hum 4,800 total yards and 40+ total TDs.
3) Drew Brees (NO)
No other quarterback has ever topped 5,000 yards more than once in a career, and Brees is now coming off his fifth time doing so, posting his second most yards in a single season with 5,208 (stir in 37 TDs for fun why don't cha).  With burgeoning stud Michael Thomas a year more seasoned, the ever creative Sean Payton still calling the shots, and a joke division still ahead, everything is in place for another massive campaign. Brees lowest yardage and TD output over the past six seasons was the 4,870 and 32 TDs of 2015… where he also missed a contest.  Until the day he hits a cliff, Brees' floor will always be among the sturdiest in the league.
4) Matt Ryan (ATL)
After losing offensive coordinator Kyle Shanahan to the 49ers, the league's reigning MVP makes for an obvious regression candidate.  Nonetheless and unsurprisingly, head coach Dan Quinn has already said this system will remain the foundation for new coordinator Steve Sarkisian:
"We love the way that we attack, and it took a lot of work to put that system in place," Quinn said. "Along with Thomas [Dimitroff, the Falcons' general manager], we have a real emphasis now on how we can fit guys into that system. It's very important that we stay consistent with that."

Quinn also praised Sarkisian's willingness to take risks on offense.

"I felt, No. 1, what an aggressive playcaller he's been through the years," Quinn said. "He has a real familiarity from the wide zone scheme, the keepers that are such a big part of what we do."
Thus, still in the system in which he flourished, Ryan's 4944 yards and 38 TDs should remain relatively similar in 2017. He looked like a whole different quarterback mentally outside of shitting his pants in the Super Bowl, and Ryan still has Julio Jones, the game's most dangerous wideout, a great running game, and a bevy of other explosive options to keep his floor sky high.
Tier Two – High-End QB1s
While not quite as week-swinging as the four above, the following QBs are general locks for 18-20 points.  They also all come with the ceiling to join those above, but have a few more questions to answer before joining The Elite.
5) Andrew Luck (IND)
While I would love to bump Luck into the elite — and most other experts will — I simply cannot justify it until the Colts sign him some legitimate protection. If that happens, he'll be welcomed with open-arms, as Luck trailed only Tom "Our Savior" Brady in passer rating when not under pressure; he simply had defenders in his face and was taking hits on nearly every drop back.  A full season of Donte Moncrief and his red zone wizardry would also boost Luck's 2017 outlook, especially with the speedy T.Y. Hilton back.  Should the seemingly ageless Frank Gore finally hit a cliff or retire, Luck would be relied on even further ala his 2014 which yielded 4,761 passing yards, 40 TDs as well as three rushing scores.  Simply put, the ceiling to match those above him has never been in question, Luck's floor is just a bit more scary with his team's current makeup.
Tier 2.5
6) Derek Carr (OAK)
After posting 20 or more fantasy points in 8 of 15 games in 2016, Carr should be a shoe-in for top-10 status… assuming he's fully recovered from his fibula surgery.  That, of course, is the crucial information to track, but all signs point to a full recovery that won't linger at all. When he returns, Carr will step behind the AFC's premier line, with the beastly Amari Cooper and Michael Crabtree at his disposal.  Additionally, new offensive coordinator Todd Downing has already stated Carr will have both more control at the line of scrimmage as well as input into the weekly game plans, noting: "There's been a lot made about his command at the line of scrimmage. There's certainly going to be opportunities for Derek to do that…Where I see him needing a little bit more command is just being able to share his thoughts of gameplans. Being a student of the game, as he already is, but vocalize what he likes and doesn't like."
All signs point to another leap forward from a quarterback that was already trending towards the elite.
7) Dak Prescott (DAL)
Behind the league's top offensive line and with a pressure-relieving running game that kept Dallas constantly in scoring range, Prescott was as sturdy as they come.; the undeniably poised rookie dipped below 17 points only four times in his impossibly impressive debut season (one such performance was Week 17 when he was yanked very early). Given his extreme work ethic and love for film, Dak should easily be expected to take another leap forward in his sophomore campaign, especially considering Dez Bryant's health was a major question mark throughout 2016.  Everything that facilitated Dak's QB6 finish remains in place or will be upgraded, making him a juicy middle round quarterback to target.  Sure, team's will have film and could game plan, but there's an even greater chance Dak's own abilities ascend.
This wraps up our high-end QB1 targets. Be sure to tune in tomorrow for the remaining, lower-end QB1s, as well as a quick run down of the bench QB2s to stash.