Come on now, I don't have to give you the resumes of Bill Belichick and Tom Brady. This Patriots' duo has formed a modern-day dynasty and they should add another Lombardi on Sunday. This is the most destructive coach/quarterback duo in the history of football and that is exactly why the New England Patriots will be the Super Bowl LI champions. But to see a different perspective, see why the Atlanta Falcons will defeat the Patriots on Sunday.
1. Tom Brady
I shouldn't even have to tell you about the greatest quarterback ever. The man who was drafted by New England deep in the 6th round back in 2000. The man who continues to break almost every record in the books.
Tom Brady is the definition of clutch, and this will be his 7th Super Bowl appearance, meaning he's been here before and knows exactly how to win in this situation. Brady will put his team in a position to win at all times. That's just what he does.
2. Patriots Defense
If you've strictly tuned into the Falcons' playoff games against the Seahawks and Packers, we've all have seen how dominant the Atlanta Falcons offense has been. But, the Seahawks were without Earl Thomas and looked like a shell of themselves, while the Packers ranked 31st overall in passing yards allowed — so the 44 points put up in the NFC Championship game should be taken with a grain of salt.
Matt Patricia combined with the defensive mastermind of Bill Belichick will throw so many different looks at Matt Ryan, they'll leave him scratching his head on the sideline looking at those Microsoft tablets. The top scoring defense in the NFL will show turn every non-believer into a believer on Sunday.
3. Julian Edelman
I wanted to discuss how well the Patriots wide receiving core is playing as a whole, and I still think that's true, but that wouldn't be the case without Julian Edelman. He opens up everything else by putting in nothing but dirty work underneath. His unguardable crossing patterns and just the way he works the slot makes him a lock to see 10-plus targets come Sunday.
The unselfish play that Edelman puts in allows the other receivers such as Chris Hogan, Malcolm Mitchell and Danny Amendola to get the matchups that Josh McDaniels dreams about. The Brady-Edelman connection is something that the shaky Falcons secondary will not be able to overcome.
4. Cohesive Coaching Staff
This Pats coaching staff has been fully intact since 2012 when Matt Patricia was named defensive coordinator and Josh McDaniels returned as the Patriots' offensive coordinator. However, Patricia has been a part of the Belichick's coaching staff since 2004 and McDainels has been around New England for 13 seasons — besides his three year stint with the Broncos and the Rams.
The point is, the core three of Belichick, Patricia, and McDaniels lose very little and since they've been together, they average only 4.2 losses per season. Incredible. The trust that they have in each other's play calling is very important and those game plans will lead them straight to victory against the Falcons.
5. Revenge
Everyone knows that the Patriots want to win to show Roger Goodell up, and that's enough fuel right there to fire up the passionate Tom Brady. They want to destroy the Falcons, not only because they're the opponent, but because the NFL has been against them for so long. Giving Brady a four-game suspension without enough evidence to truly make a case.
The Patriots and their fans want to see Goodell stand on the stage and hand the Lombardi Trophy over to Tom Brady, Robert Kraft and Bill Belichick, and that is exactly why the Patriots will outperform the Atlanta Falcons and win Super Bowl LI.
There's little room for error in this organization, and I'm just going to throw this out there as well, this is Bill Belichick's TENTH Super Bowl appearance!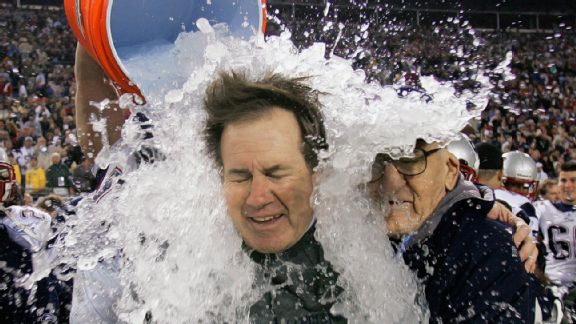 With all this being said, there is no question that the New England Patriots will be the Super Bowl LI Champions, I mean how can you doubt Bill and Tom?