Player Stock Ticker
2017 Fantasy Football Wide Receiver Rankings: Safe WR2s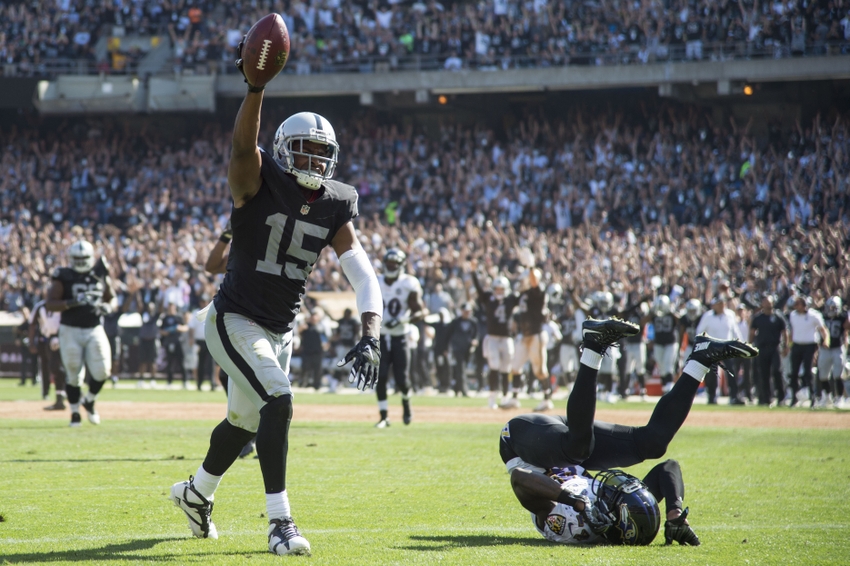 Enough of this "way too early" garbage. With Scott Hanson and his quad boxes of delight now three weeks removed, the fantasy football withdrawals are hitting harder than ever.  Fill the void and jump into our "not soon enough" 2017 Fantasy Football rankings.
Of course, values will change as the dust from free agency and the draft begins to settle. Still, it's crucial to recognize your original thoughts BEFORE all of the other "expert" rankings pollute and bias your mind.  This way, you have a base of your own, independent gut feelings (a "Stream of Gut" if you will), before beginning your offseason research.
Blabber cease. On to the 2017 Fantasy Football rankings.  These assume 1/2 point PPR scoring to achieve a happy medium between the two formats (it's also the best, most common format). As a huge sucker for tiers, I'll be releasing different positional groups each day (i.e. RB1s, RB2s, Flex plays) before ultimately combining them all into a final Big Board by the beginning of February.
If you missed last week be sure to catch up on 2017's fantasy football WR1s and the upside WR2s to target. Plus, last week, we released our RB Rankings.
Tier 4 – Safe WR2s but Ideal WR3s
While the below names don't bring quite the sexy allure / WR1 ceilings of last week's crew, they all should be reliable producers and make for fine #2 options if you load up on rushers early.  There's a solid floor of production with all these candidates, making them strong targets at the end of Round 4 and early Round 5, especially if you have a riskier early round investments and need a sure point source.
*Note – Even amidst this running back Renaissance, I still plan to lock up two WRs within my first three picks (in three WR leagues), ideally netting two top-10 guys. The below guys are more for floor-chasers, and people who've gone RB heavy early.
21. Michael Crabtree (OAK)
After finishing inside 2016's top-12 WRs in half ppr formats, including a spot above his more well-renowned teammate Amari Cooper, WR21 feels insanely low for Crab.  Indeed, Crabtree and his sturdy floor will finish ahead of some of these upside WR2s; the guy was among the positions most consistent producers, topping double digit FPs in 11 of 16 contests, afterall.
But really, the floor is all Crabtree has going for him, and 2016 is likely the highest we'll ever see. The talented wideout topped 20 FPs only once, and while he rarely lost owners a game, he also never truly won one either (outside of a three TD, 30 FP day against Baltimore).  Still, with his reliability Crabtree makes the perfect investment if your WR1 is a little unproven (Hi, Michael Thomas) or injury prone.
22. Golden Tate (DET)
Yes, the start of Tate's 2016 was vomit-inducing. Tate was frequently labeled a bust & abandoned to the Waiver Wire after scoring single-digits for the season's first five weeks, looking firmly behind new acquisition Marvin Jones in doing so.  Yet, something finally clicked during an 8 catch, 165 yard, 1 TD (27 FP) Week 6, and from this point on Tate ranked seventh among WRs in FPs.  Assuming Tate maintains his end-of-year lead dog role, he'd be a steal as the WR20 off the board. Monitoring the offseason reports / overall look of this offense will be crucial.
23. Demaryius Thomas (DEN) 
Of course, a QB upgrade (hi, Tony Romo) would send Thomas soaring up this board;  Mike McCoy's offensive coordinator hire is already a significant stock booster: in his last stint with McCoy calling plays, Thomas broke out for 94 catches, 1,434 yards, and 10 TDs, and McCoy has a steady track record producing Alpha WR1s. These gaudy stats came, of course, with Peyton Manning tossing the rock, and not an underpass troll named Trevor Siemian. Still, Thomas will have a playcaller who certainly knows how to maximize his skillset.  His most recent 90 catch, 1083 yard, 5 TD season seems like a safe floor, and an after-the-catch talent with Thomas' size / speed combination certainly has upside for more.
24. Larry Fitzgerald (ARI)
Ho Hum. Another 1,000 yards (eighth time). Another 90+ catches (seventh time). Another Pro-Bowl (10th time). Another top-15 fantasy season (pretty much every year).
Fitzgerald's consistency is unparalleled, and it starts with some of the best hands this game has ever seen:
http://dailysnark.com/wp-content/uploads/2016/01/12565639_10154000508769171_5057302842623305567_n.jpg
Normally, this would be "rinse and repeat," as Fitzgerald has found new life since converting to slot-receiver role — 2015 and 2016 marked his career highs in receptions with 109 and 107 respectively.  However, both he and Carson Palmer are potential 2017 retirees, most likely as a package deal if it happens.  Nonetheless, nobody stays in shape quite like Fitz, so if he and Palmer give it another go, expect another high-floor season filled with consistent 9 – 15 FPs each game.
25. Jarvis Landry (MIA)
Despite finishing as a top-15 half PPR guy, Landry's 2016 still felt like a major bust.  Maybe because we were way too high on him.  Maybe because he has the talent for so much more.  For whatever reason, Landry was flat out obnoxious to own.
2017 may be brighter. Though Ryan Tannehill unfortunately remains Landry's signal caller, the pesty Kenny Stills (who had more double digit half PPR games than Landry, Amari Cooper, Larry Fitzgerald among others) and his 9 TDs are hitting the free agent market. Though a greater share of targets should help, this offense and team was at its peak when funneling through Jay Ajayi, and this run-centric approach should be expected moving forward. A couple duds, one or two blow ups, and a whole lot of 7-10 pointers should be the norm, and Landry might be best treated as a high-floor #3 when possible.
Check back tomorrow as we round up our 2017 Fantasy Football Wide Receiver Rankings with WR3s and Flex Plays.