It's here! The second edition of our weekly series where we break down recent coaching changes and what they can do for players fantasy relevancy. If you missed our first addition, we broke down the 31-year-old phenom and newly hired LA Rams coach, Sean McVay. Today, we're staying in the Golden State as we break down recently hired Los Angeles Chargers coach, Anthony Lynn.
Anthony Lynn Background
There are only two current NFL head coaches who have won a pair of Super Bowls as players: Dallas Cowboys head coach Jason Garrett and newly hired Chargers' head coach Anthony Lynn. Lynn won both of his championship rings as a running back and special teams ace for the Denver Broncos in 1997 and 1998. Anthony quickly began coaching after retiring in 1999 and landed a job in Denver as a special teams assistant.
After coaching in Denver for three seasons, he was hired by the Jacksonville Jaguars to coach their running backs. For the next 12 seasons, he bounced around the NFL as a running backs coach. After leaving Jacksonville, he was hired by the Cowboys, then the Browns, the Jets and finally the Bills. Last season, he was promoted to offensive coordinator and then he filled in as the interim head coach for the recently dismissed Rex Ryan. It's clear he is highly regarded throughout the league and that came to fruition when he was offered the head coaching position for the Los Angeles Chargers.
Lynn molds running back talent. Here's the list of starting running backs he's worked with:
Fred Taylor (Jaguars, 2003 & 2004): 3,551 yards from scrimmage and 10 touchdowns.
Julius Jones (Cowboys, 2005 & 2006): 2,437 yards from scrimmage and 9 touchdowns.
Jamal Lewis (Browns, 2007 & 2008): 2,732 yards from scrimmage and 15 touchdowns.
Thomas Jones (Jets, 2009): 1,460 yards from scrimmage and 14 touchdowns.
LaDainian Tomlinson (Jets, 2010): 1,282 yards from scrimmage and 6 touchdowns.
Shonn Greene (Jets, 2011 & 2012): 2,479 yards from scrimmage and 14 touchdowns.
Chris Ivory (Jets, 2013 & 2014): 1,786 yards from scrimmage and 10 touchdowns.
LeSean McCoy, (Bills, 2015 & 2016): 2,810 yards from scrimmage and 17 touchdowns.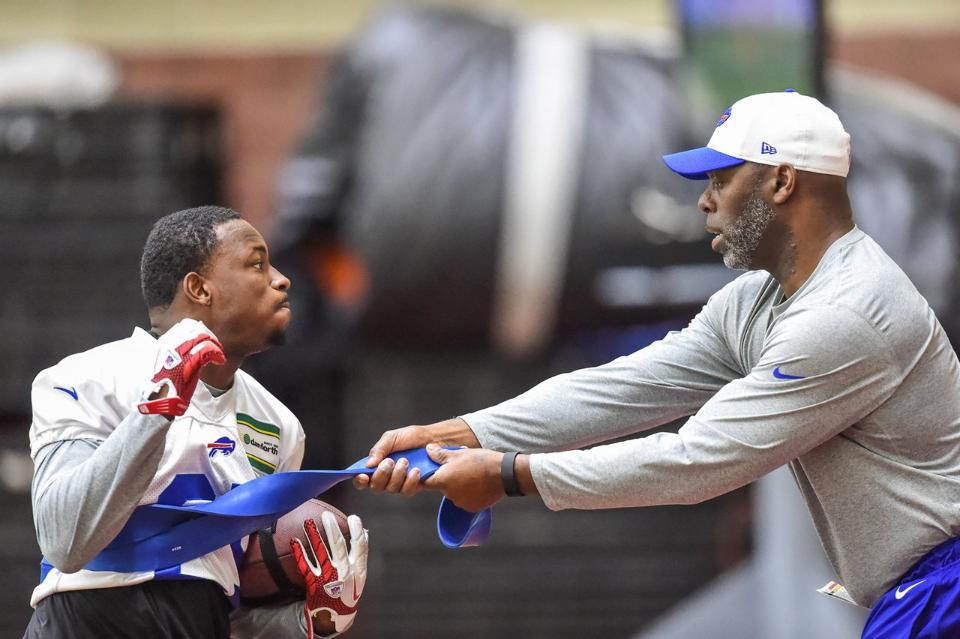 In the 13 years of being a running backs coach in the NFL, you can count the amount of non-1,000 yard rushers from Lynn on one hand. Julius Jones in 2005 (7 yards shy of 1,000), a 31-year-old LaDainian Tomlinson in 2010 and Chris Ivory in 2013. Anthony Lynn breeds running back talent and knows how to bring the most out of the position, which leads us to our next point. The Los Angeles Chargers already have a young work-horse in their backfield.
Will Melvin Gordon break 1,000 next season?
All signs point to yes. Melvin Gordon is coming off a year where he was straight feasting, and without his Week 14 injury that cost him the remainder of the season, he would have smashed that 1,000 yard feat. He ended up being just 3 yards shy of that mark in 2016, and Anthony Lynn was just quoted saying that Gordon's game is, "growing like a weed." As mentioned, running backs get better under the influence of Lynn, and you can start by looking at last year's season by Shady McCoy, as he just went for 1,200-plus yards, averaging over 5 yards per carry.
Ken Whisenhunt
The LA Chargers brought along Ken Whisenhunt, which looks to be the perfect balance to Lynn's run-heavy philosophy. Whisenhunt returned to the Chargers in 2016 after failing as a head coach for the Titans. Even with an injury to his favorite receiver, Philip Rivers flourished under Whisenhunt last season, and he also lit it up when Whisenhunt was the OC in 2013, when they finished 5th overall in total offense after finishing 31st overall the season before.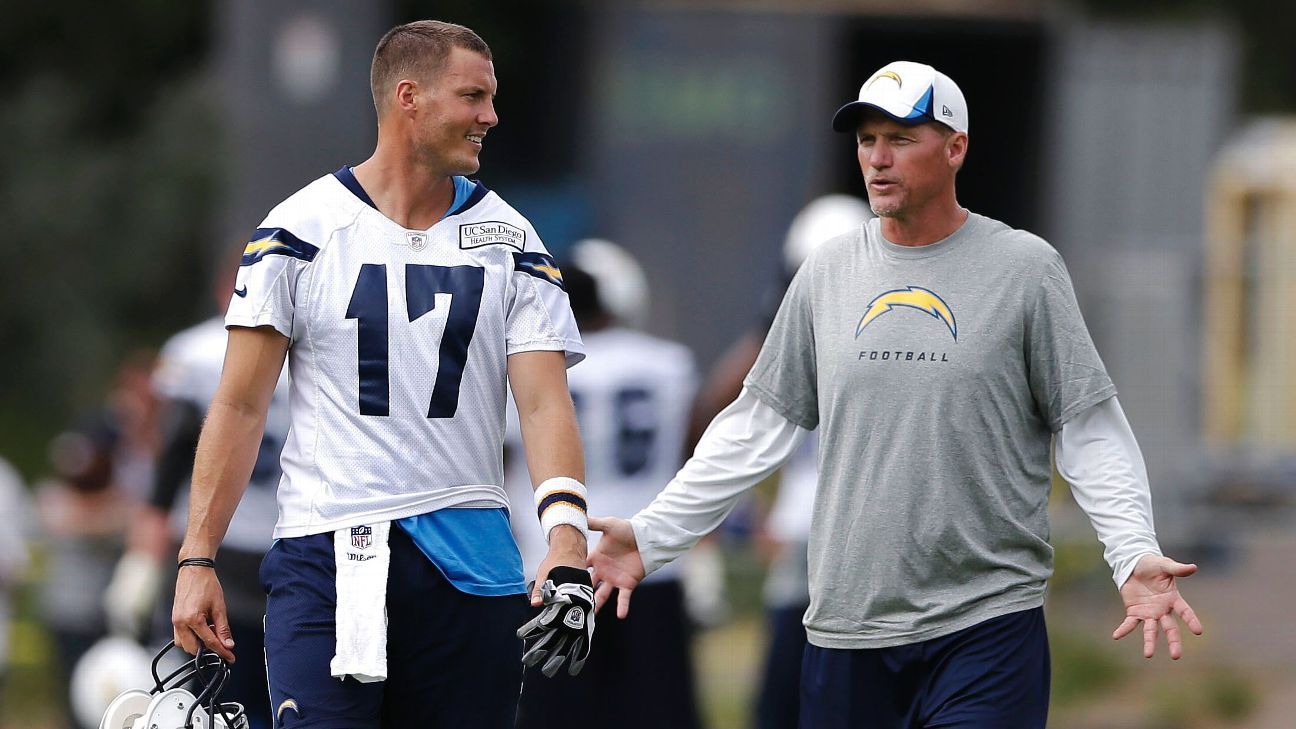 Fantasy Impact
Philip Rivers
In 2013, Rivers had one of his best NFL seasons under Ken Whisenhunt, where he threw for 4,478 yards and 32 touchdowns. He was named the NFL's Comeback Player of the Year and made the Pro Bowl. As mentioned above, Rivers had another great season under Whisenhunt in 2016, where he threw for 4,386 yards and 33 touchdowns without his No. 1 receiver, Keenan Allen. He helped develop Dontrelle Inman and Tyrell Williams into viable receivers, who will only perform better next year with Allen back in the mix. He also has a young tight end, Hunter Henry, who showed major potential as a rookie.
Running Backs
With Lynn's track record at developing running backs, Gordon is the player who will flourish under the new head coach. This offense should be incredibly balanced and Gordon should break out as a legitimate RB1 in 2017. If the Chargers resign Danny Woodhead, that will alleviate the amount of hits that Gordon takes, which should only help him in the long run. He will catch less balls, but he will be the workhorse on the ground. We expect a monster 2017 for the former Wisconsin Badger.
Wide Receivers
Just like last year, the Chargers' wide receiver targets will be based on health. Allen and Stevie Johnson — two of the better route runners in the game — should return to full health, while Travis Benjamin and Inman possess the ability to take the top off the defense. Tyrell Williams is the big physical body in the red zone that really elevates this group to the upper tier. As of right now, it's hard to tell who will come out on top of these wideouts, but they will be special next season — barring health.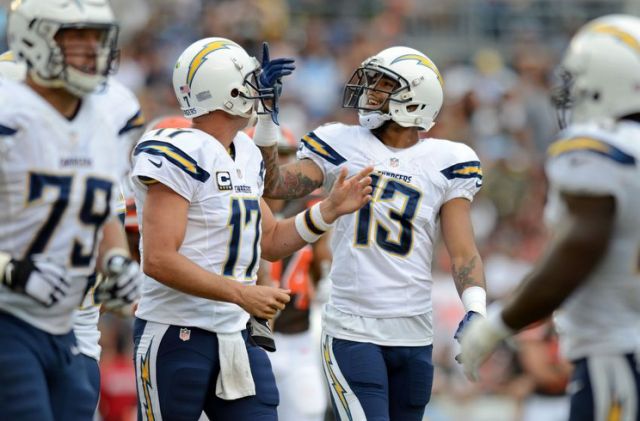 Tight Ends
Last I heard is that Antonio Gates is leaning towards playing in 2017, and why not, he's tied with Tony Gonzalez for the most receiving touchdowns by a tight end with 111. However, Hunter Henry is the future in Los Angeles and should start over Gates, who will primarily be a red zone target. These two will compliment each other in the offense, but Henry should break out as a top-10 fantasy tight end next season. His size (6-foot-6, 250 lbs) and speed makes him a tough matchup in the seam. Either way, Rivers will have an abundance of big bodied targets in the red zone, and should have a huge 2017 season.