Player Stock Ticker
2017 Fantasy Football Wide Receiver Rankings: WR1s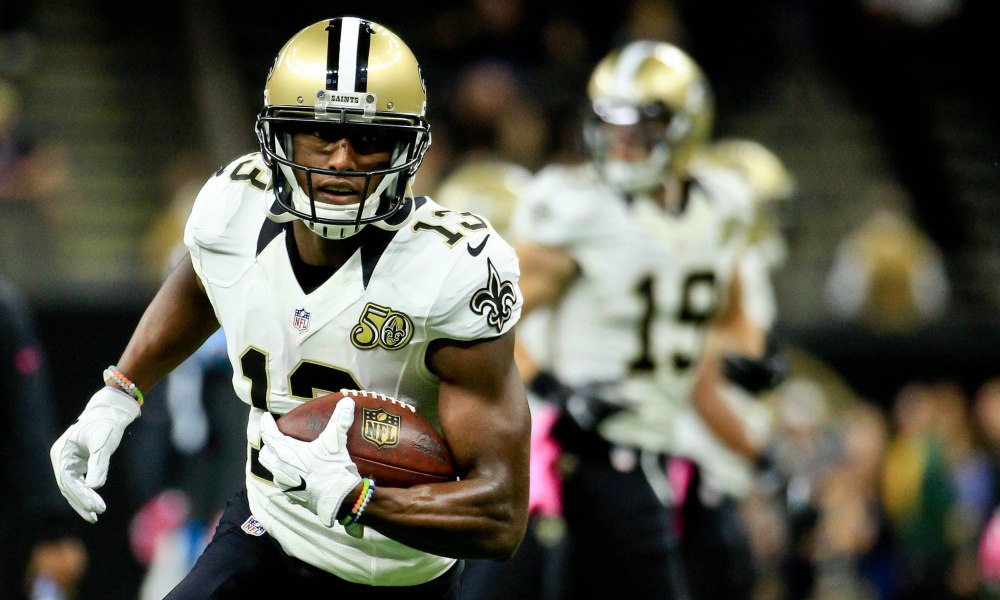 Enough of this "way too early" garbage. With Scott Hanson and his quad boxes of delight now three weeks removed, the fantasy football withdrawals are hitting harder than ever.  Fill the void and jump into our "not soon enough" 2017 Fantasy Football rankings.
Of course, values will change as the dust from free agency and the draft begins to settle. Still, it's crucial to recognize your original thoughts BEFORE all of the other "expert" rankings pollute and bias your mind.  This way, you have a base of your own, independent gut feelings (a "Stream of Gut" if you will), before beginning your offseason research.
Blabber cease. On to the 2017 Fantasy Football rankings.  These assume 1/2 point PPR scoring to achieve a happy medium between the two formats (it's also the best, most common format). As a huge sucker for tiers, I'll be releasing different positional groups each day (i.e. RB1s, RB2s, Flex plays) before ultimately combining them all into a final Big Board by the beginning of February.
If you missed it last week, check out our 2017 RB Rankings.
https://s-media-cache-ak0.pinimg.com/originals/36/79/bb/3679bb74337acb3db2dc8b1c88b369e5.gif
Tier 1 – The Elite
Barring an unforeseen explosion, one of these five wideouts will top the 2017 leader board; all six are locks for a top-10 spot, health-permitting.  Regardless of the matchups, double-digit weekly points is all but certain, and these pass catchers are sturdy anchors for fantasy squads once the top rushers are selected.  Each warrants serious Round One consideration.
1. Antonio Brown (PIT)
Since 2014, Antonio has finished as the #1, #1, and #3 fantasy wideout, topping 320 half ppr points in 2 of those 3 seasons. He hasn't dipped below 100 catches, 1,200 yards, or double digit TDs a single time over that span, nor has he missed a game.   Indeed, the offense took a run-centric turn in 2016, funneling far more through Le'Veon Bell than Antonio, ultimately yielding Brown's lowest fantasy output in three seasons. More of the same should be expected in 2017 with Ben Roethlisberger approaching the twilight.
But when your worst-case is 106 catches, 1284 yards and 12 TDs for over 250 fantasy points? You deserve the top spot. Antonio is fully capable of returning to the 320+ point range in 2017, and is as bust-proof as can be.  Once the big-three workhorse backs have been taken, Brown should be the immediate next selection. His ceiling / floor combination is unparalleled.
2. Julio Jones (ATL)
Even amidst a monster 91 catch, 1,448, 6 TD campaign, Julio remains a "what could've been."  Despite missing two games, this Clydesdale was 40 yards away from the receiving yardage crown. What's even more insulting given his massive frame and excellent ball skills, Julio ranked 80th in Red Zone targets among wideouts. Gasping scream emoji!
While TDs fluctuate year-to-year, yardage can typically be relied on.  In this realm, Julio is a true horse, never dipping below 1,400 in three straight years. Health remains a risk, and losing OC Kyle Shanahan, who just bombs his X Receivers with targets, won't help. But another 100+ catch, 1,400+ yard, 6-8 TD campaign is a near certainty.  Some higher ceiling options exist, but a sturdier floor is tough to find, even if/when Julio misses a game or two.
3. Mike Evans (TB) 
After a hellish, drop-filled sophomore slump, Evans rebounded in a huge way in 2016, trailing only Jordy Nelson in half-PPR points.  The third year wideout and Jameis Winston spent all offseason honing their rapport, and the results were definitive, as Evans' 175 targets lead the league.  In Year Two under Dirk Koetter, 2017 should bring even more target showers, whether or not a sturdier #2 WR is added.  As long as Evans remains motivated and in shape, his floor is as sturdy as any in the league.
But the sexiest part is Evans' 2017 ceiling. Unlike most of these top wideouts, there's a real chance we haven't seen the best of Evans yet.  Another step forward from Winston… an improved surrounding cast to alleviate double teams… another personal leap from Evans himself… so many factors could yield an even stronger follow-up.
4. Odell Beckham JR (NYG)
The talent and explosiveness are untouchable, and Odell hasn't  yet dipped under the top five in WR points per game in his brief career.  Still, with the mentality of a pre-pubescent teenage girl going through her first breakup, Beckham can be maddeningly inconsistent and prone to disappearing acts.  True, no WR outscored him from Week 5 on last year, but amidst this dominant stretch he still had three single digit outputs in 12 contests; his numbers were buoyed by a 41 point Week 6 thrashing of Baltimore.
When all's said and done, though I hate tying fantasy fortunes to a declining Eli Manning, there's a real chance we haven't seen a full season of Beckham's best. The guys ranked above him feel safer, but Beckham is totally capable of outscoring them if the cards fall right.
5.  Jordy Nelson (GB)
Despite bouncing back from ACL surgery, Nelson led all WRs in 2016 fantasy scoring thanks to 14 TD grabs.  With insane body contorting skills and ballerina-like toe tapping, Nelson's my vote for the top sideline artist in the game right now; these talents make him an equally dangerous red zone weapon, as Aaron Rodgers consistently lobs jump balls and allows Nelson to make insanely acrobatic plays.  No wonder he's scored 27 combined TDs in his last fully healthy season.
With Rodgers chucking the rock, Nelson should be expected for more of the same wizardry in 2017. Outside of missing all of 2015, Jordy's played in all 16 games in six of eight chances, suggesting he is surprisingly durable; you can't question his toughness after this postseason, with Jordy notching a 6 catch, 67 yard, 1 TD effort despite broken ribs. True, he'll be 32 in 2017, but this in-depth study suggests WRs don't breakdown until 35. Expect another ho-hum 90+ catch, 1300+ yard, 12+ TD effort from White Chocolate.
6. A.J. Green (CIN)
Prior to his Week 11 departure, our prediction of Green leading the NFL in targets seemed very real: the star wideout averaged 11 looks per game in his nine full contests (one bye and one injured), and his 176 pace would've indeed topped Mike Evans. More importantly, Green was riding this insane target pace to ridiculous numbers: 153.4 half PPR points in essentially 9 contests (after a Week 10 bye, Green was carted off after the second play in Week 11). This 17 points per game average tops all wideouts.
Barring unforeseen changes, Green should continue being funneled targets and tallying absurd points in 2017. He and Andy Dalton were ridiculously in sync, and the star wideout seemed to finally bring some consistency to his fantasy resume, topping double digits in 7 of his 9 contests and scoring over 26 in three of those. After missing only four games in his first five seasons, don't let injuries keep you off  this train.
https://s-media-cache-ak0.pinimg.com/originals/5e/74/86/5e74862aa45b9dbc196aac16ffe00af5.jpg
"Oh, you don't rank me in the elite Wolf…"
Tier 2 – Remaining WR1s
While the following guys won't steal 2017's scoring crown, they should very well anchor fantasy teams who go running back early. None should fall out of Round Two.
7. Dez Bryant (DAL) 
Likely owner of the biggest hog in the NFL, Dez hasn't lived up to his inches lately.  From 2012-2014, Dez never dipped below 90 catches, 1,200 yards, or 12 TDs and was a consistent top-five wideout.  He rode this production to a fat contract, but injuries and inconsistency have kept his production down the past two years.
Expect The Dez to rise again (in all ways). We saw some vintage flashes down the stretch of 2016, as Dez was the sixth highest scoring fantasy wideout from Weeks 8 – 16 after returning from injury. He was again winning those "I'm-a-man, you're-a-boy" jump balls, especially in the end zone, while topping 19 points four times in those final nine contests.  And don't forget the 9 catch, 132 yard, 2 TD playoff beauty he just stamped the Packers with. This all suggests Dez finally found his groove with Dak Prescott, and, with a full offseason to continue nailing down chemistry, these two should make some serious 2017 music.
8. Michael Thomas (NO) 
Think this is insane? Well, Thomas bested this ranking as a rookie in 2016, finishing 7th among WRs in half ppr fantasy points. AS A ROOKIE.  With a wiry frame, smooth route-running, and sure hands, Thomas profiles as a more gifted Marques Colston, so his emergence shouldn't surprise anyone after Drew Brees' historic success with this mold of pass-catcher.
And now Thomas gets a full offseason to continue honing his game.  He gets another offseason to build his rapport with Brees. Creative playcaller Sean Payton gets a full offseason to craft up ways to use his new alpha #1.  See where I'm going? Unless Thomas suddenly gets out of shape and lazy (highly unlikely given his gym rat, football-loving reputation), there's no reason he won't build upon his wildly successful 92 catches, 1137 yards, and 9 TDs… perhaps enough to enter the top-five.
9. T.Y. Hilton (IND)
Hilton was a fantasy goldmine in 2016, finishing as a top five wideout despite a mid-third round price tag. As the #1 option in an explosive offense with a talented signal caller in Andre Luck, Hilton led the league in yardage despite his meager TD output (6).  Scoring is the exact rub with Hilton, as he ranks 19th in TDs over the past four seasons, despite piling up the fourth most yards in that span.  This makes sense given Donte Moncrief's nose for the end zone, who's continued ascension puts another dark mark on Hilton's 2017 prospects. Still,  the speedster will rack up oodles of yards yet again, and should be a dependable WR1 all year.
Where did we nail it? Where are we morons? Sound off below, and check back at the same time tomorrow for an extensive list of Upside WR2s.