The Roto Street Journal is out to crown the best fantasy league around, and The Wolf has now set the bar.  We introduce The Fight for the Fez, a collection of 12 degenerates and longtime friends from Beverly, MA.
GOAT Fantasy League Application
League Name: The Fight for the Fez
Size: 12
Scoring:  Half PPR
Draft Format: Auction
League Start Date / Years of Competition:  2008, entering our 10th year
Members – Name (or nickname), Titles Won, Brief Description
1) Coach, Current Fez Holder (1 total):  After mercifully assuming ownership from his hapless brother Sailor J, Coach has finally found his groove; he not only earned Brother Nards their first winning season, but a title with it. In a banner fantasy year, Coach added a Fantasy Bachelor Trophy to his case as well.
2) Wolf, 2 Fezzes, 4 x runner up (embarrassing):  A true shark and one of the brightest fantasy minds out there. Resident league expert
3) Sparky, 2 Fezzes: Token league Mexican that can't speak Spanish. The Wolf's personal kryptonite, generally competitive but recovering from a bad case of the Gurleys.
4) Skinny, 2 Fezzes: Yes, that nickname is entirely encompassing.  A perennial playoff threat, despite minimal football IQ. Respect.
5) MeowMix, 1 Fez: Won the inaugural Fez, highly irrelevant since. Blames it on diabetes.
6) Firehose, 1 Fez:  Far from what you might believe, Firehose earns his name by drafting entirely based on estimated dick size; lately his judgments have been way off. Soon to be flower girl (see, Last Place Punishments)
7) Dirty Rob, 1 Fez:  Mysteriously located in a new country every month, presumably filming filthy pornos. Was once considered a threat.
8) Big Tires, Fezless: The faithful commissioner and most consistent choke-artist around. Generally towards the top of the regular season standings, and a mortal lock to be eliminated within the semis.
Nothing like a good tire fire after a Big Jay Choke
9) Lawyer Mac, Fezless: Necessary lawyer and voice of reason when Sparky wouldn't stop (and still continues) bitching about the -5 Missed PAT rule.
10) Bunny Konaxis, Fezless: Once drove over 2 hours to pick up a bunny. Any wonder why the kid never makes the playoffs?
11) The Blodge, Fezless: The league appreciates this bottom-dwellers annual donation.
12) "Grand" Bailafier, Definitely Fezless: Psychotically, even depressingly, maintains that he won the first Fez; really, his only league first was losing all his hair. Rivalry week opponent of The Wolf.
Unique Rules
Prior to the PAT being moved further back, The Fight for the Fez featured -5 for missed PATs.  Consequently, a blocked Robbie Gould PAT and the negative points led to a 3 point loss for Sparky; the ensuing debates about whether blocked should count as missed ripped apart friendships, and allowed Sparky to really earn his nickname (tool sent over 200 whining texts that day). Thank goodness Lawyer Mac, ever the voice of reason, put Sparky in a body bag.
The Fez also features league fines for the last four finishers AND starting someone on a bye: + $100 for 12th, $75 for 11th, $50 for 10th, $25 for 9th (determined before the stupid consolation round), $100 fine each bye week offense (in addition to constant shaming). This keeps everyone competitive.
League Prize / Trophy (picture encouraged):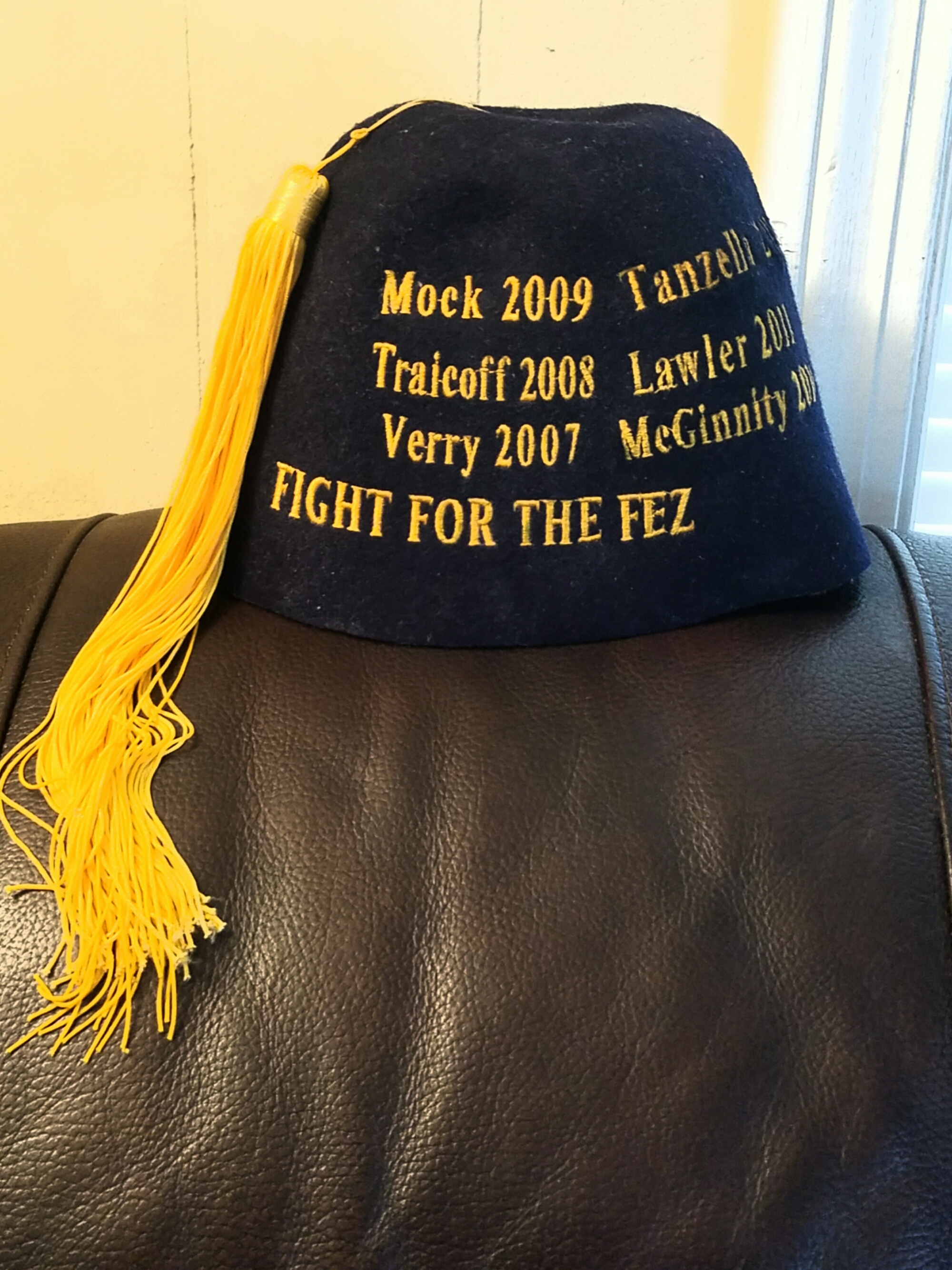 Are words even necessary after setting your eyes upon this beauty?  This piece of felt, and having your name so boldly stitched in, means as much as future children and wives.  Five owners still have never had the soft Fez grace their heads. I could write a multi-page essay on this incredible symbol of pride, and plan to in the near future.
Top Degrading Side Bets (evidence encouraged):
Steak Dinner:  Loser has to attend and pay for a steak dinner of the winner's choosing; however, the loser can only drink water the entire time, watching the winner enjoy every delicious bite of perfectly cooked filet.
Note – This side bet still has not been paid, and the Kharma does not lie.
Letterman Jacket:  Wearing a Letterman Jacket is rough. Wearing someone else's to Thanksgiving Day is even tougher. Nonetheless, the loser must don the winner's leather sleeved, never-been-worn coat at the most well-attended game of the season.
Bidet Facial:  Rarely do you find bidets (the thing that sprays your asshole) in your standard rental toilets. But when you do, you put a 10-second facial on the line.
Blow Out Readings:  Every week, the person who has been on the receiving end of a Toyota Blow Out has to read a passage of literally anything written by the winner.  This is recorded and sent to your Group Chat by 11pm on Sunday.
Hey Sparky!
Last Place Punishments (evidence again encouraged):
If The Fez has dropped the ball anywhere, it'd be on Last Place Punishments, with no real historic penalty outside of the added $100 fee.  This year, however, we will ideally make up for it with our last place finisher (Firehose)…
2016 = Flower Girl:  At Skinny's wedding, our pathetic last place finisher was announced announced as the flower girl, upon which he made a flower-sprinkling entrance and ruthlessly shamed.
2017 = ESPN Body Issue Recreation. We've sworn an oath to never release these, and even though this league is filled with the scum of the earth, we hold our words (at least on league related matters). Nonetheless, the loser will have to recreate a "Body Issue Photo" for every loss they suffered, with the pose selected by whoever beat them.
Does this league seem soft compared to yours? Doubtful, since The Fez is the greatest to ever exist. But if you feel yours is comparable, check out our application and send in an application to compete now!