The Nobel Prize. Academy Awards. Pulitzers, ESPYs, and Golden Globes. While prestigious in their own rights, these honors pale in comparison to The Rotos.  In our first ever Rotos Award Show, the distinguished "Big Dick" prizes will be awarded to players with the most glorious performances in 2016, while the dreaded "Tiny Puds" will disgrace the season's most dubious players. Grab the popcorn, place your bets, and settle in for a week of recapping the highs and lows from a wild fantasy season. We've already given out Rotos for Waiver Wire MVP,  the Top Individual Game Performance, Most Overhyped Player and Draft Day Value Pick. Enjoy!
Fantasy Football Bounce Back Player of the Year
The following players bounced back from a rough 2015 season to dominate the 2016 fantasy football season. All of these guys came with some sort of question mark heading into your respective draft, but all of them made their respective owners look like a genius after drafting them or snagging them off the waiver wire. They all bounced back, but one player in particular tranformed himself from a bust in 2015 to a stud in 2016.
2016 Nominees
Matt Ryan, Quarterback, Atlanta Falcons – After an average 2015 season, where Matt Ryan threw for a disgusting 21 touchdowns and 17 interceptions, Ryan found himself off just about every fantasy Big Board — including ours. All Matt Ryan did in 2016 was finish 3rd overall in PPR fantasy points with 347.5, throw for 38 touchdowns to only 7 interceptions and finish the regular season as the favorite for the NFL's MVP award. After a few sub-par seasons, Ryan's play put him up in the upper echelon of quarterbacks with Tom Brady, Aaron Rodgers and Drew Brees. What a season for the Boston College product.
DeMarco Murray, Running Back, Tennessee Titans – As we know by now, Chip Kelly doesn't like good football players, especially if they didn't play at Oregon and/or don't fit perfectly into his collegiate system. What is strange about the DeMarco Murray-Chip Kelly relationship, is that the Eagles went out of their way to sign Murray prior to the 2015 season to replace LeSean McCoy. Most thought this would be a match made in fantasy football heaven, but it was anything but that. After carrying the ball 392 times in Dallas in 2014, he only tallied 193 carries with the Eagles, resulting in 702 yards. Murray was then traded in the offseason along with the rest of the Eagles' roster for only the Tennessee Titans' fourth round pick. Murray responded by being the 14th overall PPR player and the staple of Mike Mularkey's 'Exotic Smashmouth' offense. Murray bounced back with 1,287 yards, 53 receptions and 12 total touchdowns.
Melvin Gordon, Running Back, San Diego Chargers – Melvin Gordon was known as a game breaker out of Wisconsin when the Chargers drafted Gordon in the first round of the 2015 NFL Draft, but he was anything but that during his rookie season. In 14 games, Gordon averaged only 3.5 yards per carry and was unable to find the end zone ONCE. That's borderline impossible when you share a backfield with Danny Woodhead, who is hardly a goal line back. With the majority of the fantasy community off of Gordon heading into his sophomore year, Roto Street Journal was pretty high on him compared to others. In the final Big Board, we had this to say about the Chargers' back:
Gordon showed more power and burst in that [preseason] Week 1 44-yard TD reception than we saw all last season. Ken Whisenhunt has frequently stated his intention to get the running game jump-started, and he oversaw Ryan Mathew's career year. Though I took a little while arriving, I've officially joined the Gordon post-hype bounce back train. He could emerge as a high-end RB2 when all's said and done.
Gordon responded with 10 touchdowns in only 13 games, and three-yards shy of his first career 1,000 yard season. He was a true RB1 throughout his sophomore season, which was a major bounce back from his blah rookie season.
Davante Adams, Wide Receiver, Green Bay Packers  – When Aaron Rodgers' main man, Jordy Nelson, went out with a season-ending injury in the preseason last year, Davante Adams was supposed to step up behind Randall Cobb as a key cog of the Packers' offense. He was over-selected in fantasy drafts in 2015 and put up an absolute dud of a fantasy season. Adams finished the 2015 season with 483 yards and a touchdown on 50 receptions. Fast forward to the 2016 campaign, where Nelson returned from injury, Adams was off just about every Big Board. With coverage rolling to Nelson, Adams became Rodgers' No. 2 target and flourished. Adams completed his bounce back season as the 9th overall wide receiver, good for 246.7 PPR points. He tallied 997 yards and 12 touchdowns on 75 targets. That's the type of season that most expected in 2015.
Mike Evans, Wide Receivers, Tampa Bay Buccaneers – This might surprise people, but Mike Evans fell off pretty hard after a tremendous rookie season, where he reached the end zone 12 times. In his second season, it looked like he was not on the same page as Jameis Winston and had trouble concentrating on very catchable balls. His yardage and receptions stayed roughly the same, but his touchdowns were cut to only three for the entire season. Evans bounced back in 2016 and had his best season as a professional, putting up 1,321 yards and 12 touchdowns on 96 receptions. He was an absolute beast in the red zone and Winston clearly loves throwing him the ball, garnering a whopping 175 targets. His pure volume puts him right up there as a fantasy receiver alongside Antonio Brown, Julio Jones and AJ Green.
And the award goes to…
After being labeled a bust after his rookie season, Melvin Gordon's tiny pud grew into RB1 man meat.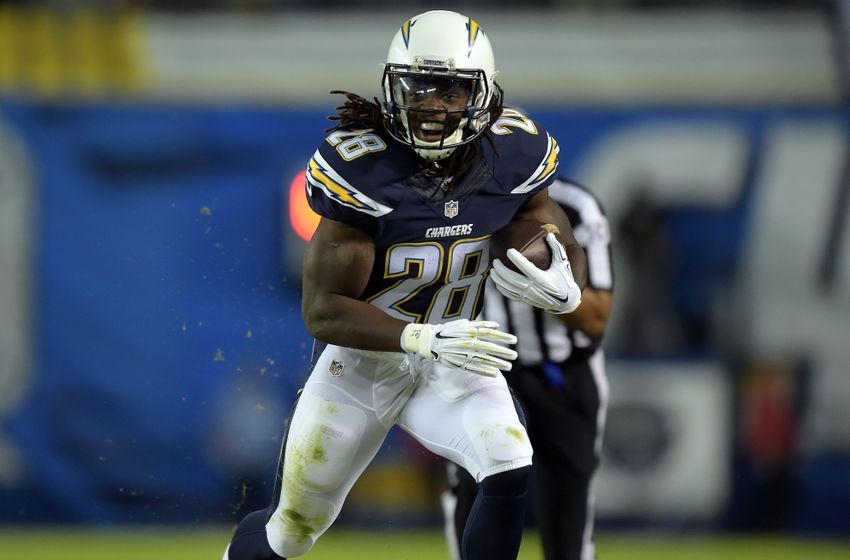 Acceptance Speech
(Melvin Gordon stands up from his seat and walks towards the mic as tears are running down his face)
"I cried myself to sleep after all 14 games I played last season, because I just could not find the end zone. I would check the RotoBlurbs and social media, and everyone continued to call me a bust, but I just knew I was better than that. Little dick Woodhead stole goal line carry after goal line carry from me, which made me want to leave the game of football at times.
That was, until I stumbled upon the best fantasy football website on the Internet, and read The Wolf's preseason Big Board. After seeing his optimism regarding my upcoming season, I knew I had it in me to prove the haters wrong.
I just want to thank The Wolf and the rest of the Roto Street Journal for all of my success in 2016. I printed out that Big Board and taped it into my locker, knowing I had at least one person out there who believed in me. I also want to thank Danny Woodhead's soft ACL for tearing, which allowed me to catch 41 balls and stay on the field for all three downs.
This award means the world to me and I hope I can win it again in 2018."
Way-too-early 2017 Winner: After being found passed out behind the wheel in Arizona, Michael Floyd's release by the Arizona Cardinals was a blessing in disguise for the troubled wideout. Floyd was claimed by the Patriots, and finished up his 2016 season by catching three touchdowns in the playoffs, including one in the Super Bowl, which led to a one year prove-it deal from the Patriots. Floyd responded in 2017 by catching 60-plus balls and double-digit touchdowns from Brady, as the Patriots won back-to-back Super Bowls.