Player Stock Ticker
A Patriots fan photographs a sleeping Bill Belichick and then destroys ESPN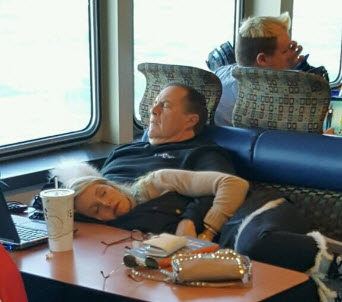 Bill Belichick and his naughty cougar Linda Holliday were spotted cuddling up on the ferry Sunday on their way back from a little weekend in Nantucket. A Patriots fan decided to snap a pic of the duo and put it on the internet. (The best part of this picture might be the hairdo in the back).
Hey @OnlyInBOS, look who I found on the Nantucket ferry on their bye week…#RelationshipGoals pic.twitter.com/mZkADW07MK

— Adam Markopoulos (@AdamMarko) January 9, 2017
Per usual, ESPN's newsdesk wanted to use the picture for one of their mid-day shows/ SportsCenter. No biggie, right?
@AdamMarko Hello, can ESPN use this on all platforms? Please let us know. Thanks

— ESPNAssignmentDesk (@ESPNAssignDesk) January 9, 2017
Mr. Markopoulos remembered ESPN's place in DeflateGate history and put together this heroic response…
@ESPNAssignDesk No chance @ESPN, you started Deflategate.

DO.
NOT.
USE.
MY.
PHOTO.#LoyaltyToBill#LoyaltyToTom#LoyaltyToKraft

— Adam Markopoulos (@AdamMarko) January 9, 2017
Adam deserves a spot in the Kraft's luxury box for this one. #DefendTheWall