Player Stock Ticker
The RSJ is on to 2017… What to expect in year two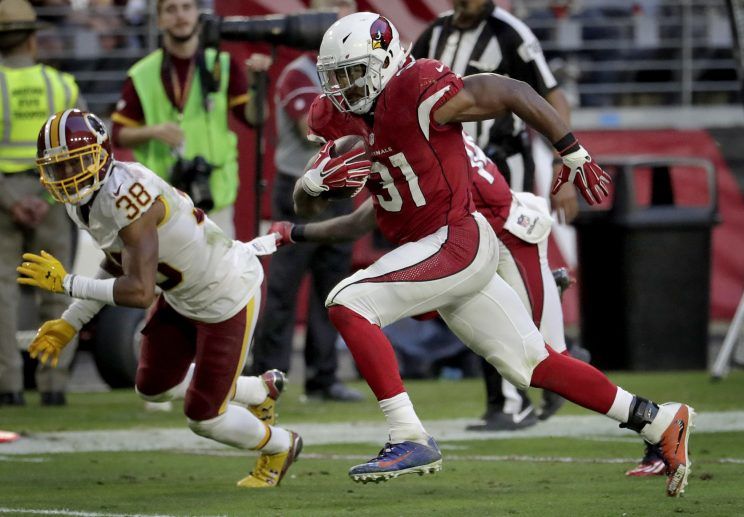 Winter has come…
If you're sitting atop Mount Roto, mounting a new symbol of your dominance up in your living room, congratulations. Kids will be born. Marriages will be consecrated. But fantasy titles will never, ever be forgotten. Hopefully, we played a role in your success, like our very own JimboSlice and the many of you who have reached out via social media.
Even though a title can lessen the bitterness quite a bit, the stinging cold and blinding darkness of a world without fantasy football is about to set in for us all. Suddenly, conversations at bars will be near impossible. Your addictive scrolls through the RotoWorld blurbs will be far less justified.  Really, finding general meaning in life will feel like a scramble through the Westworld maze, wondering if the true center will ever be found…or even exists.
Luckily, The Roto Street Journal has your pathetically addicted fantasy back. Though the void can never be truly filled by anything other than football, here's some numbing fantasy medicine we'll be offering up to help carry you through:
https://rotostreetjournal.files.wordpress.com/2016/04/roto-street-journal-winter-has-come.jpg
 For the Pigskin Purists
Needing an immediate fix…
1) The Rotos – The Nobel Prize. Academy Awards. Pullitzers, ESPYs, and Golden Globes. Soon, all these "prestigious" honors will quake in the presence of a new trophy, more glorious than any predecessor :
The Rotos.
Be sure to tune in all week as the RSJ hosts the first ever Roto Awards, live from Beverly, MA. From biggest single game performance, comeback player of the year, and every bust and MVP in between, we'll put a bow on this fantasy season (and predict way-too-early 2017 recipients) by handing out the "Big Dick" and "Tiny Pud" hardware to 2016's most deserving players.
2) Daily Fantasy Content – All season long JimboSlice (and most recently new RSJ guru The Kid) have been dishing out wallet-filling Draftkings advice; given this daily machine never sleeps, expect to the green waterfall to continue pouring. Bandaid the fantasy season ending by staying locked in for the top elite plays, value buys to afford them, and ownership percentage analysis for Week 17 and the post season.
3) Fantasy Playoff Leagues – You cannot title yourself a true fantasy addict if you've never forced 6 friends into a fantasy playoff league.  We'll do far more rule break down / explanation next week as these leagues start, but the basic premise involves regular fantasy scoring for however many games your drafted player lasts. In a nut shell, you should be weighing both individual upside with the likelihood their team survives for multiple games — Tom Brady would be the no-brainer top pick given his enormous weekly upside and strong chance of playing three games. Expect positional rankings, a Big Board, Expert Draft, and general strategy in the coming week.
http://sports.cbsimg.net/images/blogs/Tom-Brady-ten-years-10-21-15.jpg
Any excuse to post the GOAT 
Longer-term offseason content
Fantasy Stock Profiles  – One of the most encouraging, and unfortunately least used, creations at The RSJ was our "Perfect Fantasy Football Evaluation System."  In early April, we outlined the crucial five factors that define fantasy success and failure, and then used this formula to decide David Johnson was worthy of the #2 overall pick (turns out we were too low).
However, given time restraints and a lack of manpower, we ultimately never churned out more stock scores. Now that we've seen it's predicting power firsthand, we will be making a massive commitment to creating Fantasy Stock Profiles for all the big name players, and using this formula to help identify breakout upside and bust risk more clearly; this will be especially useful for breaking down major offseason value swings such as coaching changes and free agency.
For limitless fantasy addictions…
True, most humans aren't seeking out fantasy football content in the heart of March. Yes, they are an inferior species who I have little respect for. But we still need to please the crowds to keep food on The Truth's table, which brings us to Fantasy Television.
Long-time readers (such as the editors at ESPN) already know that we slayed Fantasy Bachelorette and Fantasy Game of Thrones in our debut season. Long-obsessed with crappy reality TV, The Truth has already begun unveiling his top-notch Bachelor analysis as we prepare for Round 2. And, if you're like me and still obsessed with roided out behemoths choke slamming each other into hell, The Big Valbowski has a fantasy WWE system that'll scratch your fantasy itch all year long. Keep your eyes peeled as the Royal Rumble approaches.
In addition to the above, expect Fantasy Survivor, and perhaps Walking Dead, to make 2017 Debuts. We're also more than open to submissions of your favorite television shows; after all, we are the experts of turning literally anything into a draft.  Regardless, be prepared to revolutionize the way you watch TV.
https://s-media-cache-ak0.pinimg.com/originals/81/da/1a/81da1a1b00549b2fd0512935d04305a4.png
Wet Drops Emoji 
A final sendoff to 2016
Time to get sappy. We'll definitely reflect keeper into the successes and failures of our first stab at being fantasy experts, but overall these first few months have been some of the most exciting of my entire life (not sure if that's more indicative of my pathetic existence, or the actual legitimacy of this whole thing…) Not many people can claim they are actively pursuing their dream life, but every day since The RSJ's creation has felt like a step in that direction. Even more importantly, we've built a core staff of some of the brightest fantasy minds out there, and every single one of us is committed to bringing you the highest quality, most entertaining content in the business. With the right team in place, a clear long-term vision, and all the lessons learned from a busy rookie year, we all couldn't be more excited for a David Johnson type of Sophomore Explosion.
Last and certainly not least, we want to extend some massive appreciation to you readers. We truly hope we helped you improve your fantasy fortunes and/or at least mildly entertained you in 2016… enough to at least have you onboard for Round Two. Cheers to 2017 being the best year yet.
http://www.azcardinals.com/assets/images/imported/ARI/photos/article/MainSeptember2016/DJReceeiverMAIN.jpg
We've only just begun hitting our stride. Expect a David Johnson Sophomore Explosion in 2017