Here at Roto Street Journal, we fancy ourselves as fantasy addicts. Fantasy football has evolved into something much more than your standard league draft. With the opportunity to enter new lineups every week through Daily Fantasy Sports, the RSJ will be giving you the best plays for your lineups, in order to win you some cash. From the high-priced superstars, to the penny stock sleepers, we have you covered to piece together the optimal lineup week by week.
Notes: Standard DraftKings salaries are used when creating these lineups
Stars (***) represent our top picks of the week
Quarterbacks
Top Shelf

Tom Brady ($7,700) – Brady at home against a horrible Jets defense that was just torched by Matt Moore for 4 TDs. Please sir, may I have some more?
Drew Brees ($7,400) – Brees surprisingly bounced back nicely against a team you would expect to slow him down. A revenge game at home against the Bucs hopefully keeps his mojo going.
Andrew Luck ($7,00) – The Colts are a road dog against a struggling Oakland secondary. Luck looked real good last week so the potential is there.

Retail Price

Philip Rivers ($6,700) – Always consider a QB facing Cleveland. Always.
***Cam Newton ($6,600)*** – Newton flashed his MVP skills Monday night against the Redskins, and now has the chance to put a dent in division rival Atlanta's playoff hopes. It also helps they're at home and the Falcons defense is atrocious.

Bang For Your Buck

Dak Prescott ($5,900) – Prescott has been rock solid at home, and faces a Lions defense that is considerably better against the run than pass. Zeke's gonna get his, but there's plenty of opportunity for Dak to eat.
Matt Barkley ($5,000) – Here's a real high dive option coming in at the lowest price. Barkley and the Bears come in as an underdog against a Redskins defense with serious issues at safety. He's looked solid in a few games, and if he goes off for 20ish points, you'll be doing cartwheels for only 5k.
Running Backs
Top Shelf

LeSean McCoy ($9,000) – As good as Bell and DJ are, I'd prefer to spend heavily on McCoy as a home favorite against the Dolphins. His usage in the offense is still high and he's not stopping anytime soon.
Ezekiel Elliott ($7,900) – Zeke cannot be stopped, you can only hope to contain him. His price dropped slightly to sub 8k levels for the first time since Week 10. I'd gladly take this discounted price as an early xmas gift, the Lions don't scare me at all.
DeMarco Murray ($7,000) – We know how good the Jaguars pass defense has been, so I see Tennessee doing majority of their damage on the ground. Enter Murray, who has scored in double figures every week and is a lock to keep that going here.

Retail Price

Todd Gurley ($6,900) – Normally I wouldn't suggest the idea of using Gurley, but he's a home favorite against the 49ers who we all know by now suck defending the run. Lord knows this offense doesn't sling the rock, so Gurley might be able to finally look like the 2015 Gurley.
Jordan Howard ($6,300) – Howard has seen his usage and production in the offense jump the past couple weeks. Now he faces a Redskins defense that's struggling with the run in what could be a solid matchup.
Latavius Murray ($6,200) – The Colts are notoriously bad against the run (not 49er level bad). Being a home favorite sets up nicely for Murray who should bounce back from a quiet game.
Bilal Powell ($6,000) – With Matt Forte absent at practice this week, it looks like Powell could be the bell cow once again for the Jets. He's been extremely heavily used in their offense the past two weeks, and that should continue against New England. His presence in the passing game only makes him that much better.
***Lamar Miller ($5,700)*** – With Tom Savage under center for Houston, the Texans are unlikely to take the top down off the offense. Miller should be featured against a decent pass defense, and I really like his heavy usage for a lower price.
Jonathan Stewart ($5,200) – Stewart has had 20+ carries in back to back games and now gets a home date with the Falcons defense which is just all around bad. Similar to Miller, there's a lot to like usage wise for a low price.

Bang For Your Buck

Frank Gore ($4,800) – If you're looking for the ultimate usage/price ratio guy, it's right here with Gore. He's got big time potential for such a low price, but game flow could be an issue with the Colts as road dogs (passing favored).
Jerick McKinnon ($4,000) – McKinnon has surprisingly turned in four straight double digit games thanks to his presence in the passing game. I see a lot of passing in this game trying to keep up with Rodgers in Green Bay.
Wide Receivers
Top Shelf

Odell Beckham Jr ($8,600) – Beckham continues to stay hot and that shouldn't change in a prime time game against a struggling Eagles team. Odell loves the bright lights and has been a consistent horse in this offense.
Antonio Brown ($8,200) – Anytime Brown and the Steelers are at home my ears perk up. Even if it's against the Ravens, Baltimore could be without top corner Jimmy Smith. The Steelers are surging right now, so this could be a steal to grab Brown.
Jordy Nelson ($7,000) – The Mini-Me to Aaron Rodgers' Doctor Evil, Nelson has been on fire (20+ points) for three straight weeks despite some real tough matchups (Hou-Sea-Chi). A matchup with Pro Bowl corner Xavier Rhodes doesn't scare me.

Retail Price

Julian Edelman ($6,900) – Jules has been a target beast ever since Gronk went down, and it's apparent how much trust Brady has with Edelman. The Jets are very bad and won't be able to slow Edelman down.
Golden Tate ($6,600) – This is a huge game for the Lions as Green Bay breathes down their neck. Coming into Dallas as a road dog helps Tate and the passing attacks game flow a lot against a vulnerable defense. Stafford should pepper Tate with targets all night.
Dontrelle Inman ($6,000) – Inman has worked his way into a featured role of the Chargers offense. Operating out of the slot, he faces the Browns this week which everyone should love. There's a lot to like here.
Michael Thomas ($6,000) – Thomas returned to the lineup last week and immediately made his presence felt. The Saints offense looks to be back to normal with Thomas there, so a game against the Bucs at home should bode well.
Kenny Britt ($5,700) – Britt has been sneaky good and consistent his last 4 or 5 weeks. He's the lone pass catcher capable of making an impact in the offense and rookie QB Jared Goff continues to look his way. The 49ers defense poses no threat, so Britt could very well rip off another 15ish point game.
DeSean Jackson ($5,500) – Jackson is very high risk/high reward due to that majority of his big points come from long touchdowns. He's been a force in the offense that last few games and also offers the highest ceiling.
DeAndre Hopkins ($5,200) – IT'S ABOUT GODDAMN TIME. Houston finally pulled the plug on Osweiler and threw Tom Savage into the game. What happened next you ask? Hopkins finished with 17 targets and 8 catches for 87 yards. This is what a normal QB can do for Hopkins. That production should continue in Week 16 with Savage at QB once again.

Bang For Your Buck

Robby Anderson ($4,800) – I don't know what it is, but QB Bryce Petty loves targeting Robby Anderson. He had a long touchdown grab in his last game, and will probably be heavily targeted again when the Jets are down by 50+ against the Patriots.
***Cameron Meredith ($4,700)*** – Meredith has strung together consecutive solid games while building strong chemistry with Barkley. After watching Carolina dissect the Washington secondary, and with Norman likely covering Jeffery, Meredith sits in a very nice spot as a home underdog.
Ted Ginn Jr ($4,500) – Ginn has performed very nicely in four of his past five games, and gets to face a leaky Falcons defense this week. Ginn's had a nose for the end zone, and has dominated over Kelvin Benjamin to arguably become the teams #1 receiver.
Chris Hogan ($4,200) – Hogan is your Hail Mary play hoping that he comes up with a long touchdown catch against a bad Jets team. With so many weapons in the offense it's hard to trust him here, but a long touchdown paired with a minimal price can be what pushes your lineup to the top.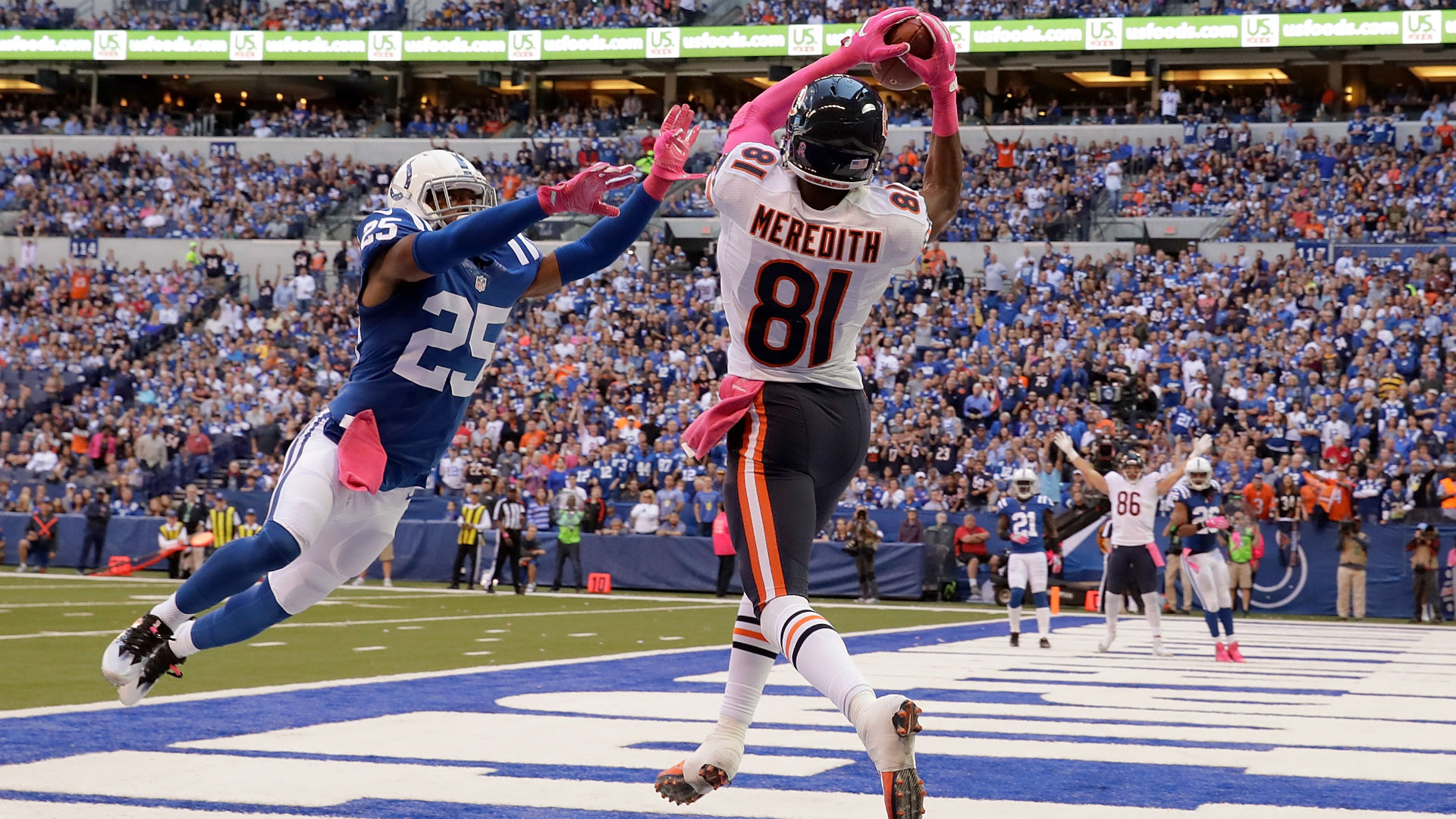 Tight Ends
Best Plays

Greg Olsen ($5,200) – Olsen appears to be back for the Panthers offense, and I love him facing off with the Falcons defense. His yardage has been up, we just need him in the end zone next.
***Kyle Rudolph ($4,900)*** – Rudolph has been the ultimate safety valve for Bradford and the Vikings offense. I expect a big number of targets coming this game with lots of passing.

Value Plays

Cameron Brate ($3,900) – Brate found the end zone last game, and is a good bet to do it again facing the Saints in the dome. He's moving up the ladder of QB Winston's trust.
Charles Clay ($3,200) – Clay has put two nice games in a row together with back to back touchdowns. He's building some rhythm with Taylor, and a home date with Miami could be what's needed to complete the trifecta.
Defenses
Best Plays

New England Patriots ($3,600) – The Patriots defense is firing on all cylinders (#1 scoring defense in the league btw) and welcomes Bryce Petty and the Jets to Foxborough.
***Kansas City Chiefs ($3,500)*** – The Broncos offense is in shambles right now, and next have to travel to KC for an extremely important Sunday Night game. Denver might not score.

Value Plays

Pittsburgh Steelers ($3,000) – I'm not sold on the Ravens offense, and the Steelers are red hot right now. Playing at home helps with the added incentive of trying to nail down the division.
Philadelphia Eagles ($2,800) – Here's a stretch play, but TNF games are usually low scoring. The Giants offense hasn't exactly been humming as of late (minus Odell) as they have been winning with their defense. This could end up being a surprisingly low scoring game.