Here at Roto Street Journal, we fancy ourselves as fantasy addicts. Fantasy football has evolved into something much more than your standard league draft. With the opportunity to enter new lineups every week through Daily Fantasy Sports, the RSJ will be giving you the best plays for your lineups, in order to win you some cash. From the high-priced superstars, to the penny stock sleepers, we have you covered to piece together the optimal lineup week by week.
Notes: Standard DraftKings salaries are used when creating these lineups
Stars (***) represent our top picks of the week
Quarterbacks
Top Shelf

Matt Ryan ($7,300) – Matty Ice at home against a crap 49ers defense is material for a good time. There's a reason he's the most expensive QB this week.

Retail Price

Kirk Cousins ($6,800) – Captain Kirk on MNF in a huge home game against a struggling Panthers defense. The passing game should be back to firing on all cylinders.
Philip Rivers ($6,200) – Rivers lost his star RB Melvin Gordon last week, meaning the Chargers offense will going heavily through the air against the Raiders this week.

Bang For Your Buck

Colin Kaepernick ($5,800) – Kaepernick struggled last week with the Jets, but has the luxury of traveling to Atlanta in a likely high scoring and fast paced game.
***Tyrod Taylor ($5,700)*** – T-Mobile at home against the Cleveland Browns. The Browns are a blessing for all fantasy QBs and give points away like gifts on Christmas morning.
Running Backs
Top Shelf

Le'Veon Bell ($9,800) – Bell was unstoppable last week and went BANANAS. The Steelers passing game has struggled on the road, so Bell should have another heavy usage game in a rivalry matchup.
LeSean McCoy ($8,900) – McCoy didn't rush very well last game and was the victim of vultering, but still managed to score and catch numerous passes for a solid outing. Versus Cleveland, McCoy should run wild.

Retail Price

Devonta Freeman ($6,700) – Freeman against the league's worst run defense? Sure, why not.
Latavius Murray ($5,800) – Murray has been consistently productive in Oakland's offense and has been a touchdown machine. The Chargers won't be slowing down this bruising back.
Bilal Powell ($5,600) – Powell exploded in Matt Forte's absence against the 49ers defense. Forte could miss Saturday's game as well, leaving Powell as the only option in the Jets backfield.
Lamar Miller ($5,400) – Miller had a very productive day against the Colts, and with the Texans likely struggling to throw on Jacksonville, Miller could be leaned on in the offense.
Tevin Coleman ($5,000) – Atlanta is going to kill the 49ers, so you could see Coleman getting a lot of looks late in the game when it's out of hand.
LeGarrette Blount ($5,000) – We know how good the Broncos pass defense is, but struggle with the run. Blount was able to run against the Ravens and should be destined for a goal line touchdown.

Bang For Your Buck

Rob Kelley ($4,700) – The usage for Fat Rob is there, he just needs to capitalize and find the end zone. Washington should score a lot Monday night and Kelley is a good bet to be one of them.
Kenneth Farrow ($4,400) – Stepping in for an injured Melvin Gordon, Farrow will get starters touches at a clearance price. He'll probably be the highest owned RB.
Jerick McKinnon ($4,000) – Anytime you play the Colts, the running game licks their lips. McKinnon can perform in both areas (run/pass) and could put up respectable numbers.
***Kenneth Dixon ($3,800)*** – Dixon was damn impressive in his game against the Patriots. He was a beast that was nearly impossible to bring down and was heavily used in the passing game. He rendered Terrance West useless, and will see plenty of check down options from Flacco. Utilize his cheap price to pay up on other studs.
Matt Asiata ($3,400) – See above, knowing the Vulture King is likely to make an appearance.
Wide Receiver
Top Shelf

Odell Beckham Jr ($8,000) – Beckham's on fire and the Detroit Lions aren't slowing him down. He's the Giants only real threat in the offense.
Jordy Nelson ($7,300) – Jordy struggled last time versus the Bears, but has been a touchdown machine leading the NFL with 12. The Packers throw, throw and then throw some more.

Retail Price

Emmanuel Sanders ($6,600) – Sanders has led the Broncos in receiving both times they played the Patriots last year. With a lot of attention going to Demaryius Thomas, Sanders should see some openings.
Davante Adams ($6,100) – Similar to Nelson, the Packers have been throwing a ton. Adams is Rodgers' go to guy on the deep balls and has established himself as the #2.
Sammy Watkins ($5,900) – Watkins is back to playing nearly every down, and now gets to face the Browns at home. What more could you ask for?
***Tyreek Hill ($5,700)*** – Tyreek the Freak put on a show last Thursday showing how fast and skilled his is in multiple facets of the game. The Titans have been very susceptible to the passing game, so Hill looks great to rip off a long touchdown pass. There's of course the threat of him in the return game for bonus points.
Taylor Gabriel ($5,600) – With Julio Jones still nursing an injury, Gabriel and his speed should be a big piece of the Falcons upcoming dominance.
Dontrelle Inman ($5,100) – Inman has scored in three straight games, and with Gordon going down in the offense there should be plenty of passing for the Chargers.

Bang For Your Buck

Pierre Garcon ($4,700) – Despite all the receiving threats in the Redskins offense, Garcon has been consistent with his solid production. Monday should be a high scoring game.
Robby Anderson ($4,200) – Anderson has been a target machine for Bryce Petty with 11 and 12 in back to back games. I don't see that changing as the heavy target numbers should continue.
JJ Nelson ($3,900) – Cutting Michael Floyd opens up more opportunities for Nelson within the offense. He hasn't gotten the number of touches we'd all like, but he damn well is capitalizing on them when he does.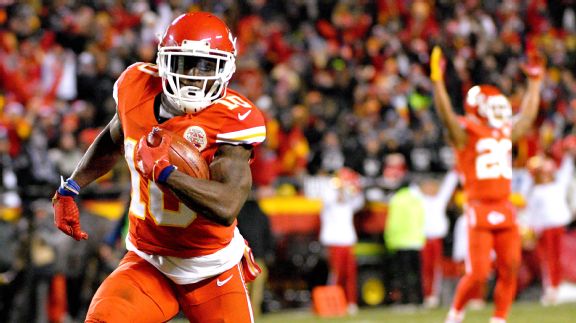 Tight Ends
Best Plays

Travis Kelce ($5,900) – Much to The Wolf's dismay, Kelce has been that dominating force we all waited to see after many bad seasons. There's no reason for him to slow down at home against the Titans.
*** Tyler Eifert ($5,600) *** – Eifert has been instrumental to the offense ever since AJ Green went down. He's been a red zone force, and with a huge game against Pittsburgh coming up, Eifert could have himself a very big game.

Bargain Plays

Kyle Rudolph ($4,300) – Rudolph has been a consist weapon for the Vikings offense and finds himself in a lot of check down and short routes. He's got a very high floor compared to most tight ends.
Ladarius Green ($3,700) – Green took a step back to Bell in last week's showing, but should find himself in a much better spot against the Bengals who struggle defending his position.
Defenses
Best Plays

Seattle Seahawks ($4,000) – Seattle is at home against the Rams whose offense blows and just fired their head coach earlier this week. It's just too perfect.
*** Houston Texans ($3,800) *** – Houston has a very good defense. Add in that they are at home this week against turnover machine Blake Bortles and I'm all-in.

Bargain Plays

New York Giants ($2,900) – The Giants showed how good their defense is by shutting down the Cowboys on Sunday night. With a banged up Stafford coming into the Meadowlands, the Giants are worth a flier here.
Dallas Cowboys ($2,700) – Fresh off a loss, you know the Cowboys will be coming out hot and protect their home field advantage. Tampa Bay struggled offensively against the Saints last game, so Dallas could look to pounce.