Here at Roto Street Journal, we fancy ourselves as fantasy addicts. Fantasy football has evolved into something much more than your standard league draft. With the opportunity to enter new lineups every week through Daily Fantasy Sports, the RSJ will be giving you the best plays for your lineups, in order to win you some cash. From the high-priced superstars, to the penny stock sleepers, we have you covered to piece together the optimal lineup week by week.
Note: Standard DraftKings salaries are used when creating these lineups
Quarterbacks
Top Shelf

Tom Brady ($7,200) – Tom Terrific has a common theme of showing up in big games. Monday nights tilt against the Ravens should be difficult, and if the run game struggles out of the gates it could be all on Brady's shoulders.

Retail Price

Kirk Cousins ($6,300) – The Redskins passing game has been just unfair the last few weeks. After the Eagles were just torched by the Bengals, Kirk should have no problem replicating that success.
Andy Dalton ($6,100) – A matchup against the Browns almost always bodes well for QBs, and Dalton is adjusting to life post-Green.

Bang For Your Buck

Colin Kaepernick ($5,800) – Forget about the last snowy game Kaep played in, did you just see how bad the Jets defense is?
Carson Palmer ($5,700) – Palmer has worked his way back onto fantasy radars now that he keeps throwing the ball to David Johnson. He faces Miami this week who was just torched by Joe Flacco. JOE FLACCO.

My Pick

Jameis Winston ($6,700) – Famous Jameis against the Saints here is a great matchup. He should be able to exploit that secondary with Mike Evans all night long as he picks apart that secondary like he picked apart those crabs from Publix.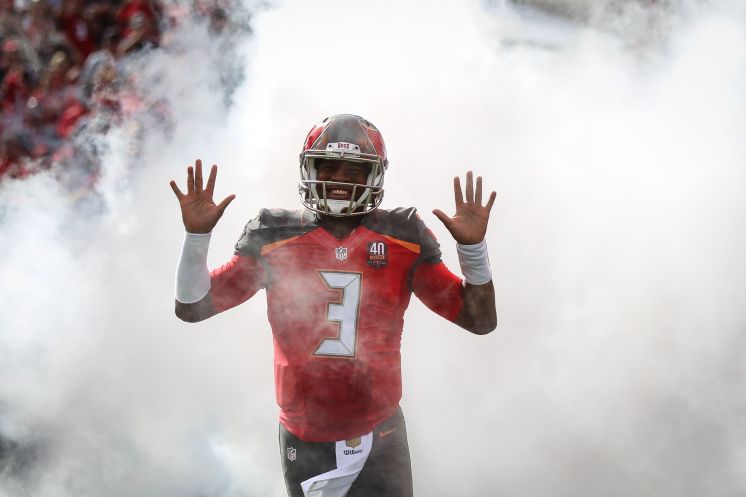 Running Backs
Top Shelf

David Johnson ($9,800) – Does this one really need any explanation? Dudes a Westworld-esque machine.
LeSean McCoy ($8,200) – Shady is option A,B, and C in the Bills offense. At home he should be running wild against the Steelers. Watch out for vultures.

Retail Price

Matt Forte ($6,800) – With Petty in at QB, the Jets should focus on running the ball. Oh look, they play the 49ers this week!
Spencer Ware ($6,300) – Ware scored twice last week, and should be used heavily against the Raiders in a game Kansas City knows can't be a passing shootout.
Jeremy Hill ($5,800) – Ignore Hill's YPC last week which was abysmal. He has lit up the Browns already this year, so why not do it again.
Thomas Rawls ($5,700) – Rawls looked unbelievable in his last outing against the Panthers. He's the lone option in the backfield and is playing like the low RB1 / high RB2 we thought he could be to start the year.
Latavius Murray ($5,200) – Murray has been great for the Raiders since returning from injury. His continued use at the goal line is a great sign to see for such a low priced guy.

Bang For Your Buck

Darren Sproles ($4,400) – Sproles' use in the passing game will always make him an intriguing play. With limited receiving options, and Josh Norman lining up across the line of scrimmage, Philly could utilize their shifty back.
Isaiah Crowell ($3,900) – If RGIII does return to the offense this week, he could open things up allowing Crowell to rediscover his beginning of the season success.

My Pick

Devonta Freeman ($6,100) – Freeman is fresh off back to back two touchdown games. With Julio Jones dealing with a toe injury along with other Falcons receivers struggling with injuries, Atlanta could ride Freeman against the Rams while he's hot.
Wide Receivers
Top Shelf

Mike Evans ($8,900) – Mike Evans against the Saints secondary at home? Yes please
Antonio Brown ($8,700) – What can Brown do for you? Apparently it's give you a consistent elite receiver. Business is boomin in Buffalo this weekend.
Odell Beckham Jr (8,000) – Odell is on fire as of late, and we all know how special games against the Cowboys are to him. He wants to make a big splash, and likely will on Sunday night against an injured secondary.

Retail Price

Golden Tate ($6,600) – Tate had a big day against New Orleans last week, and should stay hot against the Bears. A big divisional matchup at home should be all the inspiration needed.
Michael Crabtree ($6,200) – The receiver you want from the Raiders isn't Cooper, but Crabtree. He's gotten more targets than the higher priced Cooper, and has been far more consistent and reliable this year. This weak Chiefs secondary can be exploited.
Jamison Crowder ($5,600) – As I've said before, Crowder has been a model of consistency. He's unlikely to disappoint this week against the Eagles who were just gutted by the Bengals.
Jarvis Landry ($5,600) – Landry put up numbers last week we had been expecting all season. Hopefully this was Coach Gase's wake up call to get him the ball more. The Cardinals won't likely give up deep balls, so Landry over the middle could be very much in play here.
DeSean Jackson ($5,200) – Jackson returns home to face his old team in the Eagles. You know this one will be extra special for him, and Kirk could try and force him one to stick it to his old team.
Kenny Britt ($5,200) – Britt has strung together a nice stretch of games in the Rams offense. He's their best receiving option, and takes on a less than stellar Falcons defense.
Tyreke Hill ($5,000) – Hill has been the swiss army knife of the Chiefs offense. The dynamic playmaker is a spark plug on the team, and will keep being fed the ball if the coaches are smart. A Raiders defense should be easy for Hill to terrorize.

Bang For Your Buck

Dontrelle Inman ($4,800) – Inman has been a force in the offense, and with Williams struggle with shoulder injuries, that only opens the door more for Inman's potential against the Panthers.
Taylor Gabriel ($4,300) – With numerous Falcons receivers dealing with injuries, Gabriel remains the healthiest option in a date with the real bad Rams
Malcolm Mitchell ($4,200) – Mitchell has burst onto the scene in New England and has become Brady's #2 receiver. In a tough spot without Gronk and Amendola, Brady will be looking Mitchell's way often, especially in the red zone
Ted Ginn Jr ($4,000) – Ginn has been blazing hot the last two weeks with touchdowns in both. His speed is unmatched, and Cam Newton loves to throw the deep ball his way. High risk, high reward.
Tyler Lockett ($3,700) – Lockett looked fantastic in what seemed like his first healthy game all season. He was showing the speed and elusiveness that made him such a dynamic playmaker last year. He's rebuilding his presence in the offense.

My Pick

Julian Edelman ($6,800) – The Patriots game against the Ravens is likely to be a hard fought matchup. When the going gets tough in New England, the ball usually finds it's way into Gronk or Edelman's hands. With Gronk done, Edelman should eat up even more targets. It would be nice to see him get in the end zone though
Tight Ends
Top Plays

Tyler Eifert ($6,000) – Eifert scored three touchdowns against the Browns last year in one game. He's stepped up in the offense with AJ Green out
Travis Kelce ($5,700) – Kelce has been on fire in the Chiefs passing game. He should be the primary weapon once again versus a struggling Raiders defense

Bargain Plays

Delanie Walker ($4,400) – It's never wise to pick on the Broncos pass defense, but if the corners are shutting down receivers, Mariota could be forced to look his tight end's way. Walker is really their best passing option.
Cameron Brate ($4,100) – While Mike Evans will be getting most of the love in Tampa's offense, Brate establishes himself as the #2 receiving threat. The Saints are a great defense to pick on.
Ladarius Green ($3,900) – Green finally broke out last game as we hoped he would as the Steelers new tight end. Hopefully Big Ben had fun playing with his new toy last game and wants to repeat that on Sunday against a struggling Bills secondary.
Defenses
Top Plays

Minnesota Vikings ($3,900) – The Vikings already have a good defense, so when they play Blake Bortles and the Jaguars, it's time to pay up.
Detroit Lions ($3,600) – The Lions are hot right now and have stepped up on defense. The Bears offense is a mess, so Detroit is very much in play here.
Cincinnati Bengals ($3,500) – It's Cleveland, I mean, cmon.

Bargain Plays

Pittsburgh Steelers ($2,800) – While I expect McCoy to have a solid game, I don't trust Taylor to be able to do much offensively.
Indianapolis Colts ($2,600) – I just really hate Brock Osweiler.