Happy Monday, fantasy football fans. Every Monday this will be the place to be for the most comprehensive wrap-up of the week's most enticing fantasy football headlines. We'll also fill you in with the things we know we saw. Be sure to follow us on Twitter and subscribe to the Fantasy Stock Report podcast on iTunes!
Headlines
The Saints lay an egg
Last week I declared the Saints as a "fantasy juggernaut." Last week's piece must have gone to their head. In a pivotal week for fantasy football, where it's typically the final week of the regular season, the entire Saints offense did absolutely nothing against the Lions' shitty defense — in the Superdome!
We touched on Drew Brees in this week's winners and losers article, but it's worth reiterating. At home, against the Lions, Brees threw three interceptions to zero touchdown passes. That is fucking pathetic. Whenever RedZone jumped to this game, I thought we would be seeing Brees hit Mike Thomas (8.20 PPR points), Brandin Cooks (14.70 points) or the Blonde Muskrat (5.80 points) for countless touchdowns. Instead, it was interception after interception, or a failed third down conversion. If you had Brees, you know he finished with 10.04 fantasy points and possibly ended your fantasy season.
Entering Sunday, Drew Brees had thrown a TD in an NFL-record 60 straight home games.

That streak has ended. pic.twitter.com/9hBiFC2VOP

— ESPN (@espn) December 4, 2016
Not only did they do absolutely nothing through the air, but the ground game was even worse. Mark Ingram finished with 37 yards on 7 carries, but somewhat saved his PPR day by grabbing all 5 targets. He finished with 10.30 points. Tim Hightower was supposed to have a decent day, considering Ingram sat out practice with a toe injury last week, but he finished with 5 (!) yards on 2 (!) carries. Hightower came off consecutive 18-plus point games and finished with a measly 1.90 points on Sunday.
Very unfortunate timing for arguably the most fantasy-relevant team in the NFL.
Another special rookie running back
We all know Ezekiel Elliott is a fantasy stud and leads the league in rushing yards. But there's a second rookie running back who is making his mark in the fantasy world, and his name is Jordan Howard. Both Zeke and Howard have rushed for over 100-yards five times, which is pretty wild.
https://twitter.com/LordReebs/status/805797159098519553
In his last five games, Howard has averaged 18.9 PPR points per game and went over double digits in all but one of those games (he still hit 100 rushing yards in that lone game). What's even better for fantasy owners is the usage he's getting. Howard carried the ball 32 times against the league's worst defense against the run defense and has seen 15-plus carries in eight of his last nine games. The bruising tailback was on the waiver wire for the first few weeks of the season, so congrats if you snagged him. He's a borderline RB1 the rest of the way.
Big Ben has found his Heath Miller replacement
When the Steelers signed Ladarius Green, it was a match made in fantasy heaven. Green is wildly athletic and talented, and is the perfect fit for Pittsburgh's high-flying offense. There was one problem though. Green couldn't get on the field after having offseason ankle surgery and a mysterious head injury that was rumored to make him think about retirement.
After missing the first 9 weeks of the season, Green has been eased back into playing time and after Mike Tomlin suggested that Green would see an uptick in snaps this week, he certainly made the most of them.
Ladarius Green played only 35 snaps vs NYG, but he was targeted on 11. Antonio Brown is spending more of his snaps as a blocker than Green.

— Evan Silva (@evansilva) December 5, 2016
It's clear that Ben Roethlisberger is a fan of his new toy at tight end, targeting him 11 times on Green's 35 snaps. Green responded by catching 6 of those targets for 110 yards and a touchdown, equaling 23 PPR points. We all know how much Ben loved to throw to Heath Miller in the red zone, so adding Green (23% owned) for the playoffs would only bolster your depth or he could even be a starting tight end if you need one.
Thomas Rawls is back
Pete Carroll and the rest of the Seattle coaching staff are extremely high on Thomas Rawls, and it's easy to see why — barring injury. A player who could have been had on the waiver wire just three weeks ago after missing the majority of the season with lower leg injuries, is a possible league winner if you grabbed him a week earlier than the others in your league.
#TOUCHDOWN Seahawks!! @TRawls810 ordered a double! 🚂#CARvsSEA https://t.co/2IDUhydu2I

— Seattle Seahawks (@Seahawks) December 5, 2016
After putting up a very odd 3.80 fantasy points on 12 carries last week, Rawls ran all over the Panthers' defense on Sunday night. Rawls put up 106 yards and 2 touchdowns — mostly in the first half — resulting in 24.80 PPR points. He missed some of the second half when he was placed in the concussion protocol, but he did come back and play a bit, which is a good sign for next week. Seattle loves to run the ball, so as long as if he can stay healthy, he's the perfect Flex option if you own him.
The Best of the Internet
Marquette King continues to be the man
https://twitter.com/barstooltweetss/status/805569187955568640
https://twitter.com/MarquetteKing/status/805600409603559424
Josh Lambo juuuuuust missed this kick
The Chiefs are pretty useless on offense, but they find ways to score
Before snapping his leg, Earl Thomas destroyed Kelvin Benjamin
After snapping his leg, Thomas decided to tweet out that he was pondering retirement. Hopefully it was just the pain killers talkin'.
This game has been so good to me no regrets.. A lot is running through my mind including retirement thanks for all the prayers.

— Earl Thomas (@Earl_Thomas) December 5, 2016
Last week I highlighted Colin Kaepernick as a legit fantasy quarterback, then he did this.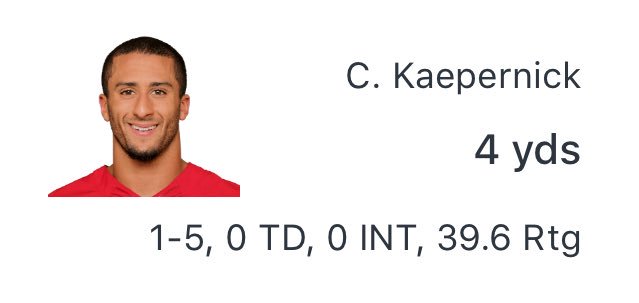 Hey Ben McAdoo, do less.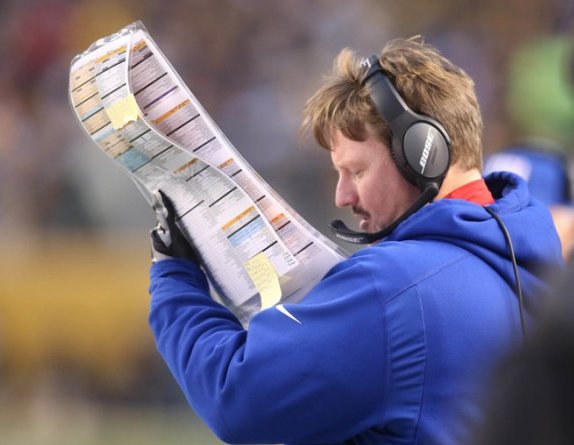 Wait, what?