Today we say farewell to a fantasy legend. Arian Foster is without a doubt a first ballot Fantasy Football Hall of Famer. In his prime, he was a nightmare for opposing fantasy owners and also a nightmare for opposing defenses. Today we pay homage to a great.
It's always a shell shock in the fantasy football community when we see someone who dominated in the past couple of years, retire. Arian Foster announced Monday on Uninterrupted that he will be retiring with the Miami Dolphins, after seven and a half seasons in the NFL.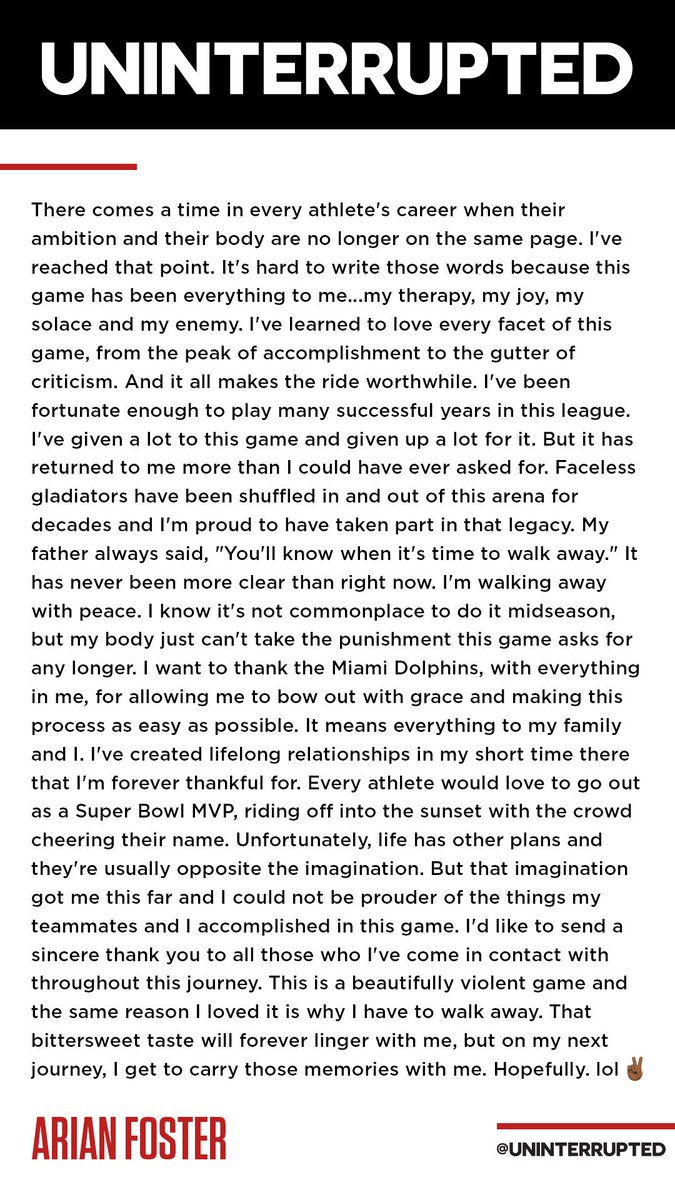 Lets look back and pay homage to the star of the Houston Texans backfield from 2009-2015:
Signed by the Houston Texans in 2009 as an undrafted free agent, Foster accomplished some things that no one would have foreseen at that time. During his five healthy seasons in Houston, Arian rushed for 1,000 yards four times and averaged 7.2 touchdowns per season. If you owned him back in those fantasy days you knew he was an absolute stud and a sure RB1.
Unfortunately, that greatness came with some inconsistencies.
Depending on the year, Arian Foster was a gift and a curse for fantasy owners. In 2010, he came into the fantasy season ranked 145th overall and the 56th ranked RB. He finished No. 1 overall that year and averaged 20 fantasy points per game — by going over 1,600 yards on the ground with 18 total touchdowns.
From 2010 to 2012, Foster only missed three games and went over 1,200 yards rushing each year and a totaled 47 touchdowns in that span, which is just insane.
We all saw how amazing Arian Foster was, but we all also saw that his body couldn't keep up with the work load. Following the 2012 season, Foster missed 23 out of 48 games and saw his TD total drop to (a still respectable) 19. With all of the injuries Foster faced, it was a matter of time before he would retire and I think I speak for everyone when I say, Foster was a guy that made you hold your breath every time he took a hit.
Looking back on Foster, he's leaving his legacy on the sport as he's 5th all time in scrimmage yards per game behind all-time greats: Jim Brown, Barry Sanders, Adrian Peterson, and Walter Payton. Also, since 2010, Foster is first in total yards per game, 100-yard games, and is tied for first in total touchdowns.
However, I feel like we're all left with a "what could have been" for Foster. Yes, he had an amazing career but if he wasn't plagued with injuries, could he have been in talks as one of the best running backs to ever play the game? We'll never know, but now is the time to pour one out for Foster. Let's appreciate him as a player and as a fantasy football legend.
Thank you, Arian Foster.