We are already nearly halfway done with the fantasy season, and your league is likely dividing into three factions: those fighting for a bye / first place honors, those in the thick of the final few playoff spots, and those trying to avoid the last place punishment. Regardless of where you sit, maximizing every starter and bench spot of your roster is crucial for a championship, especially when Bye Week Armageddon is about to hit in Weeks 8 and 9:
| | |
| --- | --- |
| Week 7 | Carolina, Dallas |
| Week 8 | Baltimore, Los Angeles, Miami, NY Giants, Pittsburgh, San Francisco |
| Week 9 | Arizona, Chicago, Cincinnati, Houston, New England, Washington |
Looking ahead and planning for so many absences is important — I just realized I have all four of my WRs on bye come Week 8, and now recognize I'll either need to pull some crazy trades or else face cutting some of my high upside stash guys (i.e. Dion Lewis, Bilal Powell, and/or DeAngelo Williams).
Below are my top options available in over 50% of Yahoo leagues. Pickups are divided into potential long term contributors, short term stop gaps, and upside stashes.
Buying as long term contributors
Note – Bears WR Cameron Meredith slides in at 51% owned, technically disqualifying him from this list. After another massive 15 target, 11 catch, 113 yard day as the clear Alpha in Chicago (yes, above Alshon now), Meredith should be rostered in 100% of leagues. QB Brian Hoyer again threw for over 300 yards, and his seemingly solid grip on the starting job is music to Meredith owners ears. Consider him a quality WR2 from here on out. This is no fluke.
Qunicy Enunwa  is also owned in only 48% of leagues despite Eric Decker officially being placed on season-ending injured reserve. Why?
RB Jay Ajayi, Miami Dolphins, 30% owned
FAAB: $25-$30
Starting RBs are rarely available on waivers… especially not those toting the rock 25+ times a game… and especially not those who turn those 25 carries into over 200 yards and 2 TDs.  Nonetheless, Ajayi is there for the picking in 70% of Yahoo leagues, and needs to be rostered universally after a dominant performance. Coming out of Boise St., Ajayi reminded me of Marshawn Lynch with an aggressive, "seek-contact,"  and constantly churning forward style; yet, we hadn't really seen this ferocity translate onto the NFL field, instead getting hesitancy and tentativeness in his brief NFL career.
Beast, awaken. Ajayi was a flat out monster Sunday, rarely going down on initial contact and churning out chunk plays after chunk plays. Encouragingly, the holes were gaping, and Ajayi was finding the creases well and barreling through tacklers. He also showed impressive long speed on his game-icing 62 yard TD scamper. Best of all, Arian Foster was active yet rode the pine in light of Ajayi's impressive performance.
HC Adam Gase has long preferred riding one back, and this has to be considered Ajayi's job until otherwise told. For those in win-now mode, Ajayi's next five contests feature four against bottom 15 defenses, including dates with two of the sluttiest run defenses in the league in San Diego and San Francisco. Consider Ajayi an easy top-20 RB play until further noticed, and pay accordingly for his services.
TE Hunter Henry, San Diego Chargers, 34%
FAAB: $20-25
So much for rookie tight ends coming along slowly. Since entering the starting lineup, Henry has not scored below 12 PPR points, including 16+ in three straight thanks to a sexy TD streak. This past Thursday was his finest professional performance yet, as Henry was Rivers' #1 option all night against a stingy Denver pass defense, and impressively turned 8 targets into 6 receptions, 83 yards, and 1 TD. With a lack of quality options around him and his quarterback's full trust, Henry should be considered a top-7 TE from here on out; if you're struggling at the position and he's somehow out there, you should be emptying the wallet. For the playoff-minded, Hunter faces Carolina (8th worst vs. TE), Oakland (5th worst), and Cleveland (worst) in 14-16.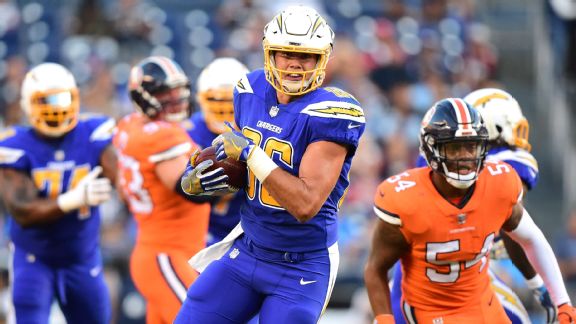 WR Kenny Britt, LA Rams, 10% owned
FAAB: $10-12
Only two receivers in the top 25 of PPR scoring are under 85% owned: Cole Beasley is one (45%), and Kenny Britt is the other, who's insultingly available in 90% of leagues despite outscoring DeAndre Hopkins, Jordy Nelson, Brandin Cooks, Alshon Jeffery, and Demaryius Thomas, among others. Yes, Britt's 7 catch, 136 yard, 2 TD (32.6 points) performance definitely helped, but he has dipped below double digits in just one of six contests on the year, and is the clear Alpha #1 in LA no matter what Tavon Austin's contract might suggest. Britt has always been an athletic freak, and is maintaining his 16+ YPC over increased usage; this now has him on pace for over 1,300 yards.   While his pace should taper off a bit, there's no real evidence to suggest it will.
RB Jacquizz Rodgers, RB, Tampa Bay Buccaneers 22%
FAAB: $20
Despite notching 35 (yes, 35) touches during a Week 5 spot start, Rodgers remains available in 22% of leagues — likely a byproduct of their passing bye. Capitalize upon this mistake; Rodgers now carries that Charles Sims "sexy handcuff, standalone appeal" as Dirk Koetter's pass-catching back. Often forgotten: In 2012 and 2013 Rodgers caught 53 and 52 balls in Atlanta under none other than Koetter (OC at the time), and Rodgers carries very real bye week appeal in his floor role.
But the ceiling, as was the case was Sims, is the featured back role in this explosive offense. Do you need a reminder this yielded Rodgers 35 touches just a week ago? Yes, Koetter wasn't bullshitting when he expressed "extreme confidence" in his former player. Even better, Doug Martin sat out Monday's practice, making him an early risk to miss a cake matchup. This type of floor ceiling belongs on every roster.
Deeper Leagues
WR Kendall Wright, Tennessee Titans, 2% owned
FAAB: $3-5
In his second game of 2016, Wright was a flat out beast, catching 8-of-9 targets for 133 yards and a TD.  This massive production all came with Wright playing only 22-of-62 snaps (35%), indicating Marcus Mariota is looking for the shifty fourth year Baylor product whenever he steps onto the field. You have to imagine his usage increases after this explosion, and Wright doesn't face a top-half team against WRs until after his Week 13 bye (next six= Indy, Jax, SD, GB, Indy, CHI), making him an ideal rotation player for the bye week crunches.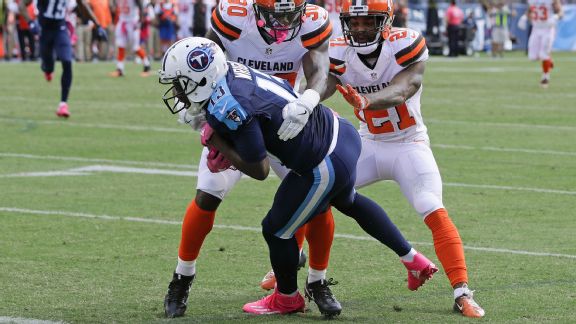 WR Torrey Smith, San Francisco 49ers, 25% owned
Though a 3-of-7 day seems ugly, this was by far Smith's most involved effort of 2016. Finally freed from Blaine Gabbert's pop gun arm, Smith was targeted frequently by Colin Kaepernick in the deep game, and the two connected for a wide open bomb. Smith ultimately produced a 76 yard, 1 TD effort, and his ceiling has received an instant lift.  The production might be inconsistent, but Smith can bring some upside to your flex when in need.
Buying as a cheap,short term band-aids
WR Ty Montgommery, Green Bay Packers, 1% owned
FAAB: $1-2
Barely used leading into Week 6, Montgomery was the Packers leading receiver against Dallas, hauling in 10-of-12 looks for 98 yards while also taking three carries for six yards.  Montgomery greatly benefited from Green Bay's depleted backfield, lining up behind center on numerous occasions, where he often made mincemeat out of opposing linebackers in one-on-one coverage. With James Starks set to miss 4-5 weeks and Davante Adams highly questionable with a concussion, Montgomery has very real streaming appeal against the Bears in Week 7.
TEs Jack Doyle, Indy Colts (9%) and Vernon Davis, Washington Redskins (8%) – Bye Week fill-ins
FAAB: $1
Both Doyle and Davis are dependent upon the health of starters Dwayne Allen and Jordan Reed respectively; yet, both offenses funnel enough looks to the tight end that a featured role could yield TE1 streaming upside. Davis gets a date with the abysmal Detroit Lions, who couldn't cover Lance Kendricks, while Doyle would get to tango with the non-intimidating Titans.
Cincinnati (46%) and Baltimore (33%) Defenses
FAAB: $1-2
Scour the wire and see if Cincy is lingering, as they've struggled and were facing the Pats in Week 6.  They should come out hungry at home against Cleveland. If they're taken, send a look at Baltimore, who's matched up at home with the turnover machine Ryan Fitzpatrick. Outside of the Odell show, Baltimore has been quite stingy on defense, and is a highly streamable unit in Week 7.
Buying as upside stashes
If you haven't listened about Dion Lewis (25%), Devontae Booker, or Bilal Powell (37%) by now, you don't deserve them. Here's a few other guys to check in on:
WR Corey Coleman, Cleveland Browns, 39% owned
FAAB: $5
The last time this guy touched the field, he caught 5 balls for 104 yards and 2 TDs in limited action. Gordon is now gone, and the offense is still clicking. Who's to say Coleman doesn't take the #1 role from Terrelle Pryor? Upside worth stashing for sure.
RB Mike Gillislee, Buffalo Bills, 4% owned
If you own Shady, you understand the heart stopping feeling of seeing the stud back hit the turf.  Even if merely a shot to cover the pain, Gillislee would be some form of comfort if Hell reaches Earth.
Waiver Wire Rankings Week 7
Tier 1 – Potential high end contributors
1. TE Hunter Henry, San Diego Chargers (34%)
2. RB Jay Ajayi, Miami Dolphins (30%)
Tier 1.5 
3. RB Jacquizz Rodgers, Tampa Bay Buccaneers, (22%)
4. WR Kenny Britt, LA Rams, (10%)
Tier 2 – Upside Stashes
5. RB Dion Lewis, New England Patriots (24%)
6. RB Devontae Booker, Denver Broncos (29%)
7. WR Corey Coleman, Cleveland Browns (39%)
8. RB Bilal Powell, New York Jets (34%)
Tier 3 – Contributors
9. WR Cole Beasley, Dallas Cowboys (45%)
10. Mohamed Sanu, Atlanta Falcons (33%)
11. WR Robert Woods, Buffalo Bills (22%)
12. WR Kendall Wright, Tennessee Titans (2%)
13. WR Jamison Crowder, Washington Redskins (32%)
14. WR Torrey Smith, San Francisco, (34%)
Tier 4 – Bandaids / Deep League Stashes 
15. WR Anquan Boldin, Detroit Lions, 20%
16. WR Ty Montgomery, Green Bay Packers (1%)
17. TE Jack Doyle, Indianapolis Colts (9%)
18. TE Ladarius Green, Pittsburgh Steelers (7%)
19. TE Vernon Davis, Washington Redskins (8%)
20. QB Alex Smith, KC Chiefs (33%)