Happy Monday, fantasy football fans. Every Monday this will be the place to be for the most comprehensive wrap-up of the week's most enticing fantasy football headlines. We'll also fill you in with the things we know we saw. Be sure to check out our other two Monday columns: Winners and Losers, and Football From the Kitchen with V. Enjoy.
Headlines
Record-setting day for two big-time players
If you listen to the podcast (subscribe, now) you would know that we thought Odell Beckham Jr. was about to break-out — we were just a week early. Although his post-touchdown and sideline antics are getting a bit out of control — he also might have a mental disorder — he balled hard yesterday. If you bought-low on OBJ, congratulations. The man put up 8 receptions on 10 targets for 222 yards and 2 touchdowns, which was good for 40.20 PPR points. Even though he scored the go-ahead touchdown, you would be lying if you didn't want the Ravens to come down and score the game-winning touchdown — due to his unsportsmanlike penalty. Great talent. But there's definitely something wrong in that brain of his.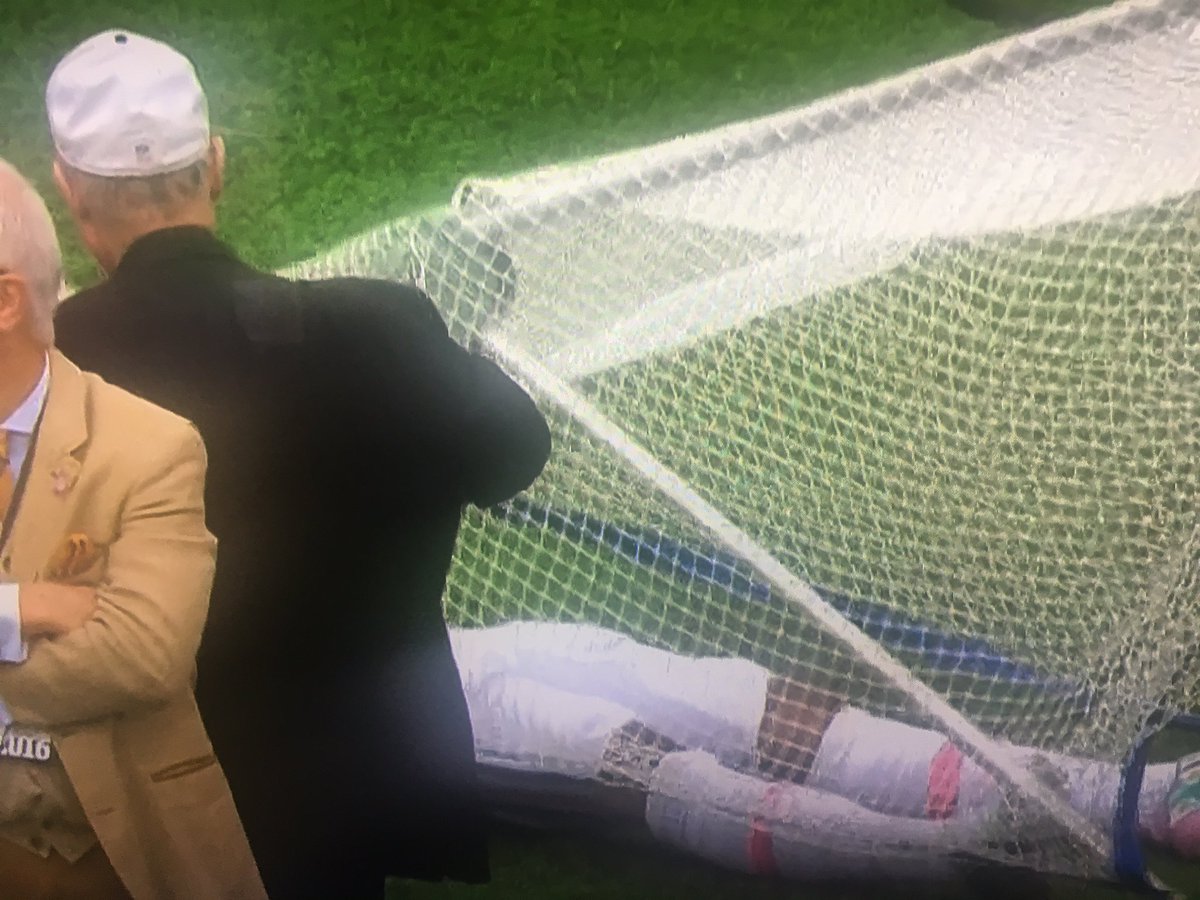 Rob Gronkowski is healthy, and when Gronk is healthy, he is unstoppable. Gronk and Tom Brady combined to tear up the Bengals defense to the tune of 162 yards and a touchdown on 7 receptions. He ran around and through defenders, and created his first earthquake of the season when he found the end zone. When Martellus Bennett emerged without Brady, that was a good time to buy-low on Gronk. Now, it's too late.
We were this close to three season-altering injuries
Our love for LeSean McCoy has been well-documented, so let's just put this out there: Shady might be this year's most valuable fantasy player, and if you own him, you have a pretty good chance of winning the 'ship. The dude has done nothing but perform at the highest level all season. His lone "bad game" was a 13 point PPR effort on Thursday Night Football — where everyone typically sucks — and since then, all he has done is put up an average of 25.35 PPR points per game. His owners were almost forced to delete their fantasy teams when McCoy caught a check-down pass before the half and was hit on the side of his left knee by a 49ers defender. He immediately ripped his helmet off and grabbed his left knee in pain. Fortunately for the city of Buffalo — who have nothing else to look forward to in life — and his owners, McCoy returned after the half and even scored a touchdown. Crisis averted.
This was mentioned in today's "Winners and Losers of Week 6", but Ben Roethlisberger flat-out sucked yesterday. What was more disappointing was that it came against a shitty Dolphins defense that Roethlisberger, Antonio Brown and Le'Veon Bell should have torched. The play happened on a scramble before the half, where a defender dove and slapped Big Ben's feet together. He broke the tackle but then threw an interception. He went off to the locker room right away and returned after the half with a sleeve over his knee. After throwing another horrid interception in the second half, it was clear that he was injured.  It was later announced that Roethlisberger had a torn meniscus and would be out at least this week against the Patriots, and maybe further. We'll touch on how the rest of the offense will be affected by Ben's injury later this week.
Although we already touched on Odell Beckham Jr., his fans were about to cut the cord with him when he landed hard on his hip when he went up for a catch. He went off to the sidelined, returned for one play and then quickly hobbled off the field. Luckily it was just a hip pointer. We all know what happened after he returned.
Underwhelming RBs finally explode
We pumped up Lamar Miller and his potential before the season started — even stating he would be a better selection than Adrian Peterson — but if he didn't produce against the hapless Colts, we would have had to announce that we were wrong on the guy. Luckily for us, and the people who listened to us, he exploded on Sunday Night Football. Miller had 27 touches on the night and racked up 178 total yards and two touchdowns, which totaled 32.80 PPR points. Thanks for making us look decent — for now.
Uh, where the hell did Jay Ajayi's emergence come from? Ever since the Dolphins signed Arian Foster,  Ajayi has been a whiny bitch. He was even inactive Week 1 and did not see double-digit carries until Week 4. Even though Foster was back in the lineup on Sunday, Ajayi was the main ball carrier and toted the rock 25 times against the Steelers. He responded with 204 yards and 2 touchdowns. Unfortunately, the majority of his owners bailed on him and he's only owned in 31% of Yahoo leagues. Hello, waiver wire.
204 Yards.
25 Carries.
2 TDS.

@jaytrain23 makes it look EASY. #MiamiDolphins https://t.co/RzO1iYCurZ

— NFL (@NFL) October 17, 2016
Things I know I saw
My man Zeke Elliott ran through the league's top-ranked rushing defense by putting up 157 yards on the Pack. He was so focused on the game, that he forgot to put pants on for his interview with ESPN's Ed Werder.
Sup, Golden Tate? Nice of you to join us. The man put up a 8-165-1 line, en-route to 30.80 PPR points. Kenny Britt was another one who had a surprising day, as he put up 7-136-2 and is available in 90% of Yahoo leagues.
Odell Beckham put up numbers on the field, but he had a tough day off of it:
https://twitter.com/barstoolsports/status/788029948665663488
Carson Wentz had a little jersey malfunction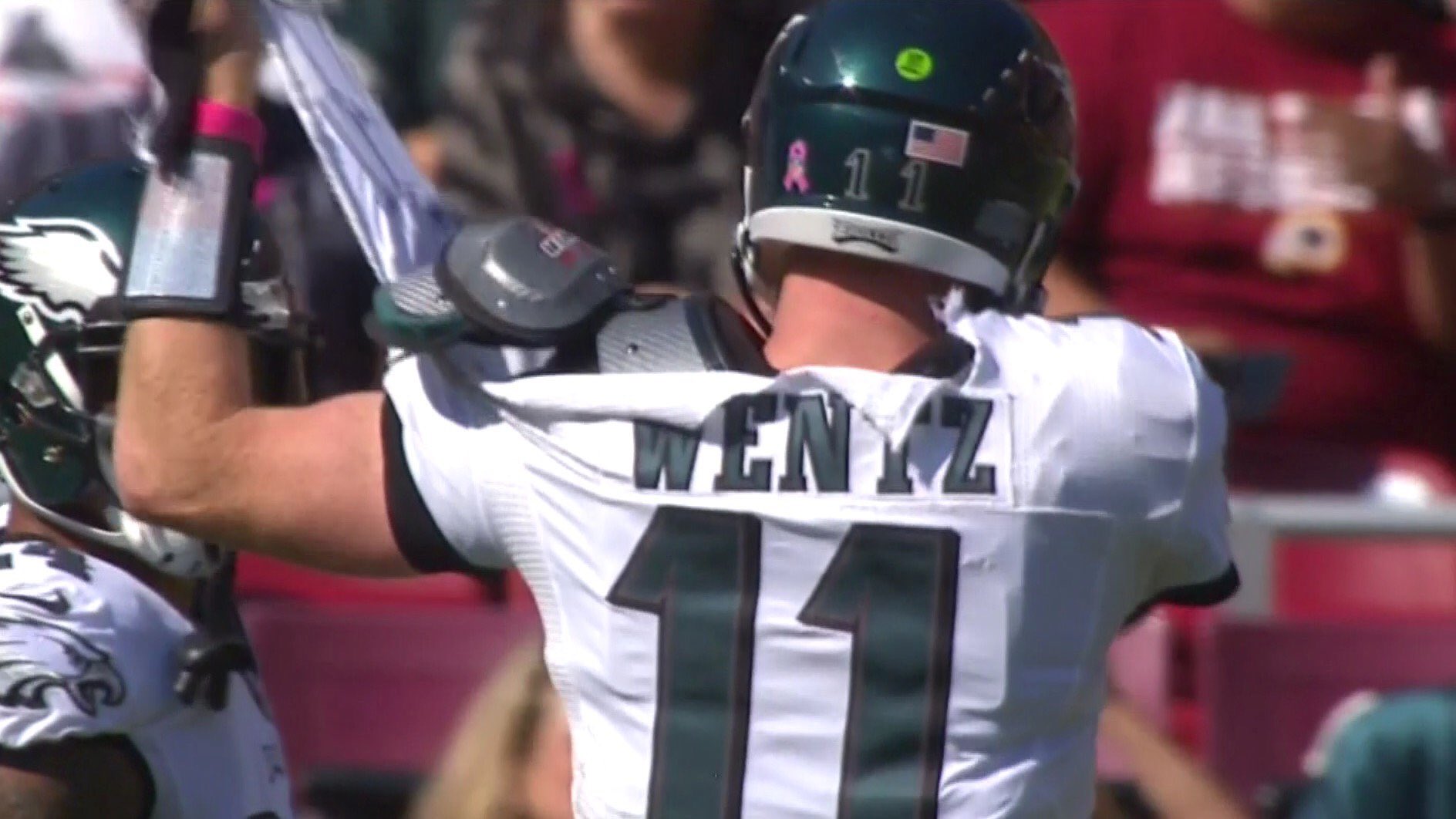 There were a couple of very aggressive NFL fans in the parking lots and in the stands on Sunday.
First in Miami:
https://twitter.com/barstooltweetss/status/787826529225084929
We'll wrap this up with #BillsMafia, doing #BillsMafia things (NSFW):
https://twitter.com/barstoolsports/status/787709349498093568
See ya'll next Monday. In the meantime, stay up-to-date by following us@RotoStreetJ on Twitter and subscribing to our funny and knowledgeable podcast, The Fantasy Stock Report.