Player Stock Ticker
Start or Sit Week 6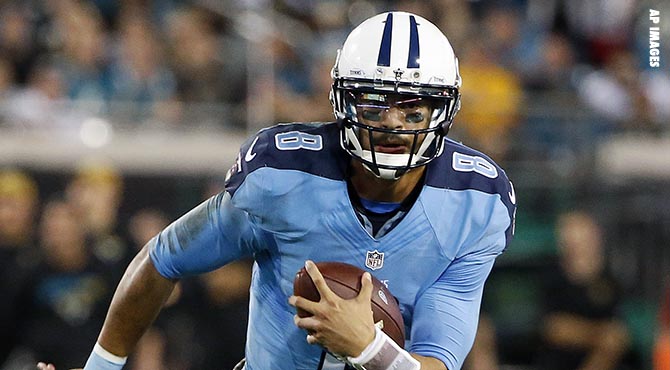 If you're anything like us, you tinker with your lineup from Tuesday to Sunday, trying to decide on the perfect combination to pull out a win. We all have "must starts" in our lineup but what about the players we just can't seem to pinpoint. This is where we're here to help. 
Quarterbacks
Start
Marcus Mariota
Mariota is coming off, by far his best performance of the season with 4 TDs. He finally put up the fantasy numbers we always hope for. Although Tennessee did play against a poor Miami defense, it was a road game. I see this carrying over at home against the Browns, which is just another team trying to find their footing. I'm predicting Mariota to put up some solid fantasy numbers once again this week and if you need a QB to stream this week, he's available in 42% of Yahoo leagues.
Derek Carr
Carr has been outstanding fantasy wise this year (3rd ranked QB) and every time I doubt him, he comes up with big numbers. Oakland has an outstanding offensive line that's matching up against a Kansas City team that is coming into Sunday with only 5 sacks. I believe Carr will be able to produce at home, once again, with Oakland's two-headed WR monster of Michael Crabtree and Amari Cooper.
Brain Hoyer
Hoyer is an easy plug-n-play this week as he's available in over 80% of Yahoo leagues. Since he took over as a starter for an injured Jay Cutler, Hoyer hasn't producted less than 18 fantasy points so far in those three games. Hoyer is squaring off against a leaky Jacksonville secondary at home, and he should increase his league-leading completion percentage. The quarterback is entering the week with three-straight 300 yard games, it's a safe bet that he will extend it to four.
Sit
Andy Dalton
It's hard to put your trust in Andy Dalton, even though he's coming off a 21-point week vs Dallas. Both of his TDs came in garbage time — since Dallas was up 28-0 going into the 4th quarter — and that was his only game with more than 1 touchdown pass this season. This week, Dalton is heading to Foxborough to square off against Tom Brady in his first home game since 2015. It's going to be wild at Gillette Stadium.
Dak Prescott
Let me start this off by saying, I really like Dak Prescott. The rookie has played outstanding and his running ability near the goal line typically makes him a great fantasy play. Green Bay has an outstanding run defense — 42.75 rushing yards against per-game, 2 yards-per rushing attempt, and 1 rushing TD allowed — and even with the hot hand of Ezekiel Elliott, the run game won't be as prevalent, which adds a lot of pressure on Prescott's arm. I'm just not sure yet how Prescott will react going into Lambeau Field vs the Packers.
Matt Ryan
After his hot start to the year, Matt Ryan is still ranked 1st among QBs for fantasy points. However, coming off his worst game of the season at Denver (14 points), it's safe to assume he'll continue to slide this week against a great Seattle secondary who have only given up 1 TD to opposing QBs so far. The Seahawks have allowed 18 fantasy points combined to the last two quarterbacks they've faced. Coming off a bye week, the 12th man will be ready for Matty Ice's Falcons.
Running Backs
Start
Lamar Miller
Coming off his least active and worst performance of the year so far — Miller only had 9 touches and 3 PPR points. It's only right that Miller owners get a big burst out of a guy that many people (like us) were so high on. Well this is our game. He's going up against a Colts team this weekend at home, who have allowed nothing less than 17 fantasy points per game to opposing RBs. Also, Miller averaged 23 carries per game before last weeks implosion vs Minnesota and I expect a lot of work for him once again this week, heading into a must-win divisional game.
James White
Cincinnati has given up the 11th most receiving yards per game to opposing RBs this season. This is perfect for James White who, with the return of Brady, saw 4 catches last week for 63 yards. White is the perfect back for the Patriots' offense and I expect his targets to go up even more this week. If you need a Flex play, or a BYE week filler, White could be your guy as he's available in 47% of Yahoo leagues.
Ryan Mathews
I'm not the biggest Ryan Mathews fan, but this week the matchup is just too sexy. It's an away game but vs the Redskins who have allowed 100-plus yards in four-of-five games this season (96 yards the other game), and 7 TDs to running backs this season. It's way too hard to pass up. I expect Matthews to get at least 15 touches this week, which could result in some good fantasy compensation.
Sit
Isaiah Crowell
Isaiah Crowell started off this season as a running back not many expected him to be, given the fact that he could have been drafted around the 150-range. However, this week I don't like his matchup at Tennessee. They've only given up 2 touchdowns on the ground and with Cody Kessler at quarterback, the whole offense is pretty anemic.
Arian Foster (or anyone in Miami)
I've heard, "Arian Foster is going to play Week 4,5,6" every week, but he still can't seem to bounce back from that hamstring (surprise, surprise). If this is the week he does however, I'm leaving him out of any lineup. The matchup is great going up against the 26th ranked defense against the run, but I just can't trust anyone on the Dolphins right now if their name isn't Jarvis Landry (and he's even starting to lose my trust).
Matt Forte
Matt Forte started off this year hot with an abundance of touches for the first two weeks (59) and then his touches dropped to only 47 in the following three weeks. With the Jets struggling as of late, they've had to pass more than they'd like and although Forte is a great receiving back, Bilal Powell is getting the call on passing downs.
Wide Receivers
Start
Jeremy Maclin
Will this be the week Jeremy Maclin breaks out? A question I'm left asking myself every week, but this week feels a little different. He's going up against a struggling Oakland secondary that's already given up 7 TDs in five games and allowed the most yards per game to opposing wide receivers. With Maclin only having 1 touchdown so far this year, I expect him to get a couple good looks at his second this weekend.
Marvin Jones Jr.
I know Jones owners are all waiting for another 6 REC, 205 YDs, and 2 TDs game to happen, but I wouldn't expect that this week. What you can expect; however, is a very consistent week from Jones once again. Jones is the most consistent WR so far when it comes to fantasy, not dropping below 12 PPR points. I expect Matt Stafford's favorite target to have another consistent week and is an easy WR2 moving forward.
Will Fuller V
If you have DeAndre Hopkins, you're obviously starting him against the Colts' banged up secondary, but the same should go for Will Fuller. Fuller has 40 targets this year (compared to Hopkins 42), one less receiving TD than Hopkins and 44 more receiving yards. Surprisingly, Fuller is winning the fantasy battle against Hopkins, which is what we all care about, right? Will Fuller is Houston's playmaker and they find any way to get him the ball, including screens and punt returns.
Sit
Julio Jones
Lets be honest, if you have Julio Jones you're starting him. But Jones might be the most unpredictable WR this year, and with Atlanta playing another road game this week against a really good Seahawks defense, I think I'm going to pass on him even though I know the upside is always there. Seattle is coming off a bye week and with the playmakers they have in that secondary, I expect them to try to take Jones out of the game. As we saw last week, Ryan can get a W without forcing it to Julio, meaning the two backs could have another big game. Also, we've heard that Richard Sherman will be shadowing Jones, which is always a scary thought for receivers. This "sitting Julio" might come back to bite me, but I guess we'll just have to see.
Brandin Cooks
At this moment, Cooks is the definition of a fantasy WR that cannot be trusted. Since his two touchdown performance in Week 1, we've now come to realize that the Oakland secondary he torched is garbage. Although he is at home vs a Carolina secondary that hasn't been half of what it was last year, I can't trust Brandin Cooks, as he is the ultimate boom or bust player.
Michael Floyd
Arizona's offense, with the return of Carson Palmer, is going up against the 31st ranked passing defense vs receivers. As we've seen so far this year, Michael Floyd hasn't been the one getting the volume — compared to John Brown and Larry Fitzgerald — and I'm sure I can't be the only one who has lost all hope in him as a fantasy option until proven otherwise. He saw 3 targets and registered 0 receptions last week in a blowout win against San Francisco, so I don't expect much from him again this week. Prove me wrong Michael Floyd.
Tight Ends
Start
Martellus Bennett
There is room for two tight ends in that Patriots' offense — as we saw last week against the Browns — and even though it was the Browns, Tom Brady doesn't discriminate near the goal line. If you're open, you're getting the ball. Even with a healthy Rob Gronkowski, Bennett has seen 14 targets for 11 catches and 3 TDs in the past 2 weeks. I still expect Bennett to get targets until I see otherwise from Brady.
Jesse James
Jesse James' huge frame at 6-7, 271 lbs makes him an easy target in the red zone and oh boy does Big Ben like looking his way. James has 3 TDs this year on 25 targets and has shown that with his height, he is a matchup problem for anyone  secondary. Coming up against a struggling Miami team — who with the eye test, looks to be the worst team in the NFL right now — James could add another TD to his 2016 resume.
Jimmy Graham
Jimmy Graham is finally starting to look like the tight end we all know and love from his New Orleans days. Over Seattle's past two games, Jimmy has 6 receptions in both of those contests, for 213 YDs and a TD. In Week 6 vs Atlanta who has given up, on average 18-plus fantasy points to opposing TEs per week, I expect the good times to keep on rolling for Jimmy Graham.
Sit
Coby Fleener
Coming into the season, all fantasy players heard about was the love that New Orleans had for Coby Fleener. But so far, he's been struggling in the Saints offense. He has one game this year with 7 REC, 107 YDs and a TD. In the other three games combined, he has 6 REC, 54 YDs and 0 touchdowns. Fleener is not a reliable fantasy option and will continue to be benched until he's a viable option in that high-flying offense.
Dwayne Allen
Dwayne Allen is coming off of a solid week vs Chicago at home, where he had 17 PPR points. However, he's facing a Houston Texans' defense who have only allowed a little over 21 YPG to the TE position, along with no touchdowns. That's enough to keep me away from Allen this week and anyone in Indy's receiving corps not named T.Y. Hilton.