Player Stock Ticker
Fantasy Football Waiver Wire Watch: Week 5 Buys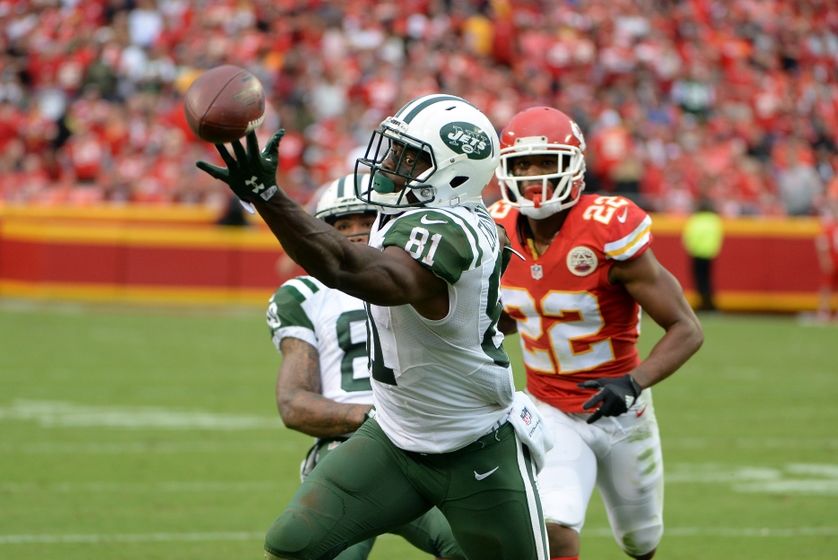 Week 4 was another welcomed breath of injury-free air for fantasy football owners, which leaves the waiver wire quite barren for Week 5. A few usable options and upside bench stashes emerged as we approach Bye Week Armageddon — the Jaguars, Chiefs, Saints, and Seahawks are all off this week, and countless managers will be scrambling for help. Here's the potential diamonds in this week's waiver dung heap.
First Check…
Terrelle Pryor and Jordan Howard, our most highly recommended pickups of Week 4, are now owned in over 80% of leagues. Kudos if you secured one, as both scored TDs and carry sky high upside from here on out (especially in the wake of Josh Gordon's latest mishap). Kyle Rudolph is also gone in 77% of leagues as of this writing, and should be closing in on 100%. Just scan that any of these three aren't sitting out there.
Steve Smith's ownership spiked up to 63%, but he should be universally owned after an 8 catch, 111 yard, 1 TD explosion. He seems to have fully regained the WR1 role in Baltimore, one which he thrived in to the tune of the 8th most PPR PPG last season among WRs. He should be your #1 target if you're in the 38% of joke leagues where Smith is available.
Buying hard as a season long asset
WR Quincy Enunwa, New York Jets, 37% owned
FAAB = $30
This marks our third straight week recommending Enunwa, and he's Week 5's no-brainer top choice in light of Eric Decker's potentially season-ending shoulder injury. Enunwa was already highly-involved in this aerial attack, ranking second on the team in targets before Decker's absence; Enunwa's volume is now set to increase even more. Chan Gailey's attack has historically been a point factory for the top WRs and RBs, and Enunwa already solid numbers are set to soar to the next level. Enunwa plays similarly to Decker in that both are big, can move, and have tremendous jump ball skills. The former sixth round pick is a chain mover who should push for double digit targets + 6-8 receptions every week. With Decker's deep routes up for grabs, Enunwa's ceiling may also be on the rise should his route tree expand.
Simply put, Enunwa should be owned everywhere. He's already been a dependable PPR WR3, scoring double-digit points in 3/4 contests; he now has a very real WR2 ceiling. This is getting insulting.
Buying as potential season long contributors
While I'm not tantalized by anyone's upside, this crew could provide useful stats for the remainder of 2016. If you need long-term depth over a one week rental, this is a solid spot to look. 
RB Terrance West, Baltimore Ravens, 28% owned 
FAAB = $15-$20
http://images.hngn.com/data/thumbs/full/219813/650/0/0/0/terrance-west.jpg
If you're not already following us on Twitter, please do yourself a favor  and fix this– especially for Sunday mornings. You would've saved yourself the waiver claim / FAAB $$ and had West stashed before game time:
#Ravens RB Terrance West to start vs OAK D giving up 8th most FPs to backs. Well worth speculative add/desperation start #FantasyFootball

— Roto Street Journal (@RotoStJournal) October 2, 2016
Justin Forsett inactive. Wests streamability becoming even more legit. Has a chance to establish himself today #FantasyFootball

— Roto Street Journal (@RotoStJournal) October 2, 2016
West indeed established himself, ripping off 113 yards and a TD on 21 carries. Though he was a non factor in the passing game, West seems like the unquestioned first & second down / goal-line guy, giving him RB2 appeal in the right matchups.
The looming presence of talented rookie Kenneth Dixon is the only reason West is deemed a "potential" season long contributor; Dixon's style of play and receiving skills are a better fit for OC Marc Trestman's scheme, which gives him featured back appeal for the stretch run. Nonetheless, Dixon has been unable to stay on the field, and Harbaugh suggested he'll continue riding the hot hand, which now belongs to West.
If you're in need of a bye week fill-in or stopgap option for the next few weeks at RB, West should be one of the highest targets on your radar. The big boy was rumbling Sunday, and this is his job to lose.
QB Carson Wentz, Philadelphia Eagles, 38%
FAAB: $7
This is another carryover from last week, but I felt obligated to point out Wentz matches up with a Lions defense that has surrendered the most points to opposing signal callers, including 963 passing yards and eight touchdowns over the last three weeks (which included ferocious matchups against the likes of Marcus Mariota and Brian Hoyer). Needless to say, Wentz should feast, and is definitely the top bye-week streamer for Week 5 and also a strong QB2 to own regardless.
WR Robert Woods, Buffalo Bills, 7%
FAAB – $7-10
In the two weeks since Sammy Watkins (piece of fucking shit) was place on IR, Robert Woods has amassed 18 targets for 12 catches and 150 yards, making him a highly usable PPR WR3 for the remainder of this injury. The passing game is funneling through Woods, as these numbers account for 38% of the Bills passing offense over the past two games, and he's bound for an endzone plunge every now and again.  Woods is shaping up as a high floor asset, and a few TDs could reveal a surprising ceiling in the coming weeks.
http://bnwordpress.s3.amazonaws.com/wp-content/uploads/sites/4/2015/12/1003606501-bills-scull-0119-1024×909.jpg
TE Cameron Brate, Tampa Bay Buccaneers, 10%
FAAB – Worth $7, probably only need to spend $1 
I spilled a record amount of ink on Cameron Brate last week, so if you want the full report, click here. To sum it up, the tight end has long been featured in Dirk Koetter's scheme, and Austin Seferian Jenkins release has opened up a massive amount of work for Brate — who built a tremendous rapport with Jameis Winston all summer. Against a Broncos defense that's among the league's best against the pass, Brate hauled in a respectable 5 balls for 67 yards and racked up another 8 targets. He's going to provide low-end TE1 numbers here on out, and has the upside to emerge as this year's Gary Barnidge. Don't miss this boat.
Buying as cheap, emergency bye week fill-ins
If you want to save some money and capitalize on short term upside at minimal cost, take a look at these few targets for your bye week fill-ins. 
WR Eddie Royal, Chicago Bears, 13% owned
FAAB: $5 
Outscoring the more ballyhooed Alshon Jeffery, Royal now has 15+ PPR points in 3/4 contests, and the talented slot man produced his highest totals yet against the Lions: 7 catches, 111 yards, 1 TD.  He's been targeted at least 6 times in all but one contest, and finally looks healthy after an injury-plagued 2015. He also has dates lined up with three whorish pass defenses in October: @Ind, vs. Jax, @GB in his next three weeks. While I'm not itching to start Royal, there seems to be a safe 5 catch, 50 yard floor here for a risk-adverse fill in.
TE Hunter Henry, San Diego Chargers, 30%
FAAB: $2 
Another reminder to follow us on Twitter…
Julius Thomas INACTIVE in London. Hunter Henry (27% owned) vs. NO could be your #FantasyFootball backup plan

— Roto Street Journal (@RotoStJournal) October 2, 2016
Henry responded with 4 catches for 61 yards and a TD, and just barely missed a second TD on another red zone look.  He won't hold much value once Antonio Gates returns, but should see the start against an abysmal Oakland secondary in Week 5. He'll be among the top-12 TE options this week, and can still be had on the wire.
WR Brice Butler, Dallas Cowboys, 2%
FAAB: Don't spend a penny 
Though everyone jumped aboard the Cole Beasley express, Brice Butler was the true beneficiary of Dez Bryant's absence. Butler immediately slid into the every-down X receiver role, leading the team in WR snaps (62) and targets (9), which he turned into 5 catches for 41 yards and a TD. He was Dak Prescott's clear favorite target on the day, and even drew two red zone looks, making Butler a solid fill-in play whenever Bryant misses time. Bryant might rest the next few weeks given the teams' Week 7 bye, making Butler a free desperation option for owners in a pickle.
Buying as upside stashes 
No glaring lineup gaps despite the bye weeks? Here's who to target to maximize your bench's ceiling. 
RB Bilal Powell, New York Jets, 22%
FAAB: $8-10
Given his increasing workload (10 touches the past two weeks) especially in the passing game, Powell does carry some standalone appeal. Yet, his real value is as one of the highest upside stashes in the league. Matt Forte has already started showing signs of a breakdown after his monstrous early season workload, even getting carted off for X-rays (though no more information is available yet). If news breaks that Forte's injury will cost him time, Powell will shoot up to the top of this week's waiver targets. For now, he remains a clear wait-and-see guy, as Forte's inevitable breakdown appears to be near.
RB Dion Lewis, New England Patriots, 18%
FAAB: Worth $7, won't cost you more than $3
Though we've mentioned his name three weeks running, Lewis' ownership continues trending downwards. Yes, some concrete information on his status would be very helpful, but his eligible return date is creeping closer, and we will continue recommending Lewis as a stash if you have the bench space. He's the type of PPR weapon that could win you a league down the stretch, which is worth a roster spot for most teams (even if he carries legitimate 0 point potential all year).
WR Sammie Coates, Pittsburgh Steelers, 17%
FAAB: $7-10
Coates was tough to categorize, as he has the potential to develop into a long-term starter, could serve as a boom-or-bust bye week dice roll, but is ultimately best treated as a developmental project. His ceiling is the highest of any WR on this list outside of Enunwa, making Coates my second favorite receiver to target if I'm not desperate for sure points. He's topped 50 yards every week, leads the league with five receptions of 40+ yards, and seems to be targeted on at least two huge bombs every week. Moreover, his 8 targets led the Steelers in Week 4, and his six receptions encouragingly suggest an expanded role beyond "run deep." Coates is operating as the clear #2, and if Coates and Ben start connecting on these deep looks, he'll become a high upside, every week WR3. Even now, he's the type of explosive, potential week-winning flex play I love rolling out in these bye weeks.
Buying as a "set and forget" defense
Philadelphia Defense, 52%
FAAB: $5-6
Before the Week 4 bye, Philly had become an invaluable "set and forget" defense, scoring 11, 10, and 17 points including a dominant performance against an explosive Pittsburgh team. Given the bye week, however, this defense is available in about half of Yahoo leagues. While streaming defenses is certainly doable, a chance to free up your waiver budget and attention is highly recommended.  At minimum, they don't face a truly intimidating offense until Week 10 against Atlanta. Check if they made it through the bye week, and add everywhere if so.
Week 5's Top 10 Waiver Pickup
Team need should obviously dictate where your FAAB and waiver claims are spent, but in general here's my ranking of the aforementioned prospects:
Quincy Enunwa (WR, NYJ, 37%)
Terrance West (RB, BAL, 28%)
Bilal Powell (RB, NYJ, 22%)
Dion Lewis (RB, NE, 18%)
Carson Wentz (QB, PHI, 38%)
Sammie Coates (WR, PIT, 17%) *Could be considered higher than Powell if you have WR needs
Robert Woods (WR, BUF, 7%)
Kenneth Dixon (RB, BAL, 25%)
Cameron Brate (TE, TB, 10%)
Eddie Royal (WR, CHI, 13%)
**Philly D ranks in the 5-6 range if you have been playing the "who's facing Cleveland" game.