Find out who's available in 50%+ Yahoo leagues that The Wolf is buying, and conversely the options he's avoiding in our first edition of Waiver Wire Buy / Sell.
After a punishing Week 2 left countless rosters decimated, the Fantasy Gods were most merciful in Week 3. Yes,  Shane Vereen will miss the remainder of 2016 with a triceps issue, plus a few others (Russell Wilson, Jeremy Langford) left with dings and bruises; nonetheless, this was a welcomed break from the trainer's room, especially on the heels of such a bloodbath.
Unlike the past few weeks, there's a real chance at least one of my top two options is available in your league (as well as 75%+ of others). Read on to maximize your FAAB and find out who I'm buying versus who I'm selling below:
Who I'm Buying Hard
These guys need to be owned in all leagues, regardless of size / scoring settings.
WR Terrelle Pryor, Cleveland Browns, 22% owned
FAAB Value: $30
This one has the potential to make me look idiotic, but even just the chance of Pryor being as real as he looked is worth a hard buy. We just saw full-well the ceiling: 14 targets, 8 catches, 144 yards…plus 35 passing yards… plus 21 rushing yards and a TD for shits and giggles. 31.9 PPR points. *Inserts eggplant emoji* *Inserts wet drops*
Let's start with just the receiving performance — in one word, dominant. Unlike previous weeks filled primarily with deep fly routes, Pryor flashed the entire route tree against Miami. Obviously, the run-after-catch abilities jump out the most, and Pryor's on-tape long speed certainly seems to match his 4.38 40-yard dash. A gazelle. That stands at 6'5″ and weighs 240 lbs… Madden created player.
We've already seen the deep ball skills since the preseason; Week 3 also importantly highlighted Pryor's refined short and intermediate game. Simply put, a specimen of Pryor's natural gifts that comes with a full route-running repertoire is something to take seriously.
https://cdn1.vox-cdn.com/uploads/chorus_asset/file/7080703/pryor2.0.gif
Then you add in the aforementioned versatility in the passing / running game and  a play caller in Hue Jackson who'll maximize every last drop of Pryor's diverse skillset. What more could you ask of a fantasy asset than explosive contributions in all three offensive categories?
Yes, this one carries real "one-hit-wonder" risk. This is especially true with Josh Gordon's imminent return and Pryor's inevitable target drop. Even so, this is a lottery ticket I'm itching to scratch; even just a shot at Pryor realizing his immense ceiling for an extended stretch is well worth the risk of a whiff. It's fake waiver money, after all. Live a little. If you're sitting at 0-3 and need a Hail Mary, Pryor should be receiving your utmost attention, alongside only…
RB Jordan Howard, Chicago Bears, 24% owned
FAAB Value: $30
Update – Jeremy Langford is set to miss 4-6 weeks with the ankle sprain. Jordan Howard is expected to start in his absence, and his waiver appeal rises. 
If you're looking for more guaranteed production or are hurting at RB, Howard might be the play over the boom-or-bust Pryor. Hopefully you scooped up the rookie back last Wednesday after news broke that his role was likely to increase due to Jeremy Langford's ineptitude. The "torch-passing" process was expedited when Langford was carted off Sunday night with a high ankle sprain, leaving Howard with a juicy opportunity.
With a soft three game slate ahead of him (Detroit, Indy & Jacksonville), Howard has a real chance to gain a stranglehold on the job, assuming he can continue churning out yardage like Sunday night versus the Cowboys: 92 total yards (45 rushing, 47 receiving) on only 13 touches. His college game was all about plowing forward with a powerful, downhill style — which has been on display. On the year, Howard's averaged 5.6 YPC and 9.3 yards per catch, and has outplayed Langford in every facet.
No, the Bears aren't suddenly going to become an offensive juggernaut — a slight cap on Howard's ceiling. Still, starting running backs, especially those with workhorse potential, are few and far between. He'll be a fair bet for 100 total yards every week he starts, which is tremendously valuable at such an injury-decimated position.
http://www2.pictures.zimbio.com/gi/Denver+Broncos+v+Chicago+Bears+xf3sCofHxeml.jpg
In wake of Langford's injury and ineptitude, Howard is a must-add as a potential three-down back
Who I'm buying as potential starters
These guys don't have the "season-changing" upside of the above two, but are well-worth a buy as potential starters (especially during the impending Bye Weeks)
Wide Receiver
$15 Upside Buy:  Steve Smith, Baltimore Ravens, 39% (HOW?!)
Steve Smith thrived in Marc Trestman's pass happy scheme last season, totaling the 8th highest points per game before the devastating Achilles injury.  While he may never be 100% again, Smith sure didn't look too far off en route to 8 catches for 87 yards. He now dances with Oakland's abysmal pass defense, giving him vintage blow-up potential. There's a real chance Smith rounds into form and reemerges as a real fantasy factor, so make sure he's not sitting out there (you'd be surprised).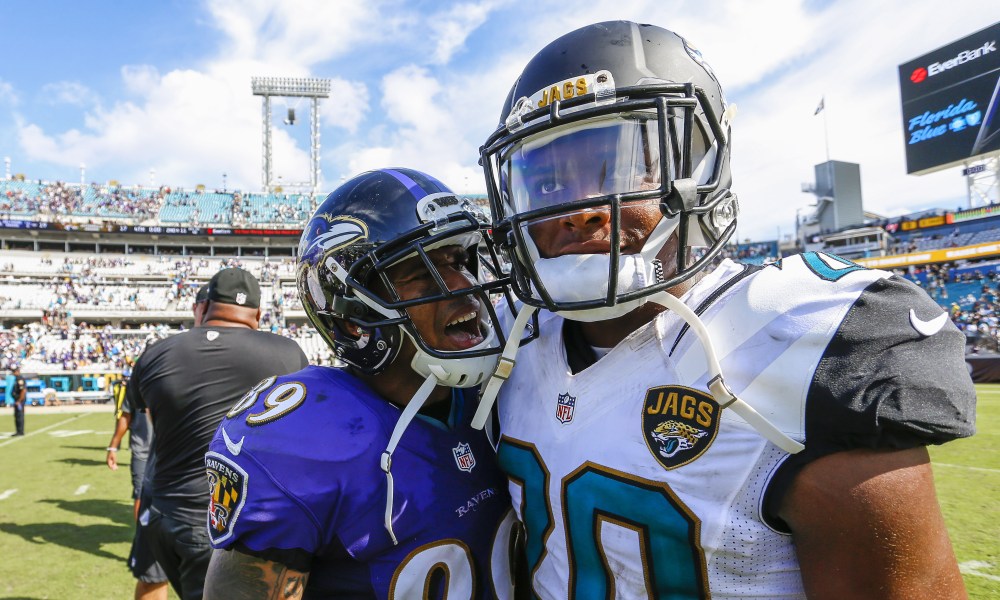 $6 Safe Buy – Jamison Crowder, Washington Redskins, 16%
Washington's leading receiver in catches (16) and TDs (2), Crowder needs to be added in most formats and league sizes, especially PPR. Despite a seeming third or fourth spot on the target totem pole, the shifty sophomore has seen 10, 8, and 7  targets to kick off 2016 with Kirk Cousins spreading the ball around all over the place. He also gets the laughably bad Cleveland defense that got destroyed by slot wizard Jarvis Landry, perhaps Crowder's best NFL comparison. With the bye weeks already here, Crowder makes a great depth play with the upside to produce dependable flex numbers all season.
Note – NYJ WR Quincy Enunwa has been mentioned here two weeks in a row, yet remains owned in only 34% of leagues. While Week 3 represented his lowest output yet (4 catches for 37 yards), Enunwa paced the team in targets (11) and is clearly a major factor in this offense. I'd go Steve Smith first, but would throw down on Enunwa before Jamison Crowder, making him worth $8-10. Better days are ahead when Ryan Fitzpatrick isn't playing catch with the other team.
Tight Ends
Hurting at tight end? Here's a few options that could pan out big.
$10 "sure-thing" buy = Kyle Rudolph, Minnesota Vikings, 42%
Having scored double digit PPR points every week, Rudolph represents by far the safest, most reliable option here. Sam Bradford loved throwing to Zach Ertz down the stretch of 2015, and Rudolph has already flashed a strong rapport with the newly acquired QB. He currently sits as the #2 scoring TE through three weeks, yet is available in over 50% of leagues. Fix this.
http://www2.pictures.zimbio.com/gi/Major+Wright+Kyle+Rudolph+Minnesota+Vikings+8gEk8xWUKbVl.jpg
Kyle Rudolph is #2 in TE points, but is owned in less than 50% of leagues. That math doesn't add up.
Upside $4 stab = Cameron Brate, Tampa Bay Buccaneers, 2%
Meanwhile, Cameron Brate wasted no time capitalizing on Austin Seferian Jenkins release, hauling in 5 of his 10 (!) targets for 46 yards and two TDs. Sites like Rotoworld claim Brate offers "extremely little upside," but I strongly disagree. Positive praise was showered over Brate all summer, as he reportedly caught "virtually everything thrown his way" at camp while "pretty clearly" becoming one of Jameis Winston's favorite targets.  More encouragingly, Brate was a monster at the stripe all summer, showing an "uncanny ability to show up in the red zone" according to head coach Dirk Koetter.  This is highly significant, as Koetter's schemes have long featured the tight end in the red area, and we're seeing this translate onto the game field now. If I had to throw my money on someone to emerge for a Gary Barnidge-esque run at TE this year, it'd be Brate.
Because I scored 2 TDs $5 overpay = Zach Miller, Chicago Bears, 40% 
Finally, Zach Miller popped off for 8 catches, 78 yards, and 2 TDs on Sunday Night Football. Given his production came with Brian Hoyer + against a Cowboys D that is embarrassingly bad against TEs, Miller ranks a little lower on the list. Hopefully Smokin' Jay saw his tight ends abilities and can build on this strong Week 3 effort.
Bonus $1 Dart Throw = Jack Doyle, Indianapolis Colts, 1% 
If I asked you who to name 2016's #4 scorer at TE right now, would you ever come up with a creature named Jack Doyle? Well, it's happening. Doyle has outscored the more ballyhooed Dwayne Allen every single week now, and is averaging over 40 snaps a game. Rob Chudzinki's scheme is absurdly friendly to tight ends, especially within the 10 yard line, which means this production might not be the fluke everyone will make it out to be. If Doyle continues flashing a strong rapport with Andrew Luck, there's some very, very sneaky TE1 upside to Doyle. Typing this produced a few gags, but he should be rostered in deep formats.
Quarterback
QB is deep, but I'm worth $5:  Carson Wentz, Philadelphia Eagles, 21%
So glad that The RSJ's debut "Sit / Start Sunday Show" featured a Carson Wentz bashing; we couldn't have been more wrong. The North Dakota State alum is going to be a stud in this league, and any concerns of being "unseasoned" should be buried to rest by now. We haven't even seen the rushing upside yet, but Wentz is making all the throws and showing veteran poise.  He makes perfect sense as a high-ceiling QB2 stash. Get Wentz for cheap in his bye week before he returns and continues to take the league by storm.
http://a.fssta.com/content/dam/fsdigital/fscom/nfl/images/2016/09/06/081116-nfl-carson-wentz-qb.jpg
Carson Wentz is as impressive a rookie we've seen, and is worth a look for anyone needing QB assistance
$2 one-week rental: Joe Flacco, Baltimore Ravens, 29%
Oakland's pass defense is  vomit-inducing. Steve Smith is rounding into form. RSJ Favorite Mike Wallace has been flashing his juice all year. OC Marc Trestman loves to sling the rock. All the ingredients seem in place for the strong-armed Flacco to unleash a massive dump on Oakland if you're looking for a QB plug-and-play.
Running Backs
Better things are coming $7 investment = Dwayne Washington, Detroit Lions, 23%
Washington didn't light any worlds on fire against Green Bay with 10 carries for 38 yards and -3 yards on his lone catch.  Yet, better days are almost certainly ahead.  Game flow certainly was not in Washington's favor, as the Lions went down huge early + Washington projects more as the early-down thumper & lead-protecting hammer. If anything, owners should be encouraged that Washington even received 10 carries despite the unfavorable set-up, as it highlights Detroit's intent to use him.
Moreover, starter Theo Riddick crapped his pants in the running game, gaining only 9 yards on 10 carries; Washington is clearly the better interior runner, and should continue gaining additional carries each week. This is especially true in light of the team's soft(ish) upcoming run schedule, beginning with a cakewalk against a Chicago defense that ranks 31st against the run after surrendering 142.7 yards per game. Washington definitely deserves flex consideration this week, and should be able to establish an every-week role.
PPR Dynamo $5 Stab = Darren Sproles, Philadelphia Eagles, 40%
All offensive pass-catchers rise with Carson Wentz, especially Sproles out of the backfield. The diminutive dynamo hauled in six balls for 126 yards and a TD, and the team is starting to make good on their promises to force-feed him the ball in space. Danny Woodhead has been a PPR monster in OC Frank Reich's system, and Week 3 may have been a sign of the Sproles' future. If rookie Wendell Smallwood wasn't also emerging and making this backfield more crowded, Sproles would rank even higher.
Note – If you have solid depth and would prefer a upside stash, give a look at New England Patriots RB Dion Lewis, who's owned in only 19% of leagues. Check out last week's Waiver Watchlast week's Waiver Watchlast week's Waiver Watch for more detail on why last year's fifth ranked back in points per game should be higher owned, despite having a zero games-played floor.
Ravens RB Kenneth Dixon (14% owned) also makes sense as a stash; starter Justin Forsett has been borderline useless, and Terrance West may be even worse. Dixon looked like the best back all preseason, and shouldn't have too much trouble gaining serious work. As we've said repeatedly, OC Marc Trestman does create serious PPR upside when he chooses a featured back, and Dixon might be the only shot at this in 2016.
Names I'm monitoring, but not buying yet
WR Adam Humphries, Tampa Bay Bucanneers, 1%
RB Wendell Smallwood, Philadelphia Eagles, 2%
QB Trevor Siemian, Denver Broncos, 7%
Guys I'm Selling
Unlike last week, I'm more of a buyer than a seller in Week 3. For the record, I'm still avoiding Vikings and Carolina backs, and there's another running situation I have no interest in pursuing…
New York Giants Running Backs – Orleans Darkwa (3%), Bobby Rainey (0%), Paul Perkins (2%)
Shane Vereen's season-ending triceps injury opens up the door for some value, yet the party might be too crowded for anything dependable to emerge. Darkwa will be the most popular add after ripping 53 yards and a TD off in Rashad Jennings' absence…but he needs Jennings to be out for any type of relevancy. Rainey seems like the most natural shoe-in for Vereen's pass-catching role, but it's Bobby Rainey. Meanwhile, coach Ben McAdoo has said Paul Perkins is "ready to step up," meaning their might be even one more mouth to feed here.
Really, the only type of value that could emerge here is if Jennings takes over as a true featured back minus Vereen. All the tea leaves suggest this is unlikely, making this a situation to avoid. Jennings is the only one worth rostering, and he might end up as cut bait depending on how the work is distributed moving forward.
Week 4's Top 10 Waiver Pickup
Team need should obviously dictate where your FAAB and waiver claims are spent, but in general here's my ranking of the aforementioned prospects:
Terrelle Pryor, (WR, CLE, 22%)
Jordan Howard, (RB, CHI, 24%)
Steve Smith, (WR, BAL, 39%)
Kyle Rudolph (TE, MIN, 41%)
Dwayne Washington (RB, DET, 23%)
Dion Lewis (RB, NE, 19%)* – value fluctuates greatly on bench size / your own depth.
Quincy Enunwa (WR, NYJ, 34%)
Jamison Crowder (WR, WAS, 16%)
Darren Sproles (RB, PHI, 40%)
Cameron Brate (TE, TB, 4%)