Here at Roto Street Journal, we fancy ourselves as fantasy addicts. Fantasy football has evolved into something much more than your standard league draft. With the opportunity to enter new lineups every week through Daily Fantasy Sports, the RSJ will be giving you the best plays for your lineups, in order to win you some cash. From the high-priced superstars, to the penny stock sleepers, we have you covered to piece together the optimal lineup week by week.
Note: Standard DraftKings salaries are used when creating these lineups.
Quarterbacks
Top Shelf

Cam Newton (7.8k) – The reigning MVP has put up two very solid games (including one against Denver) and now loses RB Jonathan Stewart to injury. Cam could be asked to do even more going forward, especially on the ground.
Andrew Luck (7.6k) – After a rough week in Denver, Luck returns home to the safe confines of Indianapolis. He faces a San Diego defense that gave up 25+ points to both Alex Smith and Bortles. Even with Donte Moncrief on the shelf, Luck should be good for 300+ yards and a couple of touchdowns.

Retail Price

Matthew Stafford (6.8k) – The Lions have a rivalry match-up coming up with Green Bay, possibly without their top cornerback. Ameer Abdullah is done with a foot injury, putting even more emphasis on the passing game
Joe Flacco (6.1k) – Flacco heads to Jacksonville on Sunday, where he's had past success and could be in a high scoring affair against Blake Bortles and Co. His connection with Mike Wallace is growing every week.

Bang For Your Buck

 Carson Wentz (5.5k) – The rookie has shown promise his first two games, by leading his team to two victories — while not turning the ball over. The Steelers secondary isn't the greatest, and if he wants to keep up with Big Ben, then Wentz is going to have to throw often.

My Pick

Ryan Tannehill (6.2k) – Miami is stuck with a must win game against the Cleveland Browns which is a great scenario. What's even better is that Arian Foster is out with a groin injury, leaving them with virtually no running game. The Browns secondary is very suspect so Tannehill has the ability to pick apart the defense like he did New England in the second half.
Running Backs
Top Shelf

DeAngelo Williams (7.5k) – With Le'Veon Bell still out, Williams' usage rate is still sky high. This is his last week as the starter, so he could just leave it all out there for one last hurrah
Matt Forte (7.0k) – I know I said he wouldn't score three touchdowns again, but his usage in the Jets offense is still very high and I don't see him slowing down against the Chiefs. I'm sure Brad Evans will be angry about this.

Retail Price

Melvin Gordon (5.8k) – With Danny Woodhead going down, that leaves Gordon as the feature back in San Diego. He's scored in both games this season, and the Colts defense sucks.

Bang For Your Buck

Theo Riddick (4.9k) – With Abdullah out of the picture, Riddick should be a major factor against the Packers. Whether it be on the ground or through the air, Detroit should be looking his way often.
Isaiah Crowell (4.7k) – Crowell ripped off a big touchdown on Sunday, making it two straight games he's found the endzone. With Cody Kessler starting this Sunday, there should be a large focus on the running game from Hue Jackson.

My Pick

DeMarco Murray (6.3k) – Murray has yet to rush for a touchdown, but he's putting up good yardage while also being a major factor in the passing game. At home against Oakland, Murray should be featured prominently in the offense, while having continued success through the air.
Wide Receiver
Top Shelf

Kelvin Banjamin (7.2k) – The Panthers #1 receiver has torn up secondaries in the first two weeks of the season, since coming off an ACL injury. With Stewart out Week 3, look for Benjamin to be Cam's A, B, and C options.
Jordan Matthews (7.1k) – Matthews has been Wentz's primary receiver with 23 targets over two games. As mentioned earlier, the Eagles will likely have to throw a lot to keep up with Pittsburgh. Wentz should be looking Matthews' way.

Retail Price

Eric Decker (6.9k) – Speaking of the Jets, Decker has been a machine during his six-game touchdown streak. With Brandon Marshall questionable for Sunday, Decker becomes an even greater option, should he be thrust into the WR1 role. More touchdowns from Decker equals more snap stories from his girl.
Jarvis Landry (6.6k) – I still love Landry despite carving up the Patriots secondary in the second half. He'll always be an elite PPR play and Miami needs to win this game against Cleveland.
Marvin Jones Jr (6.2k) – After disappointing in Week 1 — after I named him my lock — Jones stepped up and produced what I thought he was capable of. He still hasn't caught a touchdown yet, but he's due. A shoot-out with Green Bay is a great bet to land his first.

Bang For Your Buck

Sterling Shepard (5.5k) – Shepard is still pretty cheap for a guy that was Eli Manning's top receiver last week. We're waiting for the Giants offense to explode, so why not Sunday against the Redskins.
Travis Benjamin (5.2k) – This Benjamin should be a popular play based on last week's performance and a very low price tag. He's become Philip Rivers' go-to guy in Keenan Allen's absence. The Indy secondary is also trash.
Stefon Diggs (5.1k) – Diggs has been phenomenal through two weeks, while having Shaun Hill and Sam Bradford as his QBs. He's a target hog and the Vikings clearly want to get him the ball. They'll need to throw against the Panthers on Sunday, especially with Adrian Peterson on the shelf.
Mike Wallace (5.0k) – I'll put Wallace in here again and I'll keep doing so if he stays so cheap. A two touchdown performance last game shows he's the guy in Baltimore. Joe Flacco loves having his deep man.

Deep Sleepers

DeVante Parker (4.9k) – He looked VERY good in his return from injury. He's got deep ball skills, coupled with the size and hands to make plays over the top. Miami needs this game against Cleveland.
Phillip Dorsett (4.4k) – With Donte Moncrief out for the Colts, Dorsett shifts into the #2 receiver spot for Andrew Luck. Between Dorsett and TY Hilton, these two Colts should hog majority of the targets on Sunday.
Cole Beasley (3.2k) – Beasley has put up double digit points in both games under Dak Prescott. He saw his targets cut in half last Sunday, but still made the most of his work acting as the security blanket picking up first downs.

My Pick

Larry Fitzgerald (6.9k) – Buffalo just got torched by the Jets and their receiving core. Carson Palmer and Fitz have been on the same page thus far and should thrive against the Bills. The passing game looked great against Tampa Bay, and coach Bruce Arians pointed out the struggles of David Johnson. Father time has yet to catch up to this future hall of fame receiver.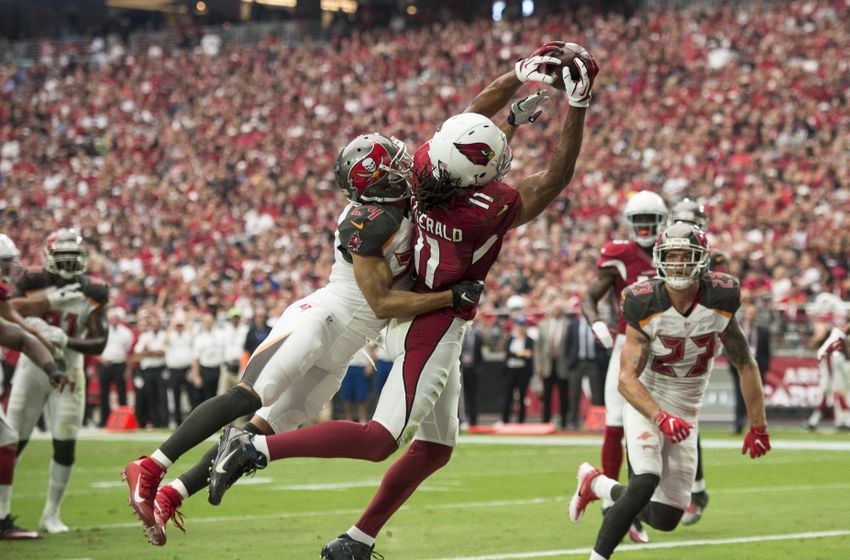 Tight Ends
Top Play

Delanie Walker (5.0k) – He regained his 2015 form and found the end zone against Detroit. Now at home against Oakland, Walker should continue his success with QB Marcus Mariota.

Bargain Play

Eric Ebron (3.7k) – Ebron didn't find the endzone last game, but should have plenty of redzone chances on the road against the Packers. Stafford will be throwing the ball a lot.
Defense
Top Play

Seattle Seahawks (3.9k) – At home against the 49ers should be a juicy match-up. They've given up only 19 points so far, this year.

Bargain Play

Miami Dolphins (3.0k) – Playing the Cleveland Browns at home — with Cody Kessler starting — is a good enough match-up for me.