Sit/Start advice is difficult.  My brother and I often bounce ideas off of one another as Sunday approaches, but I don't recommend adhering to any one analyst or writer when setting your lineup.  Sit/Start is scenario-driven.  It will depend on how well you drafted, how well you avoided the injury bug, and how well you've done on the wire.
Every day, RSJ is attracting more and more readers to our site.  It is exciting to be a part of the team.  One thing that we pride ourselves on is offering fantasy owners a variety of perspectives that align with each individual's tendencies.  Are you a gambler?  Or are you more risk-averse?  If your fantasy team were your 401K, would you put 25% of your money in a high risk/high reward fund? How about 50%?  Or are you going to play it safe and stay with the low-risk/steady gain fund?
By no means am I a financial adviser, but I have fared pretty well in Fantasy Football the past couple of years.  I draft well thanks to The Wolf, however my weekly strategy is slightly different. If it feels too risky i.e. three consecutive poor performances or a persisting health issue, I will start a player who feels more safe.  Another question that I ask myself is, "Am I starting this person because ESPN thinks I should?"  or "This guy was my 2nd overall pick, I can't NOT start him, right?"
I think it's important to challenge these questions and go with the guys that are going to produce over the guys that have good brand recognition.
I examined all 12 teams in one of my leagues and will profile the players listed as starters who I believe to be too risky as well as players who are benched that I think are a worthy start:
Start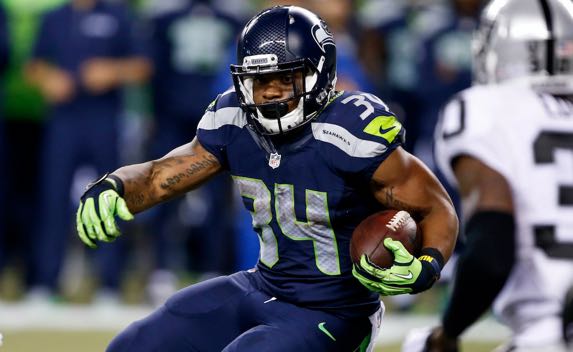 Thomas Rawls:  Rawls will be the starter on Sunday and I can't wait to see this guy get going.  I am not a believer in the Christine Michael hype.  He has a girls first name and Rawls was an absolute savage last year.  I picked him up one week when I was down by 41 points and plugged him in at flex as a Hail Mary — when news leaked that Beast Mode was out.  Rawls scored 43 points to win me the week.  This guy is a difference maker and a worthy start for Week 2 especially after a respectable Week 1 showing with less than an average amount of touches.
Spencer Ware: Must. Start. This guy exploded onto the scene in week 1 and it looks like he is going to be getting the bulk of the workload again in week 2.  There isn't a single scenario where he would be on my bench this week.  If I had to sit Gurley to fit him in my lineup, I would.
Blake Bortles: This guy. 35 TDs last year, over 4,000 yards.  This is why you WAIT on QB.  I have him in every single league.  Only one touchdown last week, but the yardage was there.  If he can stay out of trouble by avoiding interceptions and throw up similar numbers with a few more touchdowns — mixed in against a weak San Diego passing defense — I think he'll be impressive.
Gary Barnidge: Don't sell your stock low.  Hang on to this guy.  Alright, I am biased and hopeful that he returns to his 2015 ways in short order and rips up the Baltimore secondary with a couple of scores.  I do think that in certain instances, such as a strong precedent of exceptional performance, it is okay to start a guy at TE that may or may not flop.  Yes, he had the goose egg in week 1, but if he were a mutual fund, I wouldn't pull my money just yet.  Patience is a virtue.
Sit
Devonta Freeman:  If you are waiting for him to re-emerge as the top fantasy back in the league, I think that you are going to be in a tough spot.  The team with Freeman in my league has Isaiah Crowell and TJ Yeldon on the pine.  Both of those guys scored more than double the fantasy points that Freeman did last week.  Go with the guys who are producing right out of the gate.  I know you feel bad because you drafted him in the 2nd round, but it doesn't matter. Start the guy that is going to score the most points.
There you have it.  Like I said, take my recommendations for what they are worth, but ask yourself those two questions before you set your lineup this week.  "Am I starting  ______ because ESPN/Yahoo/CBS says I should? Or because I think I should?"  And, "Am I starting this guy because of where I drafted him?"
Warmly,
The Bear