The theory of "stacking" in DFS can provide a huge advantage when done correctly. Of course, with most high reward options, there is the opportunity to fall flat and waste some serious cash. However, there's nothing better than seeing both your quarterback and receiver suddenly gain 15+ points off one play. We'll look at five great stacking pairs to match-up your quarterback and receiver in Week 2.
5. Joe Flacco and Mike Wallace
(Flacco: $6.5k DK, $7.4k FD, $29 Yahoo) (Wallace: $4.7k DK, $6.1k FD, $15 Yahoo)
Here's a nice option that will be on the cheaper side compared to the rest of this list. As The Wolf mentioned earlier in his Waiver Wire article, Wallace is the real deal in Baltimore's offense. Flacco has the ability to throw the deep ball to Wallace and his game changing speed.  The two connected for a 66-yard deep ball across the middle. After Wallace gave the defender a nice stiff-arm to create separation, he sped away into the endzone. In Week 2, the Ravens take on the Cleveland Browns, who made quarterback Carson Wentz look pretty good. After giving up 278 yards through the air, Flacco and Wallace are likely to put up nice numbers against the Browns.
4. Aaron Rodgers and Jordy Nelson
(Rodgers: $7.8k DK, $8.7k FD, $34 Yahoo) (Nelson: $7.5k DK, $8.2k FD, $26 Yahoo)
Jordy Nelson returned to the football field for the first time since 2014, after recovering from an ACL injury. The Packers planned to give Jordy limited snaps in the opener to ease him back into his role, but with a very close game against the Jaguars, Nelson was a key component of Green Bay's success. Rodgers made his typical Aaron Rodgers crazy throws that leave you scratching your head thinking, "how does he do that?"
This Sunday night against the Minnesota Vikings will be a primetime game. Vikings top cornerback Xavier Rhodes is unlikely to play, which is huge for Nelson and the receiving core. A depleted secondary and nationally televised game are a great recipe for some Aaron Rodgers success, and Jordy Nelson will be getting the first batch.
3. Blake Bortles and Allen Robinson
(Bortles: $6.7k DK, $8.1k FD, $31 Yahoo) (Robinson: $7.8k DK, $8.2k FD, $30 Yahoo)
This Jaguars connection last year was about as hot as a summer day in Jacksonville. The two showed obvious chemistry again in Week 1 as Robinson was targeted a team high 15 times. Nobody else had higher than six. What kept them from putting up big numbers was the inability to get into the endzone against a tough Packers secondary. Now facing the San Diego Chargers, Bortles and Robinson should have no problem finding paydirt after Alex Smith went for 363 yards and 3 TDs (one rushing). Let me reiterate that fact: ALEX SMITH PUT UP 363 YARDS AND 3 TOUCHDOWNS AGAINST SAN DIEGO. If Smith can do that, just imagine what a pass-happy group of Jaguars can do. Time to start #JagginOff
Just re-watched #Packers vs. #Jaguars, and Allen Robinson was legitimately *this close* to having a 200-yards, 2-3 TD day. Helluva game.

— Nick Mensio (@NickMensio) September 14, 2016
2. Drew Brees and Brandin Cooks
(Brees: $8.2k DK, $9.2k FD, $37 Yahoo) (Cooks: $8k DK, $8.4k FD, $27 Yahoo)
Brees and Cooks put up monster numbers Week 1 against the Raiders, greatly benefiting from the 98 yard TD in the video above. The question marks surrounding Cooks' value were regarding his red zone usage, but after Sunday's game in which he had several red zone looks, Cooks value should only increase. Last year in their matchup against the New York Giants, Brees threw for 505 yards and 7 touchdowns, while Cook hauled in 6 catches for 88 yards and 2 scores. Benjamin Watson and Marques Colston combined for 17 catches in the game last year, and both are gone now. Coby Fleener has struggled to grasp the playbook, leaving  Willie Snead and Michael Thomas as the ones likely to eat away at some of Cooks numbers. Snead was also great in the game against the Raiders, as he caught every ball thrown his way (9-172-1). Snead looks poised for a monster year and offers the same high upside for points as Cooks, but costs far less, giving lineups more flexibility. He can easily be used in Cooks place, or even right alongside him. The Giants held rookie Dak Prescott in check Week 1, but they will face a whole new monster in Brees Week 2.
1. Eli Manning and Odell Beckham Jr
(Manning: $7.6k DK, $8.1k FD, $36 Yahoo) (Beckham: $9.5k DK, $9.4 FD, $37 Yahoo)
The first thing I did when the salaries came out Tuesday morning was check who the New Orleans Saints were playing. When I saw it was the Giants, a giant rip in the front my pants mysteriously appeared. Weird, I know. I had flashbacks to last seasons monster game briefly mentioned above where Eli Manning and Drew Brees combined for 850 yards and 13 passing touchdowns. That's an absurd number. Beckham himself went for 8 catches 130 yards and 3 scores. Those stats are INSANE. Now, it's no secret that the Saints secondary sucks, and when it was announced that cornerback Delvin Breaux would be out for 6 weeks, that hole in the front of my pants ripped a little more. After being held in check Week 1 against the Cowboys, I expect ODB to come out an obliterate the Saints defense like we've never seen before. The best part is, with the addition of Sterling Shepard and return of Victor Cruz, defenses can't load up on Beckham Jr while letting the other two roam free. This has all the makings of a fantasy bloodbath where hopefully Brees and Manning just go all out again and throw the ball 50 times a piece. Shepard and Cruz are obvious plays if you are looking for cheaper options at the receiver spot, but I'll be building around the Eli and Odell combo while maybe throwing in a little dance every time he scores.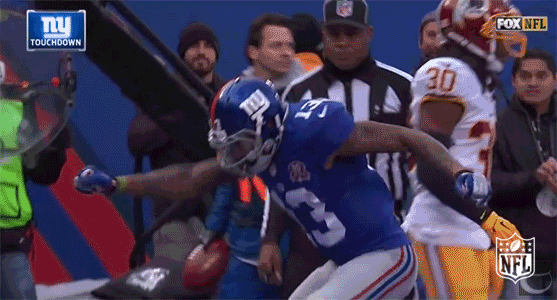 Honorable Mentions:
Andy Dalton and AJ Green vs Pittsburgh

Matthew Stafford and Marvin Jones vs Tennessee

Derek Carr and Amari Cooper vs Atlanta