Player Stock Ticker
Daily Fantasy Stock Report: Jamaal Charles yet to regain feature role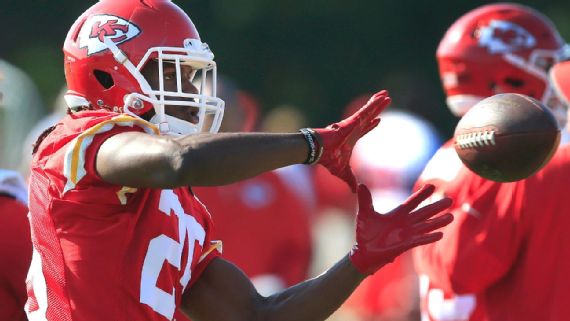 Every morning we compile the most important fantasy football links of the day for you to stay up-to-date and ahead of your fantasy opponents… This is your number one place for beat writer blabber, injury news, transaction tracking, and fantasy analysis from the experts who taught us a thing or two.
"There was no setback, but Charles wasn't ready for the start of camp. He hasn't regained the role — full-time featured back — he had before last season's torn ACL. Charles was back and a playing full time by this point of his return from his previous ACL tear, in 2012. But he was four years younger then."
Jamaal Charles has been one of the most electric runners in the NFL the last handful of years but his recent injuries have allowed the questions to come creeping in. After another ACL injury, the Chiefs saw Spencer Ware and Charcandrick West take over and perform well. Ware has been seeing a lot of first team reps in Charles' absense, and Jamaal is just about to hit that magical running back age of 30. As mentioned above, he's returning slower now than he did in the past which shows his aging is a real factor. Be careful drafting Charles this season.
"We're going to keep strengthening him up," Gase said. "I feel like I've been through this with Demaryius [Thomas] in Denver. Felt like he was always hurt. One thing after the other." Gase encouraged Parker to do "all the little things you have to do off the field, in the building and when you get to practice, you have to treat everything like a game."
Charles Trainor Jr – Miami Herald
Not the most encouraging news out of Dolphins camp as head coach Adam Gase is looking for more from DeVante Parker. The recent news of Kenny Stills' freak practice injury just ended up being a "locked up back" and nothing major at all is not good for Parker's fantasy value. Stills has moved himself ahead of Parker into that #2 receiver spot and offers far more fantasy value than Parker at the moment. The second year receiver has the tools to become a serious fantasy threat, but he needs to be able to stay on the field in order to make an impact.
I think it's 50-50, but the fact he talked the other day leads me to guess that he goes https://t.co/hORjvKFvZd

— Dave Birkett (@davebirkett) August 31, 2016
This is in reference to Eric Ebron and whether or not he would play Week 1. Ebron is a tight end of our that we expect to break out in Calvin Johnson's departure. He's still battling with the ankle injury, but if fully healthy Ebron can be a lethal red zone option for Stafford and the Lions. I wouldn't expect big things right away from the tight end, but it's good to see he's progressing back towards full health.
Quick Hits:
Cleveland said they would want a "high pick" in return for Josh McCown. This made me lol.
James Harrison, Clay Matthews and Julius Peppers have been cleared by the NFL regarding the Al Jazeera case. And Tom Brady is still suspended for what?
Tim Tebow said that his football career is officially over after his baseball tryout yesterday. Sad news for God's QB