In a PPR fantasy league, the appeal of the pass catching running back is pretty obvious.  Just imagine–a player who is (sometimes) running the ball for you and is also gonna catch 80 balls this year.  You'd have to be a fool not to sign up for that, right?  And while I admit it's tough to argue with the fantasy points a pure pass catching RB can put up, I'm here to tell you not to sell the farm to grab one of these guys.  If you do, there's a good chance you're going to be sorely disappointed.
According to RSJ's The Wolf, Danny Woodhead of the San Diego Chargers finished the year as the 3rd highest scoring RB in PPR fantasy scoring last year.  Crazy, right?  That very fact was enough to get one of the guys in my hometown league saying we should eliminate PPR completely–because if Woodhead is ending up that high, something is fundamentally wrong with the system.  And while I see where he was coming from, I'm here to tell him (and the rest of you) not to worry.  If you look at recent history, there's a really good chance he and the rest of those supposedly elite pass catchers won't do it again this season.
Let's take a quick look at the reception leaders amongst RBs for the 2015 season:
1. Danny Woodhead (81)
2. Theo Riddick (80)
3. Devontae Freeman (73)
4. Shane Vereen (59)
5. Darren Sproles (55)
Now let's take a look at the same list from the 2014 season:
1. Matt Forte (102)
2. Le'Veon Bell (83)
3. Fred Jackson (66)
4. DeMarco Murray (57)
5. Shane Vereen (53)
OK, so Shane Vereen "exploded" for 59 catches in 2015 after catching 53 in 2014.  Let's look at everyone else.  Matt Forte went from 102 catches in 2014 to only 44 in 2015.  In fact, Forte was only TARGETED 58 times in the 13 games he played in 2015.  Anyone who went all in on Forte because of his pass catching would have been shedding some serious tears by the time it was all said and done.
Le'Veon Bell went from 83 catches in 2014 to a mere 24 in 2015.  Yes, he was suspended and injured for the majority of the season, but he played in 6 games and was only targeted 26 times in those games.  That's an average of 4 a game, down substantially from the 6.5 targets a game he saw the year before.
Fred Jackson went from 66 receptions in 2014, down to 32 in 2015.  Yes, Jackson is old.  He still pulled in less than half as many catches the year after he cracked the top 5 list.  Can't ignore it.  Demarco Murray went from 57 catches in 2014 to 44 the following year.  I'm sensing a pattern.
Maybe it's just that one year.  What happened in 2013?  Great question.
And while all the people who went all in on Pierre Thomas in 2014 can already tell me, I'll show the rest of you the list anyway:
1. Pierre Thomas (77)
2. Danny Woodhead (76)
3. Matt Forte (75)
4. Darren Sproles (71)
5. Jamaal Charles (70)
I thought Pierre Thomas was a real steal when I drafted him in 2014.  I mean, the guy led the league in receptions as an RB and was a decent runner for a supposedly explosive Saints' offense too.  What's not to like?  Well… everything.  Thomas only caught 45 balls in 2014 and wasn't really even a startable option in most leagues by the end.
Then there's Danny Woodhead.  Well, everyone knows he was injured in 2014 so maybe the fact that he fell off the list should be dismissed.  Maybe it gets a footnote or something, but I just want to point out that in the 3 games he played, he had all of 5 receptions.  It's not like he was Jerry Rice before he went down.
Forte obviously blew it up before falling off the cliff in 2015–a cliff I would imagine he will never climb back up from.
Darren Sproles's impressive 71 catches in 2013 morphed into a pedestrian 40 in 2014.  Jamaal Charles, who was the best RB in football when you added in his 70 catches out of the backfield, became a 40 reception guy the following season.  With the exception of Forte, all those top guys suffered massive drop-offs–there's no denying it.
If you go back another year to 2012, you see more of the same–with the exception of Sproles, who seems to pop up pretty regularly on or around this list.  But guys like Ray Rice, Marcel Reece, and Trent Richardson also show up on it.  Those guys aren't catching too many passes these days–since two-thirds are sitting on their couches, like us.
I don't pretend to be an expert on this, I'm just showing you the numbers.  Why does this happen?  Well, that's hard to say, but I suspect it's because the NFL's teams and coaches these guys play against have access to all the same information (and a lot more) that we have–and believe it or not, they use it to their advantage.
It would not be impossible to imagine some version of the following conversation taking place:
"Hey, remember last year (2013) when Jamaal Charles took us (the Oakland Raiders) for 13 receptions for 245 and 4 touchdowns through the air?"
"Sure do, coach."
"Well, let's try to maybe keep an eye on him a little better this year (2014)."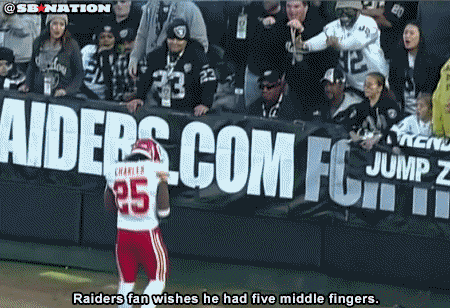 And in 2014, Charles caught 5 balls that went for 41 yards in his 2 games against Oakland.
I suspect it's probably just as simple as that.  Coaches knew Matt Forte caught over 100 balls in 2014.  In 2015 they did everything they could to take it away.  He caught like 65 less balls.  And as much as we like to believe we know more than the actual people who do this for a living, and maybe sometimes we actually do (see: Rob Ryan's defensive schemes), they all know Theo Riddick caught 80 balls last year.  You think he'll catch 80 this year?  90?  100?  Because I sure as hell don't.
Someone will have a great receiving season out of the backfield this year.  Maybe more than one.  Just don't assume it's gonna be the guy or guys who did it last year.  And if you don't believe me, maybe we can discuss it further at the Fantasy Hall of Fame induction speeches for Pierre Thomas, Marcel Reece, and Trent Richardson.  Oh wait, no we can't.  And don't count on meeting me at Theo Riddick's either.