If you plan to or have already drafted Tom Brady in your fantasy league this season (or you live on earth), you already know you will be without his services for Weeks 1-4 (goddamn you Goodell). Many fantasy owners are embracing the "wait for a QB strategy" as previously touched on by DirtyKarma earlier this month. The difference with Brady is that because of his suspension, he takes a hit on draft boards for missing those first four games. Right now, he has an ADP of 75.8 on Yahoo and is currently being selected around the 8th round.
Brady came in second last year in fantasy scoring behind Cam Newton, who had an unworldly season thanks to his 10 rushing touchdowns, and just ahead of Russell Wilson who also tacks on extra points with all those rushing yards. If you look at all the top fantasy quarterbacks this year; Newton, Aaron Rodgers, Wilson and Andrew Luck all have ADP's inside the top 40. Drew Brees, Ben Roethlisberger, Carson Palmer and Eli Manning round out the next four highest ADPs, which are all falling inside the top 70. Which leaves us with the lord and savior himself Tom Brady.
Due to his ADP, Brady could technically be the biggest sleeper of the season, if you can consider him one. Everyone knows he's an elite quarterback in reality, fantasy and just overall in life. Instead of drafting Jordan Matthews, Ryan Mathews, Zach Ertz or a defense, which were all right ahead of Brady in ADP, why not take an elite QB in round 7 or 8?
Fantasy titles aren't won in Weeks 1-4, they are won by getting to the playoffs and then smashing in Weeks 14-16. Tom has arguably his deepest receiving core that he's ever had in New England with Rob Gronkowski, Julian Edelman and Danny Amendola returning, and then the nice additions of Martellus Bennett, Chris Hogan and potentially Malcolm Mitchell. Add in the fact that Dion Lewis is going to be out for a good chunk of time, and you know Brady will be throwing 30+ times a game every week. Those Patriots running backs will not be getting 20 carries a game unless Brady has already dropped 5 touchdowns in the first half (wouldn't be his fist time). Just writing all of this has me drooling at the mouth of Brady's potential when he returns, and if you can get him in the middle rounds of your draft, it could go down as the steal of your draft.
If you do take the greatest quarterback to ever grace the Earth with his presence, here are your best QB options to play for Weeks 1-4:
1. Dak Prescott
Fresh off Tony Romo's back injury, Dak Prescott is the new QB1 for the Dallas Cowboys. The Mississippi State product has been phenomenal thus far in the preseason to the tune of 507 total yards with 7 touchdowns. What makes him special is his ability to run the ball  when the opportunity presents itself. He hasn't been dependent on his legs, but has the ability to scramble and make big plays when the time comes for it. He's also got the surrounding talent necessary to succeed with Dez Bryant, Ezekiel Elliott and Jason Witten. What's also very intriguing about Prescott are his match-ups Weeks 1-4. He gets the Giants and Bears at home, and the Redskins and 49ers on the road. Based on last year's defensive numbers, the match-ups against the Giants, Redskins and Bears are all favorable for the rookie quarterback. The Giants gave up the 3rd most fantasy points to quarterbacks, the Redskins the 9th most and the Bears the 7th most. The 49ers were 17th, but teams were running on them more late in games since they suck. Prescott has the 6th most projected QB points overall for Weeks 1-4.
2. Derek Carr
Carr is already more established than Prescott at this time having been the Raiders starter for 2 seasons now. He also boasts a stud receiver in Amari Cooper, along with rising running back Latavius Murray running behind an elite offensive line. Carr took a big jump his sophomore year, throwing for nearly 4,000 yards and 32 touchdowns. For Weeks 1-4, Carr faces the Saints, Titans and Ravens on the road, and he gets the shitty Falcons defense at home. He's got three great match-ups here. The Saints gave up the most fantasy points to QBs last year, the Titans gave up the 6th most and Ravens gave up the 8th most. The Falcons also have a porous secondary and they have to travel across the country.  Carr projects as the 10th overall QB in points scored for Weeks 1-4. Plus, when you can throw the ball like this video below, that's pretty sweet to have on your team.
3. Kirk Cousins
The Redskins quarterback comes into this season after a stellar campaign where he threw for 4,166 yards and 29 touchdowns. The talent at receiver is very deep in Washington with Jordan Reed, DeSean Jackson, Pierre Garcon and now Josh Doctson. With that cast, Cousins will be ready to sling the pigskin all over the field. He gets the Steelers, Cowboys and Browns at home, and the Giants in the Meadowlands. The Giants and Browns are both great match-ups for fantasy QBs, while the Cowboys and the Steelers both have suspect secondaries. Cousins checks in one spot below Carr at #11 overall for most projected fantasy points weeks 1-4. With Cousins not being selected until the 12th round on average, he offers great value for such a low pick with the ability to put up elite numbers (#8 overall QB last year). We like that.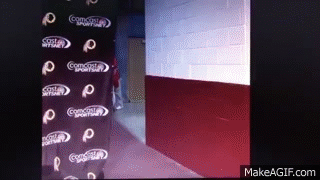 4. Robert Griffin III
This is one that The Wolf is sure to be a fan of, since RGIII has looked pretty darn good this preseason with Cleveland. He's the ultimate "buy low" QB stock as he's going around 122 overall and in the 13th round according to his ADP. What makes Griffin an interesting play are the match-ups he's given Weeks 1-4. Sure Jimmy Garoppolo is projected for far more points those weeks, but his match-ups are pretty bad (at Arizona, Rex/Rob Ryan) and he hasn't exactly been "dazzling" so far this preseason. Griffin has shown his deep ball is still alive and will often hit Terrelle Pryor, Gary Barnidge or Corey Coleman on deep routes in practice or games. He squares off against favorable defenses, such as the Eagles, Ravens and Redskins who ranked 2nd, 8th and 9th in fantasy points allowed to QBs in 2015.