Tajae Sharpe is a name you may not have heard before unless you are either: A.) A Tennessee Titans fan, B.) A recent UMass Amherst Alum (holla #FireTheMusket!) or C.) a member of RSJ. The former Minuteman was selected in the 5th round (#140 overall) in this year's draft by the Titans. After leading the nation in receptions last year (111 catches), Sharpe has come in and taken the Titans preseason buzz by storm.
Top graded rookies through two weeks of the preseason
QB: Dak Prescott, DAL
RB: Derrick Henry, TEN
WR: Tajae Sharpe, TEN
TE: Alan Cross, TB

— PFF (@PFF) August 21, 2016
 In The Wolf's recent Top 150 Big Board, Sharpe was rated #140 overall (WR56). On Yahoo, he is not currently listed in the Top 100 wide receivers, while on ESPN he is the #72 receiver with an ADP of 170. We are here to tell you that if you let Sharpe fall that far, or even let him go undrafted for that matter, then you are a moron.
Heading into the combine and the draft process, Sharpe was known for his plus route running ability, athleticism and high IQ.
"You don't have to worry about him. You tell him something once and he knows what to do," UMass coach Mark Whipple said about his former wideout. "He can play multiple positions. He works at it and he's a pro already. He's got great character and is driven."
Sharpe has been killing the preseason thus far, leading the Titans in receiving with 8 catches for 103 yards. It looks like he's quickly becoming a favorite target of quarterback Marcus Mariota, and could even wind up being the top receiver target if he keeps up this stellar play. Sharpe has made catches of all kinds, showing his versatile receiving skills as well as the trust that Mariota has in delivering him the ball. The video below shows some nice grabs early on by Sharpe in the Titans second preseason game. He's been running exclusively with the first team offense.
Going into this season, it appeared that Sharpe had the possibility to play a role in the offense at some point, but wasn't expected to be a key contributor right away. Then, with his continued success, paired with the trade of receiver Dorial Green-Beckham to Philadelphia, Sharpe is looking like someone who will be expected to produce right away by his team.
Take it straight from the horse's/quarterback's mouth:
"He makes it easy," Mariota said of Sharpe. "He is a very versatile athlete, and he's done a lot for us already. He creates separation in and out of his routes and we are going to continue to expect these kinds of things out of him."
Delanie Walker is most likely going to be the apple of Mariota's eye and lead the team in targets/receptions. But I could definitely see Sharpe being the surprise #2 guy, surpassing Kendall Wright after a very lackluster season. Wright only totaled 36 catches for 408 yards and 3 touchdowns. On top of that, he has missed all preseason action thus far and is missing valuable time that could be spent developing his connection with Mariota, something that Sharpe has clearly been excelling at. Sharpe has serious potential to be a top receiver for the Titans. He's currently listed as the #2 receiver on the Titans depth chart, ahead of Wright and alongside the newly acquired Rishard Matthews.
The biggest obstacle that Sharpe will face is going to come from this two headed MONSTER in the backfield. Both Demarco Murray and Derrick Henry (he wears #2? Really? Hardooooo) have looked phenomenal this preseason and have Head Coach Mike Mularkey dusting off his old Pittsburgh Steelers offensive playbook from the early 2000's. "Exotic Smashmouth" is the apparent name Mularkey used back in the day, and just the sound of it is both frightening and tingling (especially to our own guy The Wolf. Seriously, the dude LOVES it). In Pittsburgh, Exotic Smashmouth had the reputation of being very physical while mixing in some creativity. Murray and Henry form the perfect duo for physical runners (I mean really, look how huge Henry is compared to Mark Ingram), while Mariota and his playmaking abilities brings out the creative side. Mularkey had Kordell Stewart back in the day, but Mariota will not be running the ball 96 times this season, as we have seen that relying or forcing the QB run game hasn't panned out very well. (*Cough cough* RGIII, Colin Kaepernick, Johnny Manziel *Cough cough*). Mularkey would be crazy to have Mariota slinging the ball 30-40 times a game with that backfield duo, but knowing the Titans lack of success for the past decade, Mariota could be playing catch up and forced to throw more often.
The best part about Tajae Sharpe is that because his ADP is so low, he comes with little to no risk. When you scoop him up in the last few rounds of the draft you don't expect much production anyways. You're essentially swinging for home runs once your defense and kicker have been taken. He is the quintessential "low risk, high reward" fantasy prospect that drafters are constantly searching for and could pay off huge dividends to those who use a pick on him. I can see Sharpe developing into a solid WR4 with a ceiling of a WR3. He also offers nice value in dynasty leagues as someone you can draft now and stash, hoping he blossoms into a reliable fantasy receiver.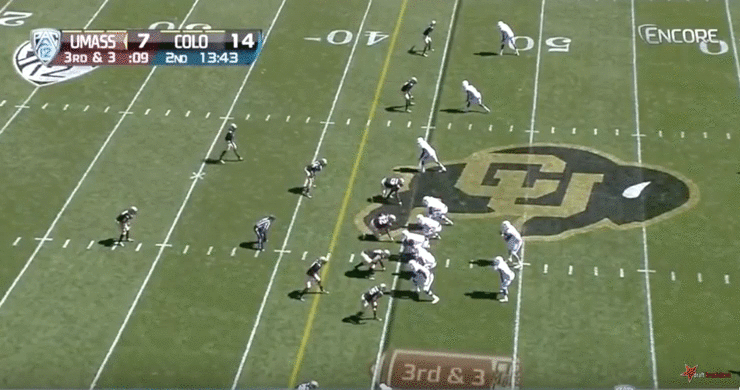 Make sure you become familiar with this name before everyone else does. And just remember; You were, you are, UMass.
2016 Fantasy Projections: 54 catches, 680 yards & 4 touchdowns