Player Stock Ticker
Daily Fantasy Stock Report: Who are the Eagles going to feature in the passing game?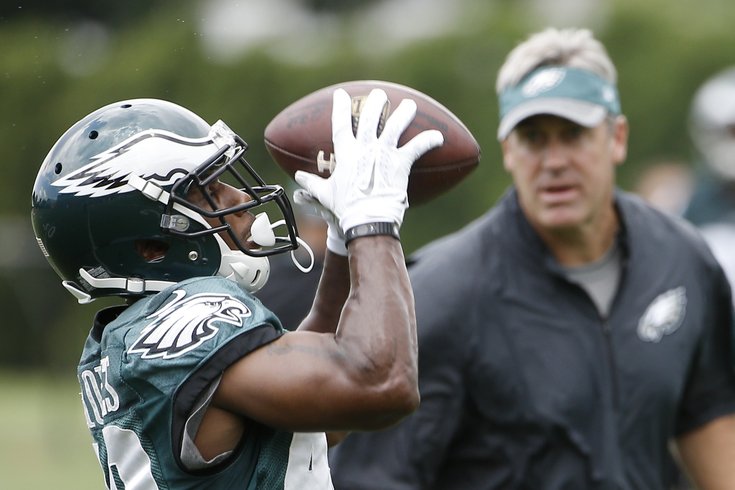 Every morning we compile the most important fantasy football links of the day for you to stay up-to-date and ahead of your fantasy opponents… This is your number one place for beat writer blabber, injury news, transaction tracking, and fantasy analysis from the experts who taught us a thing or two.
"Expect Darren Sproles to be featured in the passing game this season. Offensive coordinator Frank Reich said that every week during game planning meetings, they will ask, "How can we get this guy the football?"
New Eagles' OC Frank Reich was the Chargers' OC last year, when Danny Woodhead caught 80 balls out of the backfield. Sproles was the original Woodhead, so we should expect a solid PPR year out of Sproles. Fantasy owners will be able to get him late and if you plug him into your RB2 or Flex slot, he should put up pretty good receiving numbers. Sproles will eat up all the third down snaps, which should bump his receptions from 55 in 2015 to 70-plus in 2016.
Mularkey said #Titans will find ways to get Derrick Henry on the field, even though DeMarco Murray is still the starter.

— Terry McCormick (@terrymc13) August 24, 2016
Since DeMarco Murray has carried the load of the first-team preseason snaps, we shouldn't be surprised that Mike Mularkey confirmed Murray as the starter. This isn't a slight on the rookie from Alabama though, as Henry has looked excellent in his own work during the preseason. Murray's health will be the key to Henry's fantasy ceiling; however, that's always the big question mark surrounding the fragile running back. Take the beastly rookie and stash him on your bench, because he could win you a title down the stretch.
Corey Coleman said he's full go for Friday. Hamstring issues officially over.

— Tony Grossi (@TonyGrossi) August 24, 2016
Corey Coleman was gaining rave reviews during the offseason, before being sidelined by a lingering hamstring issue. Now that he's back, we will get to see *fireworks* in Cleveland (felt weird typing that) for the third preseason game. Why you ask? Because Coleman, Josh Gordon, Terrelle Pryor, Gary Barnidge and Duke Johnson will be catching passes from Robert Griffin III for the first time this year. Get your popcorn ready! Quick Hits:
Cardinals WR John Brown was back at practice on Monday (concussion), but sat out Wednesday's practice with headaches. Troubling sign for the talented slot receiver.
Gronk returned to practice today
Seahawks RB Thomas Rawls will play in the season opener
Bears RB Jeremy Langford (foot) is back at practice
Eagles WR Dorial Green-Beckham will run with the 1s in their third preseason game