There are so many reasons to love fantasy sports, one that I think is under appreciated is getting to name your team.  When I think about things that get me irrationally angry, seeing something like "Team Roberts" is right up there with slow walkers, people who make unnecessary noise in the stall next to me, and when people type "Bahaha."  If you are a "Team Roberts" kind of guy, this post probably isn't for you and I hope a random little kid kicks you in the shin on your way to work next week.
I'm big believer in creating my team name based on the people on my actual roster.  My favorite team name last year was "One finger in the McmAnus".  Butt stuff is funny in general and getting beat by a team that's named after it's kicker stings more than it should.
Below are my top 10 fantasy football names for 2016: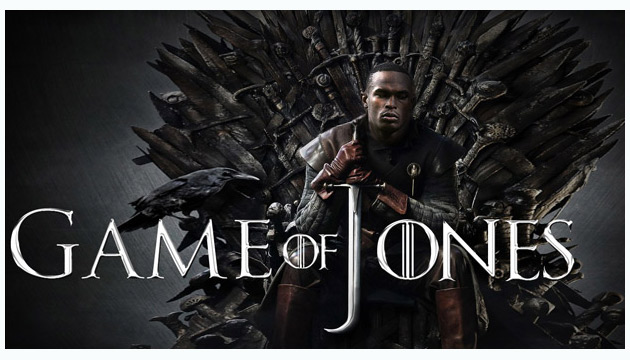 1. Game of Jones:  If you have been following the Roto Street since the beginning, you know that we hold Game of Thrones close to our hearts.  I wouldn't use the show in a name that didn't match up with a certain player's dominance.  Julio Jones fits the mold.
2.One Finger In the McmAnus: Obviously I'm re-using this one.
3. Rawls Deep:  Thomas Rawls is expected to have a big year, it just so happens that his last name rhymes with balls.  Any number of classic immature names can be made using this swap.
4. Kid Can't Even Reed: This is our first name that uses a quote from an Adam Sandler movie. Billy Madison is a comedy that never gets old, much like watching Jordan Reed scoring touchdowns will never get old.
5. Lamars Attacks: Mars Attacks is a hilariously stupid movie which I believe aligns with Joe Philbin's hilariously stupid mismanagement of his star running back the past couple of years.  Ack Ack Ack Ack
6. The Abdullah Oblongata: Ma, ma Momma says football is for the devil.  Ameer Abdullah disappointed in his first season; what never disappoints is watching Adam Sandler tackle Colonel Sanders in the Waterboy.
7. It Hurns When I Pee: Allen Hurns sounds like Burns, and no one ever wants to feel a burning sensation when they pee.
8. Honey Funchess of Oates: Devin Funchess showed he has what it takes to play in the NFL last year. I guess that's good enough of a reason to turn his name into a cereal?
9. International Hauschka Pancakes: This is another situation where we take another subtle shot at our competition by naming our team after a kicker.  Plus, after a full Sunday Funday, you can show up shitfaced at your local IHOP and knowing you came out victorious.
10. I Like Bortles: "Back here live at the water front village with my friend, the zombie. Jonathon, you're looking good. Jonathon just got an awesome face paint job what do you think?" The zombie/kid responds,  "I Like Bortles"…. Alright, you're a great zombie.
Have a funny team name in your league? Comment below, email  theshark@rotostreetjournal.com, or tweet us at @RotoStreetJ.