In the grand scheme of things, the first preseason game is pretty irrelevant, especially when it comes to fantasy football. But tonight marks the first time we will see real, live football at Gillette Stadium this season, which should give us all a little TB12 in our pants. The stars won't be on the field tonight for the Patriots (we'll fill you in on that in a few), but we will learn a little about some of the guys who could fill your roster out.
Tom Brady is out of the first four games thanks to Roger Goodell, so he's playing tonight, right?
Sorry, we won't be seeing No. 12 on the field tonight. Along with Brady, we won't be seeing the guys on the PUP list (Dion Lewis and Danny Amendola) and according to the Herald's Jeff Howe, we won't be seeing both Julian Edelman and Rob Gronkowski, who are expected to be  wrapped in bubble wrap somewhere. Some other guys on fantasy radars who aren't expected to play tonight include: WR Chris Hogan (shoulder), WR Keshawn Martin (no team drills since July 30) and RB Donald Brown (no team drills since Aug. 3.)
So, uh, who is Jimmy Garoppolo going to throw to?
That's a good question and I expect the highly rational Patriots fans to not go crazy when Jimmy G goes 11-21 with 1 TD and 1 INT. Just kidding, they'll say he sucks and they'll be begging for Jacoby Brissett to start the first four games. Garoppolo will most likely play a few series against the Saints first team defense and then against the scrubs until halftime. He will be without the majority of the starting offensive line and he will throw to the likes of Martellus Bennett (as of now), Nate Washington, Aaron "Dropson" Dobson, Chris Harper and rookie Malcolm Mitchell. Meanwhile, LeGarrette Blount, James White and Tyler Gaffney will most likely handle the running back duties.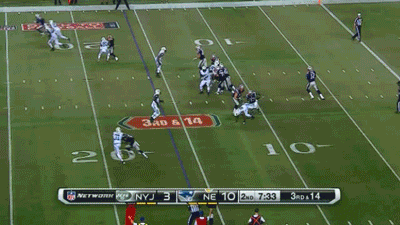 As one can see, Garoppolo will not be helped by a full arsenal tonight, but take a deep breath and look at the little things with him. Will he throw the ball into double coverage? Does he have a sense of pocket presence? Will he look at his second or third option, or will he lock onto his primary target? If the numbers aren't great but he does the little things, then Patriots fans and potential fantasy owners should feel comfortable with the guy who hasn't started a game since he threw 53 touchdown passes his senior year at Eastern Illinois.
With all of these guys out for the Patriots, who should I focus on with my fantasy eye?
For the Patriots, obviously start with Garoppolo, then shift your focus to Bennett (if he plays). With Lewis out, we'll see how Blount looks coming off of a hip injury, then White, who will backup Lewis and then Gaffney, who killed it at Stanford and is having a great camp after finally being healthy. None of the receivers who are playing tonight are draftable, except possibly Mitchell in a deep, deep dynasty league.
As for the Saints, per @Rapsheet, it looks like Garrett Grayson will get the start tonight at quarterback. We don't have an update yet on if Brandin Cooks, Coby Fleener or Mark Ingram will play tonight, but they would obviously be worth your attention.Other than them, keep an eye on rookie WR Michael Thomas, WR Willie Snead and WR Brandon Coleman, as they are all draftable in PPR leagues. We know all about running backs Tim Hightower and CJ Spiller by now, so you know what you are getting with them.
***
So sit back, crack your first NFL beer of the season and put your fantasy scouting glasses on. It's back (sorta).