With the recent release of both the  The People vs. O.J. Simpson: American Crime Story and the incredibly well-made 30 for 30 O.J.: Made in America, Orenthal James Simpson has once again made his way back to center stage of the American media.  I have yet to see the FX Series, but if you are unfamiliar with the case or want to revisit its allure I highly recommend investing the seven and a half hours into the 30 for 30 documentary.  It immerses its viewers in the late 20th Century Los Angeles setting and brilliantly contrasts a white and black America that has come divided again in recent times.  What I found most interesting, however, being somewhat lacking in the football history department, was how good Simpson actually was.
Here are the top three seasons where he would have gone No. 1 in your fantasy football draft:
1.  In 1972, at the age of 25, O.J. averaged 13 fantasy points per game in standard formats.   He compiled 1,251 rushing yards, 6 TDs, and 198 receiving yards.  Keep in mind, folks, that up until 1978 the NFL only played 14 games per season.  Any guy averaging more than 12 points per week is a must-start in almost any league.  At 25, O.J. was coming into his own as a player and would have been prime for the picking in any of the following years' drafts.
2. The following season, O.J.  broke Jim Brown's single season rushing record, rushing for 2,003 yards, scoring 12 rushing touchdowns, and adding 70 yards receiving.  The 30 for 30 goes into great detail in documenting the final game of the season, where Simpson breaks the record in thrilling fashion.  Various characters from O.J.'s life discuss how important it was in elevating O.J.'s status on and off the field.  He averaged 20 fantasy points per game that year and would have surely been a workhorse for any fantasy owner.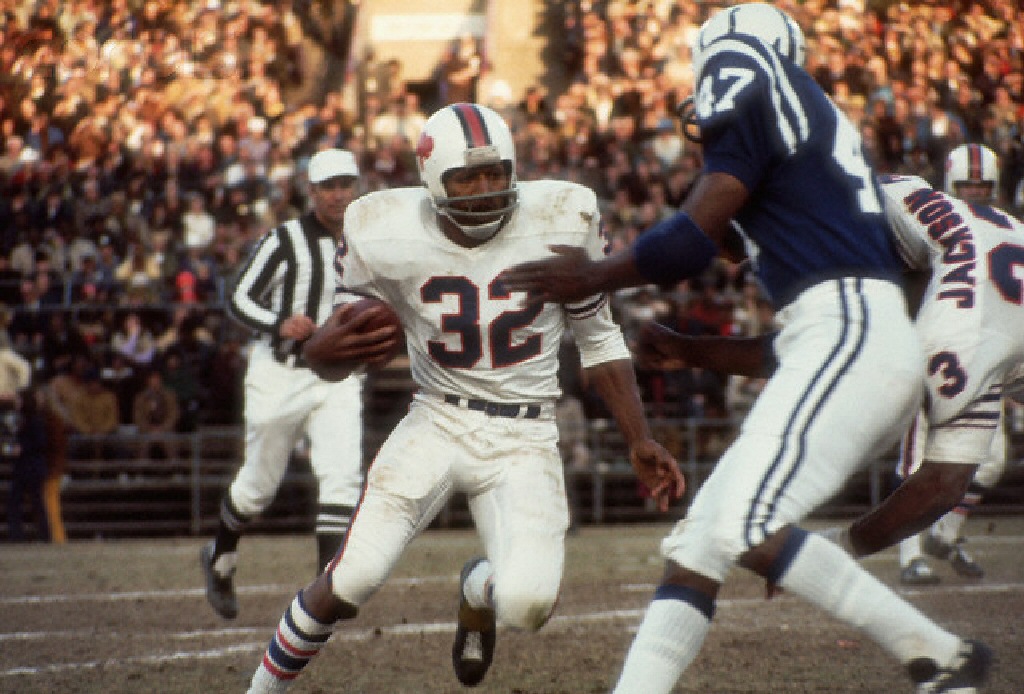 3.  O.J. finished the 1975 season with 1,817 rushing yards, 23 touchdowns, and 426 receiving yards. He averaged a whopping 24.36 points per week, playing all 14 games of the regular season.  He surely would have carried most teams to a title with those numbers because it is important to keep in mind that it wasn't until 1982, that passing attempts per game surpassed rushing attempts per game, making a strong back even more important than he would be today. In other words, in the 70s, you didn't have guys like Antonio Brown who were putting up 275 receiving yards and 3 touchdowns on the reg.  Back then, you rode your tailback to the championship, and the same would have been true for fantasy.
***
To offer some perspective, Chuck Foreman of the Minnesota Vikings was the second best statistically-based running back of 1975 and he trailed Simpson by 747 rushing yards, 1 touchdown, and fumbled five more times than Simpson. NFL.com ranked O.J.'s 1975 season with Buffalo as the  No. 7 all-time RB fantasy season. Other names who made the list were: Marshall Faulk's 2000 season with the Rams, Priest Holmes' 2002 and 2003 seasons with the Chiefs, and LaDainian Tomlinson's 2006 season with the Chargers.
Given our fantasy Game of Thrones major character kill category, chalk up another two points for O.J. given the events of June 13, 1994… no, no, no.  I am kidding, that would be awful to credit someone for such a cold blooded and horrific act. Absolutely awful.