Player Stock Ticker
Stock Up: Fantasy football impact of Josh Gordon's reinstatement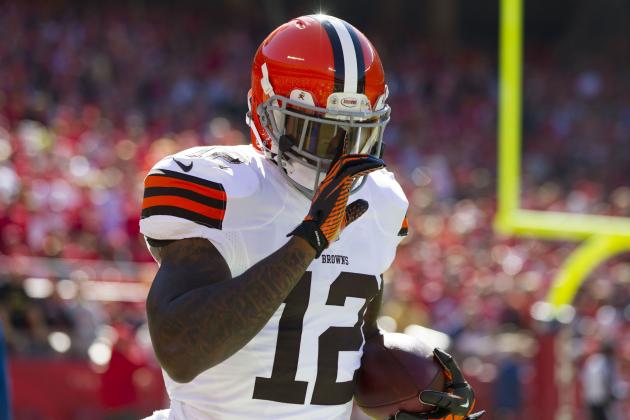 As the fantasy bombs continue to drop left and right, one thing is clear: we've almost made it through the NFL offseason.
Monday provided another major fantasy shakeup, as Cleveland Browns wideout Josh Gordon has been reinstated into the league and suspended for the first four games of the NFL season. From a fantasy lens, Gordon immediately becomes one of the highest ceiling, but lowest floor, investments you can make in the middle rounds. Let's breakdown both the positives and negatives when considering the uber-talented but oft-troubled wide receiver:
Ceiling: 
Look no further than his 2013. Despite missing the first two games of the season, Gordon led the league in receiving yards with 1,646 yards and 9 TDs on 87 catches. His otherworldly raw talent was met with more finesse in his routes, and Gordon was uncoverable at every level of the field.  In that season, he only posted two real PPR duds, while also recording some absurd week-winning outputs like a 14 catch, 237 yard, 1 TD effort followed up with a 10 catch, 261, 2 TD pillaging. Elite ability is necessary for these type of numbers, and Gordon has flashed this throughout his career.
Additionally, Gordon played his college ball at Baylor with expected starter Robert Griffin III, and their former coach Art Briles believes their past chemistry will help them dominate at the professional level: "There is a natural connection between RG3 and JG," Briles told cleveland.com. "When you're talking about a quarterback-receiver relationship at the highest level of the game you need a really strong bond and those guys have it. I think it's going to be great for them." Past familiarity with his QB can only help Gordon. Meanwhile, the surrounding cast of explosive rookie Corey Coleman and the monstrous Gary Barnidge are the perfect combination of talented enough to take away defensive attention, yet not impressive enough to take his #1 target role.
Finally, coach Hue Jackson is a smart offensive mind. Though his offenses are often run-centric, Jackson calls a mean play action game; Gordon might be among the most dangerous deep threats when his head is on straight. Hue also takes no bull shit. If Gordon is on the field, you know you're getting a straightened out guy who's at his peak.
Floor: 
As tantalizing as Gordon's ceiling is as a potential WR1, his floor is equally frightening. For one, he's one failed drug test or misstep away from not touching the field; after countless suspensions and an offseason filled with the creature named Johnny Manziel, decision-making isn't exactly a proven strength of Gordon's.  I'd have a hard time buying he's much more than a coin flip to actually touch the field this season.
Additionally, don't be so quick to forget he spent all of last year out of the league, without appearing all too committed to getting back on. Plus, the last time he was on the field in 2014, Gordon was highly underwhelming. In his 5 games played, Gordon scored in the double digits in PPR points only twice, and was a complete bus in the fantasy playoffs where many people had stashed or acquired him for.  Assuming he somehow stays clean off the field, we can't be certain he's suddenly 2013 Elite WR1 Josh Gordon without first seeing it.
Impact on the overall offense: 
For the sake of exploration, let's assume Josh Gordon returns to the field and plays at a high-end level. This could positively impact the overall offense significantly. First, the run game would greatly benefit from the presence of a premier deep threat, and boxes would definitely be lighter. Isiah Crowell and Duke Johnson would both receive hypothetical bumps, with Crowell likely seeing far more goal line opportunities to cap off in a more explosive offense and Duke gaining some space to roam underneath in the pass game. Corey Coleman would get an obvious usage knock, yet his overall numbers might remain similar with his looks being more productive against #2 corners. In fact, Coleman could put up a sneaky big year, as Hue Jackson will know exactly how to create mismatches with his two speedy wideouts.  Barnidge similarly benefits from extra space to roam the seams, as well as more goal line plays where his massive 6-foot-5 frame is especially dangerous. Remember, Tyler Eifert caught 13 TDs in Jackson's scheme last season, and Gordon's explosive presence would make this a real possibility. Plus, RGIII would actually become draftable as a last round dart throw with his rushing ability and a pretty stocked weapons cabinet. Clearly, all of Cleveland's ships rise would rise with a productive Gordon.
Bottom line
Gordon instantly becomes one of the most important storylines to track this summer. Is he in shape? Is his head on straight? How's he meshing with Hue Jackson?
If all these storylines find a positive ending, then there's no reason Gordon can't be a WR1 in his games played; he once had the talent, and has the teammates and coach to pull it off. Yet, his floor is dangerously low, and a zero game season is equally, if not more, likely to a return to prime form.
For me,  (assuming Gordon remains on track for a Week 5 return) I think my team makeup and need will determine if he's a worthwhile investment. If I've gone WR heavy early and feel confident I'll be receiving production from my top two, I'd love Gordon as my WR3 or flex. I certainly wouldn't invest in him as a WR2 given the time he'll miss, and if I felt sketchy about my second WR option, I'd have a hard time stomaching him as my third.
I do think by the time your drafting, his outlook will be clearer. Coach Jackson doesn't beat around the bush, and we'll know exactly what kind of Gordon we're getting.  If everything is trending upwards, I could see myself plunging in the 5th round, while making sure to appropriately bump Clevelad's surrounding talent up as well.. All I know is my popcorn is ready for this offseason saga.