Three backfields and other storylines to monitor closely during training camp and preseason 
We've been plowing full steam ahead with our 2016 Fantasy Football PPR Rankings, yesterday wrapping up the last startable RBs at this point in the offseason. Yet, with training camps and preseason action set to bring some clarity to depth charts and workload distribution, there's plenty of time for valuable fantasy runners to emerge. Below lie three teams with murky situations, but the surrounding talent and/or coaching schemes to produce quality fantasy starters. I'll analyze the fantasy set-ups, current depth charts, and predict how everything will ultimately shakeout. At the end, I'll recap the rankings thus far and speculatively slot in the runners, in case you're a psycho and drafting in July (much love).
1. Tennessee Titans – DeMarco Murray and Derrick Henry
Fantasy Set up – I analyzed the Titans backfield fantasy set up in more depth after the NFL Draft, but we might have an under-the-radar goldmine set up for running back success. Head coach Mike Mularkey has frequently reiterated a desire to absolutely pound the rock in a downhill, power running scheme. He's dubbed his backfield a "thunder and thunder" situation, as well as described his system as "exotic smash mouth" (again, let me reiterate this is NOT a B-list porno). This has the makings of an offense that'll run on first, second, and often third downs in creative ways, meaning plenty of volume will be available for the runners.
Meanwhile, the team has followed the successful draft model of the Dallas Cowboys, selecting three first rounders along the offensive line the past three off seasons. No, high draft status does not guarantee a successful career, and previous first round tackle Taylor Lewan  (11th in 2014) and guard Chase Warmack (10th in 2013) have left a bit to be desired in their early NFL careers. Nonetheless, new line coach Russ Grimm is among the best in the business, and he'll have plenty of talent and pedigree to work with, especially now that bruising right tackle Jake Conklin is added to the mix.
In short, whoever's receiving carries will do so in a scheme committed to running the ball and behind a line that could be among the top in the league…if the on paper talent can translate to on field success.
Current Depth Chart – As the established veteran and expensive cap acquisition, DeMarco Murray enters camp with a firm grasp on the starting job and will be afforded every opportunity to succeed. Jim Wyatt of the Titans Online has repeatedly stated the Titans plan to use Murray in a "workhorse role" that will "carry the load" and be "used extensively."  Additionally, every report has been positive about DeMarco's return to a downhill scheme, his coachability and professionalism, and overall performance and explosiveness. This is to be expected after the team absorbed a massive cap hit to acquire him.
On the actual field last season, Murray looked worn out and sapped of the explosion that made him so dangerous when he led the league in rushing. Perhaps he simply was a poor fit for a stretch scheme, yet I believe the insane workload he received in Dallas has caught up with him. If he appears to have regained his burst and maintains a firm grasp on the starting gig, Murray will likely leap ahead of Danny Woodhead into my top-20 backs. I simply don't see this happening, mainly because…
Derrick Henry.
I've made my love for the Alabama product well known, both pre-draft and even post-daft despite landing in this unideal situation. How could you not love the size and athleticism of Von Miller steam rolling ahead for 20+ carries in the ideal scheme to maximize his bulldozing talents? Moreover, if the team was so set on Murray, why would they invest a valuable second round pick in the draft's premier power runner? He's been handpicked by the staff and management as the glove-like fit for the "exotic smash mouth" offense they want to run. Of any runner in the NFL built to exotically smash mouths, it's the freight train named Derrick Henry.
Yes, he still has to prove his game translates at the NFL level. Count me as a believer that we'll be reading bulldozing reports as soon as the pads come on.
Ultimate Prediction:  By default, Murray will enter 2016 the starter. Despite puff pieces from the coaching staff, the preseason tape will reflect his minimal burst. By Week 4, Murray will be either ineffective or hurt, leaving Derrick "the freight train" Henry ready to truly maximize this excellent fantasy set up and an ideal late round stash.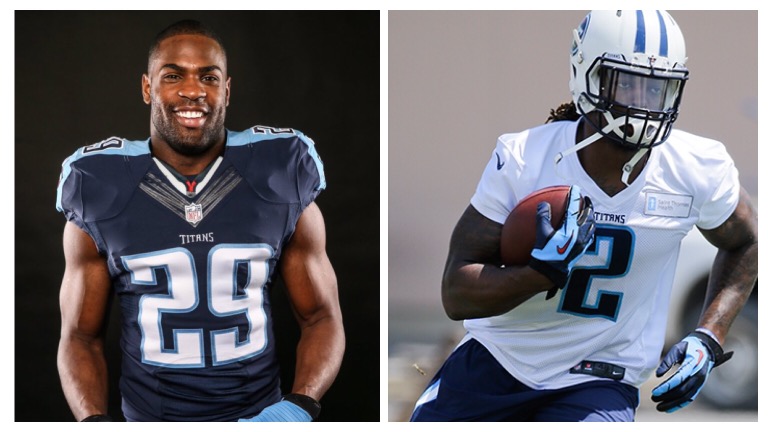 2.  Baltimore Ravens – Justin Forsett, Javorious Allen, Kenneth Dixon
Fantasy Set up – PPR owners should be well aware of coordinator Marc Trestman, who absolutely loves throwing to his running backs. Matt Forte enjoyed a 102 catch season under his watch in Chicago, while 8 out of 9 backs have averaged over three catches per game, or 50+ total per season. On average, Trestman's lead back has averaged 17.9 touches, 4.3 catches, and 16+ PPR fantasy points per game, meaning volume and, at minimum, high-end RB2 fantasy value are typical for his backfields. Even just last year starter Justin Forsett was on pace for 62 catches before going down with a fractured arm, while Buck Alen also hauled in 45 receptions. This scheme will yield quality fantasy volume.
In regards to surrounding talent, the Ravens leave a bit to be desired. Indeed, Joe Flacco has a powerful arm and can keep defenses honest; yet, he is recovering from ACL surgery, while Breshad Perriman's injury and Steve Smith's own health and effectiveness are no guarantee off of Achilles surgery. As such,  the weapons cabinet might not be enough to keep boxes from being stacked. The line also lost a run blocking beast in Kelechi Osmele, as well as one of their sturdier pieces in Eugene Monroe. The left side might be made up entirely of rookies, and though the top guard in football Marshall Yanda returns, the best thisunit can hope for is competence.
To sum, the appeal of the Ravens backfield lies in OC Trestman's tendency to funnel receptions to his backs, and not so much the surrounding talent.
Current Depth Chart – Despite coming off a broken arm, Justin Forsett has to be considered the favorite for the majority of work, at least early on. Ryan Mink of baltimoreravens.com states Forsett enters camp as "the clear lead dog," noting the battle belongs to his backups. Though he's 31, the veteran journeyman has light mileage, and a broken arm isn't a threat to  linger. Forsett appeared far less effectively running the ball out of Kuiak's zone-scheme, but remains a skilled pass catcher with dangerous shiftiness in space. Should he receive 60% of the rushing work, most of the receptions, and at least a handful of goal line duties, Forsett will be set for a useful RB2 campaign.
This workload is no guarantee, however, after the team drafted the talented Kenneth Dixon in Round 4 and Javorious Allen flashed big receiving upside when thrust into the featured back role; Buck notched 37 receptions in the seven games sans Forsett, including a 12 catch, 107 effort during a 34 PPR point trouncing of the Dolphins. Depending on the prices, investing in all three and waiting to see if a lead horse emerges may be advisable given the high PPR reception upside; the downside, of course, is a three-headed monster where any weekly value is tough to project.  Dixon might have the most "stash and see" appeal as a tremendous receiving and rushing talent at a late round price.
Ultimate Prediction – Really tough.  My gut tells me Forsett rebounds from his surgery for some useful early season numbers, but by year's end Dixon is the one winning owners championships. Paying close attention to who's separating in camp, and how the team plans to use their runners, will be crucial.

3.  New York Giants – Rashad Jennings, Paul Perkins, Shane Vereen… Orleans Darkwa? Andre Williams doesn't deserve his name typed.
Fantasy set up – Since Odell  Beckham Jr arrived, this offense has flashed juggernaut potential. With Ben McAdoo taking over as head coach and having no one to answer to, we could see a whole new level of aggression out of the Giants. Rookie wideout Sterling Shepard has already been flashing his tremendous route running and proving to be a fantastic fit, tight  end Will Tye is catching everything in sight, while Victor Cruz is rumored to be nearing full health; this could be the most explosive weapons cabinet Eli Manning has had at his disposal, and combined with his most aggressive play caller, this aerial attack could be among the tops in the league. Boxes should be light, and red zone chances plentiful, for whoever is manning this backfield.
The line remains a question mark, especially in the run game. After faring far better in pass protection, the team made no major moves this offseason, and are hoping continuity will help them improve. In other words, the line isn't making the Giants backfield anymore appealing, but the explosiveness of the surrounding offense should keep things loose enough.
Current Depth Chart  – Rashad Jennings remains the nominal starter, and early reports suggest he'll receive the majority of work (early projections pace him around 15 carries a game). Hopefully, the team saw the value featuring Jennings could bring, as the veteran back ran wild in the season's final four weeks:
Week 14 @ Mia: 22 carries 81 yds, 2 catches 21 yds
Week 15 Car: 16 carries 107 yds, 1TD, 1 catch 0 yds
Week 16 @Min: 14 carries 74 yds, 2 catches 62 yds
Week 17 PHI: 27 carries 170 yds, 1TD, 1 catch 2 yds
Once featured, he scored above 15 PPR points in three out of four contests, and never dipped below 12 points.  Jennings is on record as saying he's entering his prime, a bit bold for a 31 year old back who's never finished with above 200 carries in his seven year career.  Still, Jennings has produced when fed enough volume, and there's a real shot he emerges as a 15+ touch guy in an explosive offense.
Of course, there's plenty of barriers to this reality. For one, Jennings has also struggled maintaining his health, especially when highly used — 2015 was his first time making it through 16 games, despite his low career usage. Additionally, the team spent the vast majority of 2015 using not only a three-headed monster, but actually a four-headed torture chamber.  Shane Vereen remains the primary third down back after ranking fifth in the league with 59 receptions, but his overall usage was wildly inconsistent in 2015 and projects similarly this year. For whatever reason, Andre Williams would receive a weekly three carries for a useless 6 total yards, and hopefully he'll find himself on the chopping block now that the team added intriguing rookie Paul Perkins in the fifth round. A thing named Orleans Darkwa worked his way into the mix at times, and once again emphasized how unpredictable McAdoo was with his backs. Ideally, 2015's dumpster fire was more a reflection on Coughlin than the new head coach, and 2016 will signal a changing of the guard.
Ultimate prediction: McAdoo is a smart coach, and I think he saw the value of riding Jennings and the consistency this brought to the offense. As such, Jennings will remain a featured back, ceding some third down work to Shane Vereen and the occasional series to Perkins, but ultimately netting 15+ touches per game and maintaining steady, but pedestrian, RB2 production. A breakdown under this workload should be expected, making Perkins a must-roster for anyone dependent on Jennings and an upside late round flier for everyone else.
Other storylines to follow:
Is Chris Johnson truly going to carve out a meaningful role in Arizona, or will it be the David Johnson show as it should be?
Will Jeremy Langford be able to separate from the lackluster pack in Chicago and claim lead back duties? Or are we truly stuck in a dreaded "hot – hand" situation?
How intent are the Falcons at reducing Devonta Freeman's role? How involved will Tevin Coleman be?
What role are the Jaguars envisioning for Chris Ivory? Is Gus Bradley going to use him as a Marshawn Lynch hammer?
How firm is C.J. Anderson's grasp on the starting role? Will there be warning signs of a split backfield, similar to 2015?
Is Jamaal Charles fully healthy and ready to rock? How will Spencer Ware and Charcandrick West fit into this backfield mix?
On the health note, how is Le'veon Bell looking? Is he ready to justify his #1 RB Ranking?
What will the Bengals offense look like with so many weapons gone or shelved? Will Gio and Hill be on the field together, in separate roles, or stuck in a dreaded committee?
Is Todd Gurley really going to be more heavily involved as a receiver, and thus worthy of #1 PPR RB consideration? How is Jared Goff and the surrounding offense looking?
Will Ameer Abdullah net the majority of workin Detroit, or are we looking at an ugly three-headed monster
2016 Fantasy Football PPR Rankings
We slot in the above runners based on our current predictions, but understand these are by far the most likely to move up or down the rankings depending on camp reports. 
Tier 1 – Elite, three-down workhorses in explosive offenses (link here)
1. Le'veon Bell
2. David Johnson
3. Ezekiel Elliott
Tier 2 – Lock RB1s
4. Todd Gurley
5. Devonta Freeman
6. Lamar Miller
7. Adrian Peterson
Tier 3 – Middling RB1s (link here)
8. Eddie Lacy
9. Doug Martin
10. Jamaal Charles
11. Mark Ingram
Tier 4 – Elite RB2s, Low RB1s (link here) 
12. Dion Lewis
13. Matt Forte
14. Thomas Rawls
15. Latavius Murray
16. Lesean McCoy
17. CJ Anderson
Tier 5 – Intriguing RB2s. *Updated to remove Ajayi* (link here)
18. Ryan Mathews
19. Matt Jones
20. Danny Woodhead
21. Jonathan Stewart
22. Carlos Hyde
Tier 6 – Last startable RB2s (link here)
23. Jeremy Langford
24. Titans Starter (assuming it's Henry, or Murray and he actually looks explosive)
25. Giovanni Bernard
26. Chris Ivory
27. Jeremy Hill
28. Justin Forsett (assuming he's receiving the majority of work)
29. Duke Johnson (I have a feeling he's going to rise through these ranks a bit)
30. Isiah Crowell
31. Rashad Jennings


This wraps up all the backs we are comfortable starting. Ideally, you'll secure at least 3-4 options from the above list for depth, as no position gets hit harder by injury than runners. Tomorrow, we'll finish our running back rankings with bye week fill-ins, upside handcuffs, and worthwhile fliers.