Player Stock Ticker
Fantasy Football Stock Report: The Federal Court upholds Tom Brady's suspension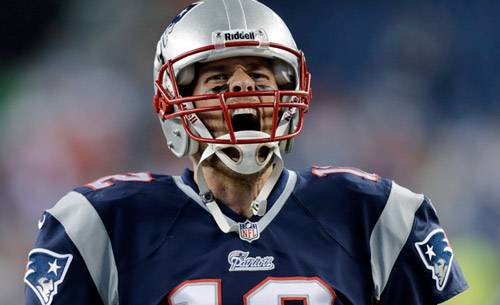 Every morning we compile the most important fantasy football links of the day for you to stay up-to-date and ahead of your fantasy opponents… This is your number one place for beat writer blabber, injury news, transaction tracking, and fantasy analysis from the experts who taught us a thing or two.
Federal appeal court rejected Tom Brady's appeal; Brady's four-game suspension stands.

— Adam Schefter (@AdamSchefter) July 13, 2016
Welp, it looks like the Jimmy Garoppolo era is upon us. Garoppolo will start the first four games of the 2016, beginning in Arizona, before playing three games at the friendly confines of Gillette Stadium. We touched on Garoppolo's fantasy impact before, and we think he could be a solid option in one or two games. People forget that Jimmy G will still have a barrage of weapons, with Rob Gronkowski, Julian Edelman, Martellus Bennett, Dion Lewis and others, along with a solid defense. This obviously sucks for the Patriots, but on the bright side, after 18 months, it is finally over. Brady will be back for week 5 (sorry Cleveland) and the well-rested, soon-to-be 39 year old will look to set the world on fire.
"Coming off a broken arm that cut his season short last year, Forsett returned to summer workouts as the clear lead dog. He's healthy once again and just two years removed from a Pro Bowl season. Still, Forsett will have to fend off talented younger competition, especially after his average yards per carry dropped from 5.4 yards in 2014 to 4.2 yards last season. He has to prove himself once again, but it's his job to lose."
– Ryan Mink, BaltimoreRavens.com
Justin Forsett had a career year in 2014, but the 30 year old running back fell back to earth in 2015, before breaking his forearm in his 10th game of the season. He will get the chance to be the No. 1 guy in the Ravens backfield, but he will have to beat out Buck Allen and rookie Kenneth Dixon, who will pry third down duties away from Forsett. We aren't super high on Forsett, so he would be one to keep an eye on and see where he stands during training camp and the preseason.
"I would set the floor at 1,200 yards. I think he [Brandin Cooks] could even flirt with 1,500 if he has a couple big games. I think that having other weapons like Michael Thomas and Coby Fleener should help open things up for him. Fleener is a guy that can draw safety help, and Cooks was almost unguardable last season against single-high coverage. If that remains true, Cooks should be freed up for a few more shot plays."
– Nick Underhill, New Orleans Advocate
Brandin Cooks had a solid season in 2015, where he was Drew Brees' No. 1 target. He finished the season with 1,183 yards and nine touchdowns on 84 receptions, and it looks like he is in for another great season. With the additions of Michael Thomas and Coby Fleener, and the health of Mark Ingram and CJ Spiller, the Saints offense should be prolific in 2016. Cooks will once again be Brees' No. 1 guy and as Nick Underhill stated, he could flirt with the 1,500 yard mark. Cooks should be a PPR monster in 2016.
"Seeing how he's [Ryan Tannehill] been able to work with coach (Adam) Gase and seeing what he's been doing on the line of scrimmage, just being able to make those different calls and things like that, it's been really cool to see and I'm excited to see him blossom and really dominate this year."
– Dolphins Jay Ajayi via Tyler Dragon, NFL.com
Ryan Tannehill took a tiny step back in 2015, but it looks like he is in a prime position to do well in 2016. With the emergence of 2015 first round pick DeVante Parker, Tannehill looks like he has a go-to guy to bail him out on jump balls and downfield throws. He also has his security blankets in Jarvis Landry and Cameron Jordan. Tannehill is a solid later round option at quarterback and should hover around 30 touchdown passes.
"The Jets remain at an impasse with free-agent quarterback Ryan Fitzpatrick and disgruntled defensive star Muhammad Wilkerson, on whom the team slapped the franchise tag. According to sources, there has been no progress on either front. That means the Jets are facing the very real possibility of opening training camp on July 28 without their starting quarterback from last year and their best defensive player."
– Brian Costello, New York Post
This is why the Jets can't have nice things. They finally found a solid quarterback who has a legit rapport with his receivers, and they can't find a middle-ground to resign him. Ryan Fitzpatrick threw 31 touchdown passes last year and made Brandon Marshall and Eric Decker legit WR fantasy options (especially Marshall). They shouldn't back up the Brinks truck for the Harvard grad, but they should find a way to get him in the building for training camp.
Not Strictly Fantasy:
Ochocinco tweeted at the Browns that he wanted a coaching job, and they granted his wish.
Wes Welker is open to coming back, but
Browns RB Isaiah Crowell IG'd something incredibly dumb. Hopefully he sees a suspension and our boy DJ can take the reigns from him.