Player Stock Ticker
Top Fantasy Football Running Backs Coming off IR in 2016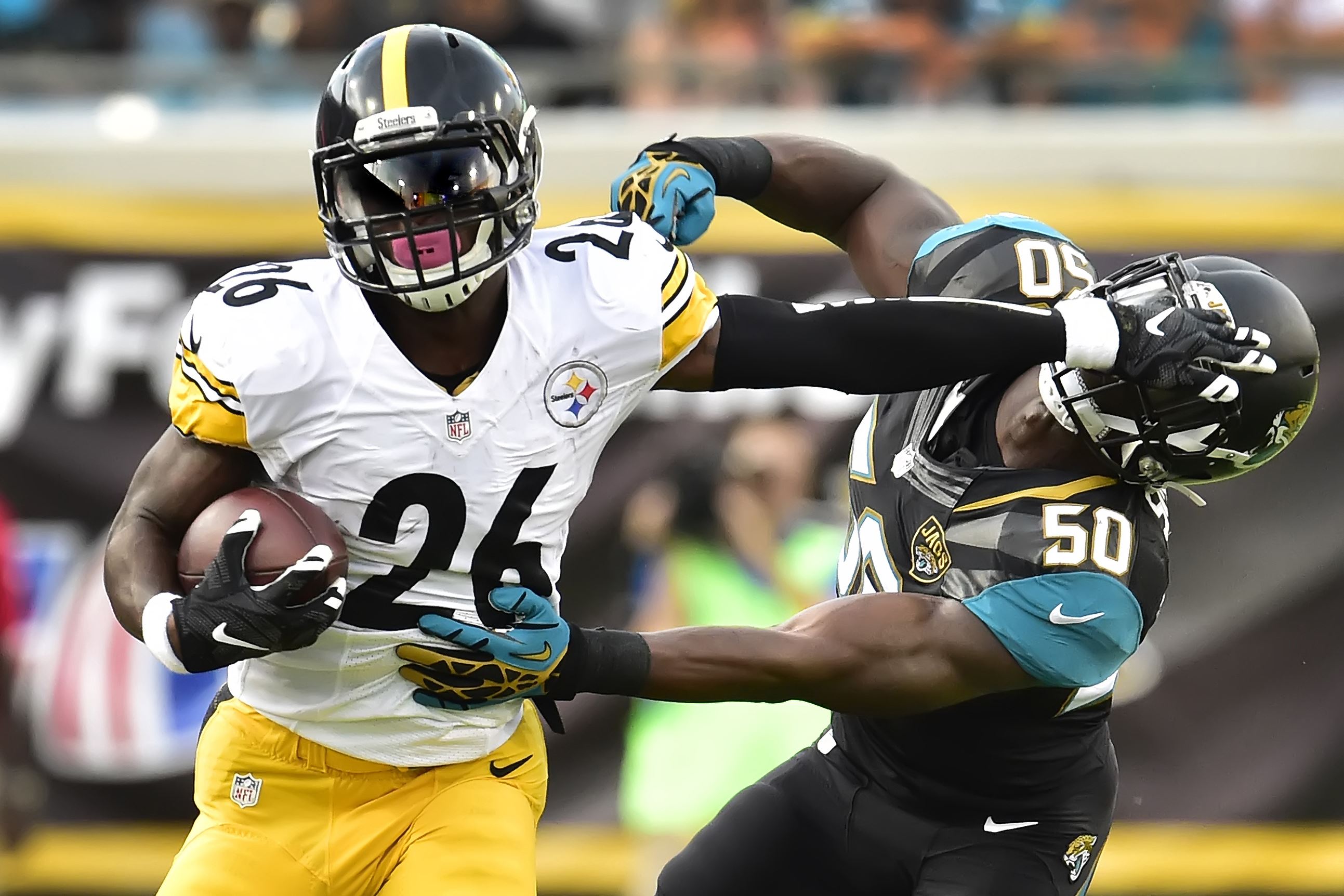 In 2015, 38 running backs were placed on season-ending injured reserve. Some were marginal players, but others were fantasy studs.
Here are some of the running backs who are making a comeback in 2016 and will most likely make an impact on your fantasy football roster:
Le'Veon Bell, Pittsburgh Steelers
Injury: Torn MCL & PCL
Date injured: November 1, 2015
Even with a two-game suspension to begin the 2015 season, Le'Veon Bell stood atop of 2015 fantasy football mock drafts; however, his season was cut short due to a gruesome looking MCL and PCL injury. Luckily it was not an ACL tear, which would have put Bell on the shelf for a longer period of time and would have made his recovery much tougher. Bell is a surefire first-round pick in all formats and should only add another dimension to the high-octane Pittsburgh offense.
Recovery: ESPN's Jeremy Fowler said, "there's no reason to believe" that Bell won't be ready for Week 1. Bell began cutting in March and he posted this .gif (below) of himself doing something that only a human with a healthy knee could do.
great toss, light jump ??? #OnAMission pic.twitter.com/AzPFt9PU7x

— Le'Veon Bell (@L_Bell26) April 25, 2016
Jamaal Charles, Kansas City Chiefs
Injury: Torn ACL
Date injured: October 11, 2015
Through four'ish games, Jamaal Charles was on pace for another great season. He compiled 364 yards and four touchdowns on only 71 attempts, along with one touchdown on 21 receptions. This is not the first time that Charles' season was ended prematurely, but he also never had to come back the following season into a loaded backfield. Charcandrick West, Spencer Ware and Knile Davis all played well in Charles' absence, and if the former PPR monster starts slow in 2016, his time as a RB1 in Kansas City could be over. His usage during training camp will have to be monitored before making a draft evaluation.
Recovery: Charles participated in individual drills during minicamp. Expect the 30-year-old to be available and participate in training camp and be ready for Week 1.
Thomas Rawls, Seattle Seahawks
Injury: Fractured Ankle
Date injured: December 13, 2015
With Marshawn Lynch making a rare trip to the IR, the Seahawks called on undrafted rookie Thomas Rawls to be their main ball carrier. Not only did he play, but he played extremely well; rushing for 830 yards on only 147 attempts, before going down with a fractured ankle. Because of his slow recovery, Rawls will be losing quality reps in the pre-season to Christine Michael and two talented rookies; CJ Prosise and Alex Collins. Luckily, Rawls is a two-down back and should receive the brunt of the carries when he returns. We all know the type of numbers that Lynch put up in Seattle, so monitor Rawls' comeback and expect him to deliver.
Recovery: Seahawks coach Pete Carroll says the "hope" remains that Thomas Rawls is ready for Week 1. He most likely will have to sit for the entire pre-season while his ankle is continuing to heal.
Carlos Hyde, San Francisco 49ers
Injury: Stress Fracture in Foot
Date injured: October 22, 2015
The former Buckeye had an unbelievable week one against the Minnesota Vikings, where he rushed for 168 yards and two touchdowns… And it was all downhill from there. Coupled with an awful offense around him, Hyde also struggled with a foot injury that would not heal, which forced the premature end of his 2015 season. There have been rumors that the 49ers new coaching staff wants Hyde to be the three-down force that he was at Ohio State, and that will only increase his fantasy value. The only real negative surrounding Hyde is the lack of weapons in the 49er offense, which will probably allow defenses to load the box. Hyde should put up numbers, but he will be the primary target for the stingy NFC West defenses.
Recovery: Hyde has been fully cleared since April and Kelly has gushed about the former Buckeye, "Carlos is a stud," Kelly said. "He's as advertised." Expect him to be a three-down workhorse in 2016.
Mark Ingram, New Orleans Saints
Injury: Torn Rotator Cuff
Date injured: November 15, 2016
Mark Ingram was having a solid season in 2015 before shutting it down after week 12 with a rotator cuff injury. Ingram showed his toughness by playing through the injury for a couple of weeks and played very well, by catching 50 balls and rushing for 796 yards and 6 touchdowns. When healthy, he was putting up top-five RB fantasy points on a pretty bad team. With the emergence of Willie Snead, the addition of rookie Michael Thomas and the subtraction of Khiry Robinson; expect Ingram to have an excellent 2016 campaign.
Recovery: The latest update on Ingram was from December 10, 2015, when he underwent rotator cuff surgery. One would assume that he will participate in training camp and be ready for Week 1.
Dion Lewis, New England Patriots
Injury: Torn ACL
Date injured: November 8, 2015
Dion Lewis looked like just a training camp body, who essentially was an injury-riddled castoff, when he arrived in New England. Lewis killed it in a niche role for the Patriots, as he was targeted 50 times and was constantly spread outwide in their spread offense. He looked like an absolute steal and performed well enough to receive an in-season contract extension, before going down with a torn ACL in week seven versus the Redskins. The little jitterbug will most likely get overdrafted, but it should be remembered that no Patriots' back has been a true RB1 since they went to a running back by committee approach. He should put up points in a PPR format; however, be careful where you draft Lewis.
Recovery: Lewis surprised us all by competing in the final practice of minicamp. He will be held with child gloves throughout training camp, but he will be ready for week one.
Video: RB Dion Lewis (33) is back at practice as he loosens up by cutting early in practice. pic.twitter.com/7Wy5ObqbTZ

— Mike Reiss (@MikeReiss) June 13, 2016
Justin Forsett, Baltimore Ravens
Injury: Broken right arm
Date injured: November 22, 2015
The Ravens running back had a career year in 2014, where he rushed for 1,266 yards, and was well compensated for it in 2015. Unfortunately, he only reached paydirt twice in his first ten games before fracturing his forearm, which ultimately ended his season. Not only is Forsett over 30, but he is no longer "the guy" in the backfield. He will be joined by rookie Kenneth Dixon, who is your prototypical third down back; Buck Allen and Lorenzo Taliaferro, who will vulture touchdowns; and possibly Trent Richardson, who is starting his Hall of Fame career in Baltimore.  The injury won't effect Forsett's running ability, but stay away from him in your fantasy draft.
Recovery: As expected, Ravens coach Jim Harbaugh said Forsett's arm is back to 100 percent. He will be a full participant in training camp.