Yesterday, The RSJ kicked off our 2016 Fantasy Football PPR Rankings with a look at this year's signal callers.  We began by first examining the QBs who have a real shot at finishing #1 overall, and then previewed the next two tiers of locked-in QB1s.
Today, we dive into the QB2 crop, and you should immediately notice the depth of startable signal callers. This is no surprise given how pass-heavy the league as become, and once again reaffirms the value of waiting on QBs in fantasy drafts; talent thins out far quicker at the skill positions that require multiple starters with less quality options, so investing in a QB early, regardless of the guaranteed production
Tier 5 – Desirable QB2s
Quick tier breakdown: While I'd prefer a Top 11 signal caller as my starter, I'd happily enter 2016 with 2-3 options from this Tier and play the match ups / see who pans out. Just like Palmer and Bortles last year, I expect at least two of these options to develop into quality, dependable options, while most will produce in a matchup with a lowly secondary.
12. Derek Carr – I originally had him as the final option of Tier 4, but I'm just not as comfortable calling Carr a true QB1 yet. He simply hasn't done it as long as Rivers or Eli, and doesn't have quite the weaponry or ceiling of Bortles.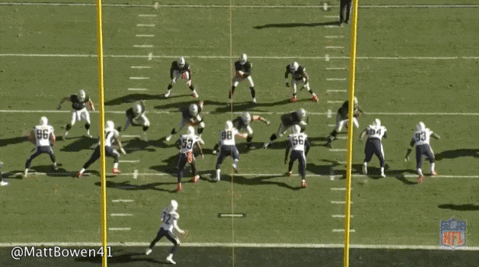 Nonetheless, I think Carr makes an ideal "safe" QB2.  His offensive line has been revamped (resigned Donald Penn, brought in beastly Kelechi Osemele, consistency and quality everywhere else), thus giving him ample time in the pocket. Another year of development from blossoming star Amari Cooper, coupled with a healthier Michael Crabtree and the late-season emergence of Clive Walford as a legitimate seam-stretching tight end, all give Carr a sturdy supporting cast. If I miss on the Top 11, Carr will be the guy I'm counting on as the rock in a two or three QB rotation.
13. Jameis Winston – Here's my favorite upside QB2. I love Winston's dedication throughout the offseason, with countless reports noting he's been slimming down and spending time with his receivers establishing rapport. New head coach Dirk Koetter has coordinated some explosive attacks in Atlanta, and the first year head coach has the weaponry (Mike Evans, Vincent Jackson, Austin Seferian-Jenkins) for similar production… if Winston can deliver the mail. Up all the way at 13, I clearly expect a sophomore leap from Jameis.
Similarly, offensive coordinator Todd Monken has made his affinity for the long ball known, and Koetter confirmed the offense will be more aggressive in 2016. I think we've got an under-the-radar offensive juggernaut brewing in Tampa Bay, and Winston will be leading the charge. Did we mention the rushing TD upside? Winston ranked second behind Cam with six, and is now leaner and more mobile than ever in his career.
14. Kirk Cousins –  2015's QB8 really caught fire once DeSean Jackson returned and opened the offense up, finishing as the QB4 behind only Cam, Russell, and Bortles in fantasy points from Week 10 on.  He now gets a first round talent infusion in Josh Doctson added to an already threatening cast of weapons (DJax, Jordan Reed,  Pierre Garcon). Doctson has excellent body control and ball skills, which should be especially beneficial in the redzone and should bolster Cousins' 29 TDs alongside established stripe dominator Jordan Reed. 35+ passing TDs are not an absurd prognosis.
Fun trivia question for your friends: Which QB had the third most rushing TDs in 2015 behind Cam Newton and Jameis Winston? Yep, Captain Kirk.
15. Tony Romo –  Romo's 2014 finish as the QB11 is likely his ceiling with Dallas trying to return to it's ground-control offense through Ezekiel Elliott. Even when down, Dallas has remained committed to the run-game, which minimizes the defense's faults effect on the offense. This limited ceiling,  coupled with a checkered injury history (including a twice fractured collarbone in 2015) make Romo a fairly humdrum pick. Nonetheless, with the elite Dez Bryant at his disposal, Romo will rarely lose you a game when he's active, even if he's not going to singlehandedly win you any either. There's comfort in this, and he'd balance out a riskier, higher-ceiling dice roll as a safe complement.
16. Marcus Mariota – New head coach Mike Mularkey has made his intention to more frequently  utilize Mariota's legs very clear. Like, very, very clear. As the sophomore signal caller showed with his 87 yard TD run against the Jaguars, this could create an enormous ceiling. This'll likely be capped by the team's desire for an "exotic smash mouth" system, which hints at frequent running back usage and a minimized passing role. With high quality power runners in Derrick Henry and DeMarco Murray, and weaker options at wide receiver, this offense is likely to flow through the backfield. Nonetheless, Mariota's flashes, strong offensive line, and expected development all make him well worth a "stash-and-see" upside option.
17. Andy Dalton – After tying Rodgers and besting Luck in 2015 points per game, 17 feels awfully low for the Red Rifle. Still, the losses of creative coordinator Hue Jackson, two of his top targets in Marvin Jones and Sanu, and potentially Eifert to begin 2016 all lower Dalton's outlook significantly. This offense feels due for a regression, and just like he'll never win a real life title,  Dalton will likely never lead your team to a fantasy ship either.
18. Ryan Tannehill – After appearing to be on a promising trajectory in his first two seasons, Tannehill's production came to a screeching halt in 2015. If anyone is able to get Tannehill back on the upswing, however, it'd be new head honcho Adam Gase. The guy produced a career year out of Smokin' Jay Cutler, after all, and Tannehill has already shown some dedication in learning the system, picking the brain of Peyton Manning and working extra reps with his weapons. Jarvis Landry and DeVante Parker offer some insane athleticism at wideout, while Gase has always maximized his tight ends athleticism and could revive Jordan Cameron's Miami tenure. I think Tannehill might be the sneakiest bet for a QB1 campaign that no one is recognizing.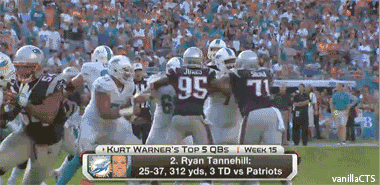 Remaining options for consideration:
The rest I felt uncompelled to rank, strictly because A) They serve different purposes (upside flier versus safe depth) or B) We need to see more before we understand their fantasy relevancy. Let's take a peek:
Safe / Established Depth 
19. Matthew Stafford  – I truly have no idea what to project of Matthew Stafford. On one hand, we have a guy who excelled once Jim Bob Cooter took over as OC and simplified the offense, finishing as a Top 5 QB from Thanksgiving until year's end. On the other hand, we have a guy who lost Calvin Johnson, one of the games' greats, to retirement. Megatron: "Brutal, relentless, and the very definition of Destruction" – Wikipedia. A Calvin-less world could be a cold, harsh reality for Stafford, but maybe, just maybe, Jim Bob Cooter is as legendary as he seems.
20. Matt Ryan – Similar to Eli with Odell and Romo with Dez, Ryan has a bonfide stud WR1 target, which will always bring some type of floor. You'd think continuity in Kyle Shanahan's system would help, yet he loves dialing up the run in the red zone, and his offenses historically have only benefited his target hog WR1s and zone-running backs; QBs without mobility have rarely produced noteworthy seasons, and Ryan's 14.5 points per game were borderline useless. Barring a major philosophy change, Ryan holds very little fantasy relevance outside the fact you know he'll do something. Most weeks I'd rather take a dice roll on a matchup than settle for Ryan's 14 points.
 21. Jay Cutler – Almost any other quarterback with Alshon Jeffrey and Kevin White at their disposal would rank in the Top 12. This, however, is Smokin' Jay.  While Adam Gase seemed to improve Cutler's decision making, Cold Cuts still finished just as the QB21 on the year. He's a bye-week streaming option in the right matchup, and little more.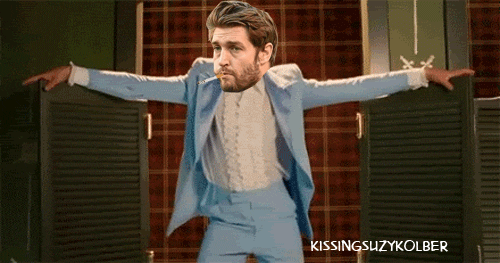 Allure of the unknown – some fliers to consider
22. 49ers QB (Colin Kaepernick?) – Depending on who's starting in San Fran, I could see Chip Kelly's QB jumping into the "QB2 option" tier. I hate Colin Kaepernick and think he's absolute trash, but he nonetheless would intrigue me due to his legs; Kelly's system flows best with a dual threat, and for all Kaep's faults, the dude can certainly run. Blaine Gabbert is, well, Blaine Gabbert. He'd be undraftable. Thus, this remains one of the few QB battles to monitor in training camp.
23. Joe Flacco – Here's some sneaky upside that'll require a bit to actually be realized. A full ACL recovery and unaffected deep ball would be #1 after Flacco went down and needed surgery to finish 2015. Steve Smith returning AND being healthy is #2. Without these two, Flacco will be worth little.
Yet, if these hold, we have some  additional factors that create serious ceiling. Number one is Marc Trestman's creativity and his attacking system. Number two could be Breshad Perriman's return;  Trestman specifically sought out this speed in the first round, and the second year wideout brings some high, completely untapped upside to the table.  The line is a question mark, but the run game should perform better with a year of Buck Allen development and the drafting of Kenneth Dixon. This will alleviate pressure of Flacco and help establish the play action deep ball to his scorching fast threats.
The question marks are numerous, hence why Flacco likely will come dirt cheap. Should the answers be the right ones, however, and Flacco will produce some high-quality starts.
24. Broncos QB (if Paxton Lynch?)  – Demaryius Thomas and Emmanuel Sanders are among the NFL's most dangerous duos. If Lynch is making starts, I can see myself intrigued. We've already seen the Sanchez show, I'm all set.
25. Brock Osweiler – The guy gets to throw to DeAndre Hopkins, plays behind a solid line with a strong run game to set up play action and alleviate pressure. With the additions of Will Fuller and Braxton Miller, Houston is clearly committing to surrounding Osweiler with talent. His untapped upside is worth more of a dice roll than the 13-14 point a game certainty of a Matt Ryan.