Player Stock Ticker
Daily Fantasy Stock Report: Jamaal Charles to be limited in OTAs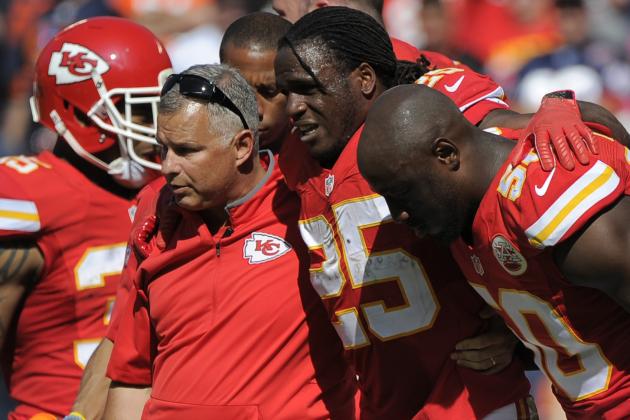 Every morning we compile the most important fantasy football links of the day for you to stay up-to-date and ahead of your fantasy opponents… This is your number one place for beat writer blabber, injury news, transaction tracking, and fantasy analysis from the experts who taught us a thing or two.
"Coach Reid has said Charles will participate in a limited capacity during OTAs, but in any case, it will be good to see him back out on the field for the Chiefs. Other players of note who are returning from injury are linebacker Justin Houston, receiver Jeremy Maclin and cornerback Phillip Gaines. Houston and Gaines have been rehabbing from offseason knee surgery, while Maclin has already worked his way back from an ankle injury suffered in the playoff win over the Houston Texans."
Jamaal Charles is working his way back from a torn ACL suffered in Week 5 of the 2015 season. The PPR god has been an MVP caliber asset when healthy, but has seen his fare share of injuries in recent years. Charles is creeping closer to 30 years old which seems to be the fantasy death sentence for many runnings backs these days. The recent signings of both Charcandrick West and Spencer Ware show that the Chiefs are interested in having a little insurance just in case Charles struggles to return to his former self. Be wary of selecting Charles with a high draft pick this year. The name still carries value and sexiness, but don't find yourself reaching too far.
"He has command, and he has a nice presence to him out there,'' Robinson said of Mariota. "All of the players really look to him. His skills, he has really good throwing talent. He is a mobile quarterback who is a fluid mover in the pocket, a fluid mover outside of the pocket. There is really, really good upside with him."
Marcus Mariota seems to be impressing the folks down in Tennessee, and you should be taking notice. Mariota flashed instances of brilliance last year and proved he has what it takes to put up big fantasy numbers when he's playing to his potential. Being a dual threat QB obviously helps to pad on some rushing stats, but Mariota shows the poise and promise to be a valuable fantasy commodity. Hopefully the addition of Demarco Murray will help to bring more balance to the play calling and have defenses plan around shutting down the running game allowing Mariota to open up.
"We are confident in that group," Browns Executive Vice President of Football Operations Sashi Brown said on the draft's final day. "It doesn't mean that it is as necessarily as accomplished as other running back corps around the league are, but Isaiah has a great opportunity, along with the other guys in that room."
Buy! Buy! Buy! I wrote about Duke Johnson in an earlier piece about value players, and now we keep hearing more and more buzz. I'm even starting to like Crowell even more since he should get the bulk of the carries. I think big things could be in store for Cleveland running backs, let's just hope RG3 or whoever is at the helm this year doesn't drive the team into the ground forcing them to throw 40ish times when they are down by 30.
Not strictly fantasy:
Johnny Manziel was spotted at Wet Republic in Las Vegas recently. Hopefully he goes back when I'm there in late July.
The Jaguars lack of luck continued when 1st-round pick Jalen Ramsey tore his meniscus in early May. The injury is not as serious as Dante Fowler's, but we'll keep an eye on Ramsey's knee.
Steph Curry stared into Serge Ibaka's soul and promptly ripped it out of his body.
Seattle Seahawks receiver Doug Baldwin is looking to begin contract talks shortly, coming off his monster breakout season last year.