Player Stock Ticker
Daily Fantasy Stock Report: Sammy Watkins' value takes a major hit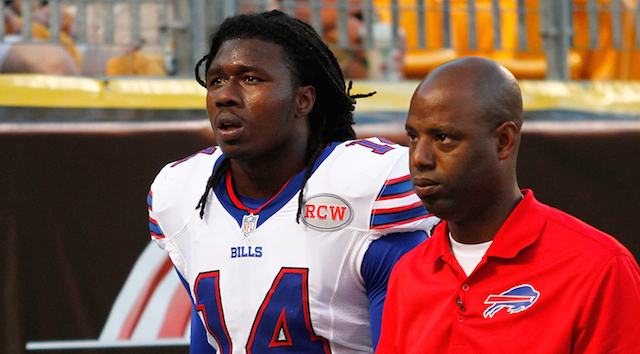 Every morning we compile the most important fantasy football links of the day for you to stay up-to-date and ahead of your fantasy opponents… This is your number one place for beat writer blabber, injury news, transaction tracking, and fantasy analysis from the experts who taught us a thing or two. 
"NFL Media Insider Ian Rapoport reported on Monday that Sammy Watkins suffered a broken small bone in his foot and had a screw inserted, per a source informed of the situation."
Buffalo Bills' supporters and Sammy Watkins' owners had a case of the Mondays. Not only did the Bills lose their first-round pick , Shaq Lawson, for half the season due to a shoulder injury, but they also lost their star offensive weapon for an extended period of time. Watkins had a screw inserted after breaking a small bone in his foot, and Adam Schefter is reporting that he will miss the entirety of the preseason, after undergoing surgery three weeks ago. Receivers and broken foot bones are not a good mix, just ask Julian Edelman, Dez Bryant and Aaron Dobson.
"Amendola underwent surgery to repair the left knee that gave him considerable trouble late last season, and he also had to remove a bone spur in his ankle, according to a source."
Another key wide receiver in the AFC East underwent offseason surgery, as Danny Amendola joined Watkins and his Patriot teammate, Julian Edelman on the training table. Amendola repaired his oft-injured left knee which gave him trouble last season and removed a bone spur in his left ankle. Howe cited that there is hope that the wideout could return for training camp, but there's no guarantee he will be back for Week 1. The combination of Edelman and Amendola missing quality preseason time could spell trouble for Jimmy Garoppolo, but it could give a fantasy boost to newly acquired Chris Hogan.
"Is there risk involved in picking Elliott in the first round? Of course, because the NFL is nothing if not unpredictable. Jamaal Charles and Eddie Lacy were considered two of the "safest" first-round picks in 2015 fantasy drafts, right? But the former Buckeye couldn't have landed in a better spot to produce impressive totals next season, both in real and fantasy football."
It seems like the Ezekiel Elliott hype train is barreling down the tracks at max speeds, and we don't see a problem with that. Michael Fabiano, the NFL.com fantasy guru, agrees with us that Elliott is a first round fantasy selection, as he took him at No. 9 in his most recent mock draft. Fabiano mentioned the mix of Elliott's three-down ability, Dallas' offensive line and the lack of star power at the running back position for his reasoning to draft the former Buckeye in the first round. Like most of the experts, we are all in on Elliott.
Not strictly fantasy: