Player Stock Ticker
Daily Fantasy Football Stock Report 8/15/17: Falcons look to target Julio Jones more in the red zone this season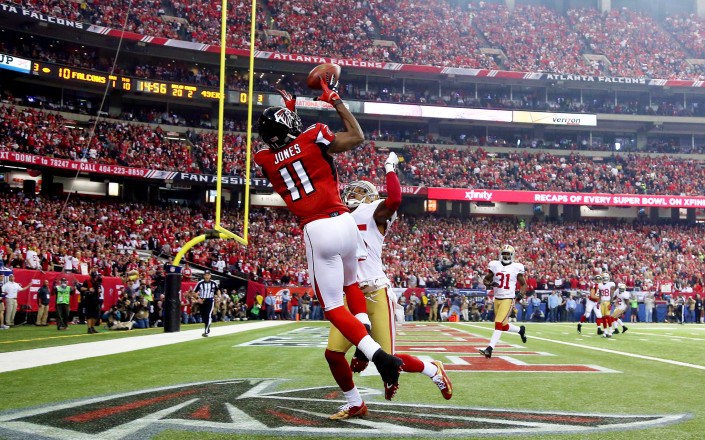 Unlike any other site, Roto Street Journal treats Fantasy Football like the stock market is. Just like on Wall Street, values are constantly in flux here on Roto Street, and true Fantasy Wolves never miss a single swing. Thus, we're here to help you sift through the bombardment of news to figure out what truly matters, organizing it all into one convenient spot: The Daily Stock Report. To keep up with breaking fantasy football news, be sure to follow us on Twitter, Instagram and Facebook.
SIGN UP FOR YOUR FREE FANTASY FOOTBALL MARKET REPORT: TRAINING CAMP EDITION
Tier 1 – Genuinely Impactful Notes
These blurbs will undoubtedly cause moves and shakes on the ranks. This could range from significant injury, job promotions and demotions, unexpected volume or role changes, etc.
Seems to be a real emphasis around getting Julio Jones more touches in the red zone this camp — DQ said he's been a real factor there

— Kelsey Conway (@FalconsKelsey) August 14, 2017
This was mentioned in the preseason that the Falcons wanted to target Julio Jones more in the red zone this season, and it looks like it's actually happening. According to Pro Football Focus, Jones was only target NINE times in the red zone last season, all of which came in only four games. On those nine attempts, Matt Ryan's passer rating was a lofty 101.9. Who was targeted more in the red zone you ask? Oh, just Devonta Freeman (16), Tevin Coleman (12), Jacob Tamme (11), Mohammed Sanu (10) and Justin Hardy (10). Completely inexcusable by both Kyle Shanahan and Ryan to only script up a handful of plays and target Jones only nine times on his 129 targets. In fact, Jones has not hit double digit touchdowns since he had 10 in 2012. Hopefully for everyone's sake, that statistic changes for the better this season.

When our "Too-Soon" DFS picks dropped and I scrolled down to the tight end, I almost made Wolf send Jimbo on a leave of absence. Zach Ertz!? The same guy who had diddled fantasy owners since he entered the league? Well, it looks like the Ertz train is starting back up and it might finally be for good reason. In the two games without Jordan Matthews last season, Ertz recorded 22 receptions, 218 yards and three touchdowns on a whopping 31 targets. A 16 game pace of those statistics would read: 248 targets, 176 catches, 1,744 yards and 24 TDs (lol). I'm guessing Ertz will soon be rising on The Wolf's Big Board.
Tier 2 – Fodder to File
Interesting stories to file away, though they might not cause immediate waves on the rankings quite yet. This is the puff stories that we want to see some actual tape / action backing up, stories or injuries that need more concrete developments before we move people in the ranks, etc.
"The seventh-year running back [Shane Vereen] remains a big part of the Giants' plans this season. That's primarily because his pass-catching skills (especially his route-running) are unparalleled among this current group of running backs. Perkins has proven to only be an average receiver this summer. In the Giants' pass-happy offense, he's going to play a significant role. It's necessary. Even more so than the past, practices this summer have turned into checkdown central. McAdoo appears to be making his quick-pass offense even quicker. There are more wide receiver and tight end screens and passes to the running backs than previous years' training camps."
Shane Vereen has been quiet since he cashed in following a heroic Super Bowl effort against the Seahawks back in 2015, but it looks like injuries (he tore his triceps twice last season) are in the rear-view for the former Patriot. During Sunday's practice, Vereen was the first running back on the field and he immediently caught a pass. He finished with four receptions during live drills, which topped all pass-catchers. With Paul Perkins struggling as a receiver, Vereen has solidified the third-down back role and could be a consistent PPR flex option — especially with Eli Manning's recent tendency to checkdown early and often in Bob McAdoo's offense.
"The Chargers are eyeing an October debut for first-round pick wide receiver Mike Williams. The Clemson product, who is recovering from a herniated disc in his back from the spring, has been sprinting on the treadmill and on the practice field. By all accounts, he's making solid progress as the team has used rest and rehab, rather than a surgical option. Los Angeles is also being cautious. That's why, according to several sources with direct knowledge of the situation, the plan is for Williams to play in October. How it happens will depend on what unfolds over the next three weeks until it's time to make a roster decision on Sept. 2."
After surprisingly being selected No. 7 overall by the Chargers, Mike Williams has been no where to be found after (re)injuring his back during OTAs. Most believe that Williams masked his injury during the combine, which allowed the Chargers to feel comfortable taking him in the first round. After hurting his back in practice, there were rumors that he could miss his entire rookie campaign, but it looks like he might be able to avoid PUP and be ready by October. Depending on how his rehab goes and if he truly gets back on the field in October, this season will likely be a fantasy-wash for the rookie from Clemson.
Injury Report
Jay Ajayi has been in concussion protocol for two-plus weeks; this is starting to become worrisome
Leonard Fournette hurt his foot and has already been ruled out for Thursday's preseason game vs the Buccaneers
Bilal Powell has been out for over a week with a "sore neck" but the Jets have not given much detail to the media #hmm
Devontae Freeman has entered concussion protocol and has been ruled out for Sunday's preseason game
Jordan Matthews suffered a chip fracture in his sternum and is considered "week-to-week"
*Sigh* John Brown has been out with a quad injury since July 28th
Bengals rookie WR John Ross finally practiced after missing all of spring workouts and training camp with a shoulder injury
Demarco Murray missed about two weeks with a hamstring, but returned to practice on Monday
Top Plays of the Day
Odell did Odell things on Monday
Odell is ridiculous. #Giants #FantasyFootball pic.twitter.com/P1cvD0Fw3m

— Roto Street Journal (@RotoStJournal) August 14, 2017
Our man Kenny Golladay came down with this tough grab in the end zone
And the @Lions are on the scoreboard first!

Rookie WR Kenny Golladay adjusts and makes a BEAUTIFUL catch for a TD. #DETvsIND pic.twitter.com/NdPSVnE5DJ

— NFL (@NFL) August 13, 2017
SIGN UP FOR YOUR FREE FANTASY FOOTBALL MARKET REPORT: TRAINING CAMP EDITION