Player Stock Ticker
Fantasy Football Rankings 2017: Post-Free Agency Wide Receivers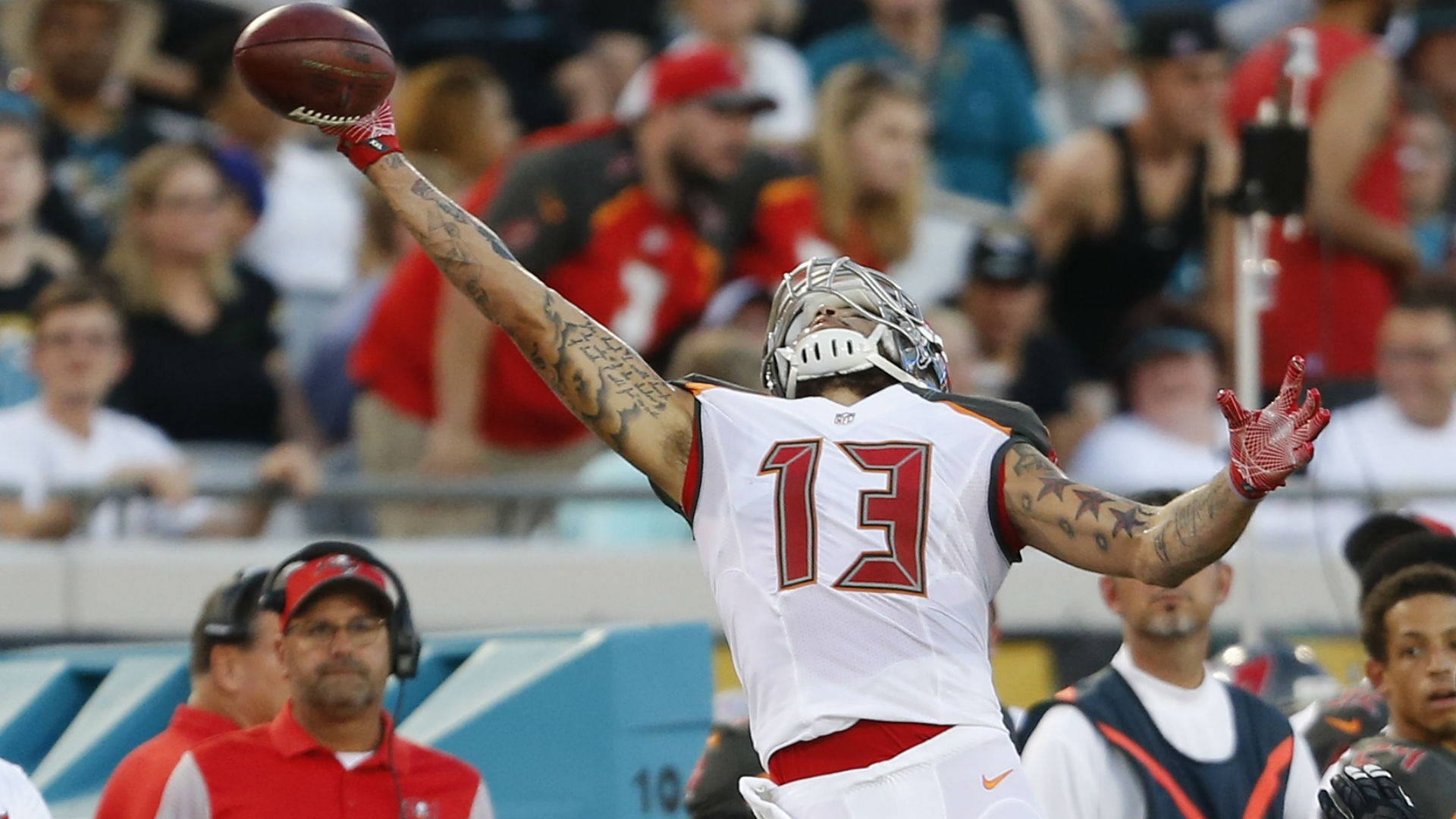 Tier Four – Passable WR2s but Ideal WR3s
What a headache! After such a busy free agency, this WR2/WR3 tier has grown enormous, and is near-impossible to sort through right now. Overall, there's an equal balance of huge "risk-reward" prospects, as well as plenty of high-floor, low-ceiling safe plays.  Your investing strategy should be dependent on your previous moves — if you're safe at the position, roll with the "boom-bust" of Terrelle Pryor.  If you have some uncertain upside like Tyreek Hill and Davante Adams, seek out Michael Crabtree's floor. Either way, these mid-rounders make a crucial tier to navigate properly and balance out your roster appropriately in Rounds 4-6.
19. Sammy Watkins (BUF)↗
Stock Up Update:  Watkins sees his stock rise for a few key reasons. Primarily, Tyrod Taylor is back and endorsed for at least one more season; these two have flashed tremendous chemistry, especially down the stretch run of 2015.  Second, new OC Rick Dennison stems from the Shannahan / Kubiak tree of using a strong, zone-blocking run game to set up a play action, bootleg passing attack that peppers the X receiver; target showers are forecasted in Watkins future. Additionally, both Robert Woods and Marquise Goodwin have departed, so the team really has no other options in the passing game.
Of course, none of this matters if Watkins can't remain on the field, which has been the obvious rub with him for quite some time.  Should he somehow manage 16-games, he's set up for a top-12 campaign, easy. Perhaps a contract year will motivate him to stay active? The WR1 upside is very real, but the barriers to achieve it, namely health, are even realer.
Previous Assessment: God, I was so disgustingly high on Watkins entering 2016, labeling him "The Next DeAndre Hopkins" and breakout WR of the year.  Turns out his foot surgery was far more of a hindrance than I originally believed.  Nonetheless, Watkins is one year removed from ranking 7th in Fantasy PPG in 2015, including his torrid nine game finish that paced him at 86 catches, 1,600 yards, and 16 TDs.  The talent is still there.
Unfortunately, Tyrod Taylor, the quarterback whom which Watkins accomplished this all with, is expected out. Nonetheless, new OC Rick Dennison is expected to emphasize the zone running game to set up play action deep balls and run after the catch opportunities, all of which could greatly benefit Watkins… but he'll need a QB that can get him the ball and a clean bill of health before any of that matters.
20. Allen Robinson (JAC)?
Stock Bleh Update: I came across the following Robinson stats, which make his bust feel more real than his enormous 2015 season:
.@PFF Among all 116 WRs (over the past decade) to see at least 40 such targets, ARob's 0.76 PPR per target average ranks second-worst. (2/2)

— Scott Barrett (@ScottBarrettDFB) April 8, 2017
Now getting the coverage and attention he deserves, Robinson seems to have been neutralized.  Sure, he finished the season strong, averaging around 100 yards a game under now head coach Doug Marrone. 
Encouragingly, Blake Bortles is going back to basic mechanics this offseason, and any type of rebound is entirely dependent on his arm. The enormous upside keeps me from ranking Robinson any lower, but, at best, he feels 50/50 between a huge rebound and another massive face plant.
Previous Assessment: See Hopkins, DeAndre.  Insert Blake Bortles and new quote:
Following his massive sophomore breakout (80 catches, 1,400 yards, 14 TDs), Robinson was widely drafted as a top-five WR and within the top-15 picks of drafts.  Surely, these woeful investors were expecting more than a paltry 68 catches, 883 yards, and 6 TDs (maybe half of expectations).  Particularly frustrating, the volume for consistency was there: 8th most targets in the league.  But any owner who saw pass after pass sail over his head, or repeated misfires on jump balls, knows Robinson hauled in less than half of these attempts. Ultimately, this floundering effort yielded the 31st most fantasy points on the year — the ballyhooed Pierre Garcon and his #172 overall price tag would've netted more points. Unless you drafted quality depth and hopped off the Robinson train early enough, Robinson was a mistake that was near-impossible to bounce back from.
So… why's he in 2017's top-20? Well, because he's still huge. And he can still leap. And Bortles is still salvageable (I think?). There's a real chance Robinson flops again, in which case he can be written off. But there's an equally real chance he bounces back and has the season we were all imagining for 2016. Assuming the price is right, I'd be willing to take a stab.
21. Terrelle Pryor (WAS)↗?
Stock Up (and then slightly down) update: I'll admit, as soon as Pryor signed in Washington, I exploded all over myself:
If @TerrellePryor lands with the @Redskins I'll go all in #FantasyFootball -wise#NFLFreeAgency

— Wolf of Roto Street (@RotoStreetWolf) March 9, 2017
Instantly, he shot into my top-15.   First, we had the coordinator match: Jay Gruden and his spread-em-out and let-it-rip offense has netted oodles of passing game stats, and in five out of six seasons as a head coach or offensive coordinator, Gruden's WR1 has easily topped 1,000 yards.  Yes, three of those featured the elite A.J. Green, but, regardless, Gruden's a creative play-caller who schemes to his team's strengths, and loves taking to the air.
Then, we look at Pryor himself:
Size: A 6'5″, 230 pound frame
Speed: 4.38 second 40 yard dash
Leaping: thanks to a basketball background (ala Randy Moss and Antonio Gates), Pryor's shown the ability to use his frame and go-up to grab a jump ball throughout his brief career.
Moreover, Pryor's 2016 routes were clearly crisper, and this beast has matured well-beyond the simple deep-ball, "go-route" decoy many pegged him as.  Topping 1,000 yards in 15 games & in Cleveland with stalwarts like Cody Kessler slinging him the rock should be evidence enough: Pryor contains some bonafide, alpha WR1 material.
Meanwhile, Kirk Cousins,  fresh off nearly 5,000 passing yards, is as obvious and as massive of an upgrade as you can find.  No brainer upgrade, right?
Not so fast. On Episode 4 of the Fantasy Fullback Dive, Washington sports personality Grant Paulsen threw some seriously cold water on my hype parade.  Rather than buy into the Pryor noise, Paulsen cautioned the new acquisition could be as low as fourth on the target totem pole, especially considering Cousins' "middle of the field, between the numbers" style of play. Furthermore, the coaching staff and Cousins love Jordan Reed and Jamison Crowder, who Paulsen cited as the two main guys to target fantasy-wise.  Paulsen also cautioned the team drafted Josh Docstson, their highest rated receiver in last year's class, to develop into their ace WR1 of the future, and that him and Pryor are likely competing for the same role.
In short, the path to WR1 targets is far rockier than I originally estimated. Is there an enormous aerial pie to be divided up here? Absolutely.  Do I still believe Pryor has the makeup and ability to claim a solid, perhaps even the top, portion of it? Up at 21 despite Paulsen's doubts, you best believe it.  But I'm approaching with far more skepticism now, and have plenty of ammunition to send Pryor falling or rising depending on the offseason noise.  Regardless, monstrous aerial stats will be put up in Washington, making this workload distribution a "must-track" story.
Previous Assessment: Similar to Alshon Jeffery, Pryor's 2017 fantasy value is obviously tied to his ultimate landing spot. His size and speed even surpass Jeffery's, and while the converted QB might not yet have Alshon's polish, Pryor took some major strides in his route running throughout 2016.  He has the measurable to be a dominant force in this league, and his stock could soar depending who's slinging him the rock and who he's competing for targets with. WR27 assumes Pryor returns to Cleveland with a marginal QB upgrade, which seems the likely scenario with the team leaning towards franchise tagging him. If this ends up the case, hopefully those Jimmy Garoppolo rumors also pan out.
22. Rishard Matthews (TEN) ↗??
Stock Up Update: Despite rumored interest in Brandin Cooks and Alshon Jeffery, the Titans made no moves at wide receiver, which is huge for Matthews. He's now set for the #1 role that yielded a WR19 finish in 2016, despite only 12 weeks of said usage.  As a reminder, over those 12 weeks as the top target, Matthews topped double digit FPs 10 times (83%). Though he'll rarely explode enough to swing a week in such a run-heavy scheme, his dependability is hugely valuable, especially to a team with uncertainty.  Even if a first-round rookie is brought in, Matthews should be expected to maintain serious 2017 value.
Previous Assessment The Titans offense lived up to its name and exotically smashed mouths all 2016; nonetheless, some serious passing game value emerged, most prominently Matthews.  Though he slugged through a WR committee to open 2016, Matthews soon emerged as the Titans clear #1 option by Week 5.  Rishard instantly became one of the most consistent fantasy options among wideouts to close the year, topping double digit half PPR points in 10 of 12 weeks — for the record, more times than Amari Cooper in 16 contests. Matthews also ranked as the WR12 over this span.
Even in a run heavy scheme, Rishard was better than a 50 / 50 shot at a TD, and exploded on weeks the Titans found themselves in a hole.  Marcus Mariota will need to prove healthy, but this is fully the expectation. Now operating as the clear #1 all year + with Kendall Wright likely to depart, Matthews has a real chance to surpass last year's WR19 finish.
23. Golden Tate (DET)
Yes, the start of Tate's 2016 was vomit-inducing. Tate was frequently labeled a bust & abandoned to the Waiver Wire after scoring single-digits for the season's first five weeks, looking firmly behind new acquisition Marvin Jones in doing so.  Yet, something finally clicked during an 8 catch, 165 yard, 1 TD (27 FP) Week 6, and from this point on Tate ranked seventh among WRs in FPs.  Assuming Tate maintains his end-of-year lead dog role, he'd be a steal as the WR20 off the board. Monitoring the offseason reports / overall look of this offense will be crucial.
24. Jamison Crowder (WAS) ↗
Stock Up Update: Crowder receives a massive boost with both DeSean Jackson and Pierre Garcon headed for new homes.  Though I immediately, and likely prematurely, assumed the newly-signed Terrelle Pryor would vault to #1 status, Washington radio and TV Host Grant Paulsen disagreed, expecting Crowder to claim said role.  Paulsen cited the coaching staff's trust, his previous rapport with Cousins, and Crowder's "between-the-numbers" skillset that meshes perfectly with Cousins high-percentage style of play, before making a bold projection: 97 catches, 1150 yards, and 5 TDs.
Though these points are well-made, I clearly still believe Pryor, up at WR21, has the makeup to take over.  As Paulsen has made clear, however, his ascension is far from guaranteed; Crowder, who's role and production are far more guaranteed, is definitely the floor play here, especially in PPR leagues. Expect another major step forward for the third-year wideout.
Previous Assessment: With Desean Jackson banged up, Crowder got off to a scorching 2016 start.  From Week 1 through Week 13, the sophomore breakout ranked #16 among WRs in PPR points. Indeed, he cooled considerably once his speedy complement returned, but the good news? Both Jackson and Pierre Garcon are free agents in 2017, and at least one should be expected gone.  Crowder could very well emerge as the #1 passing game option in a high-volume aerial attack, making him a candidate for a serious bump in these ranks once player homes are established.
This huge tier continues! Read on for more acceptable WR2s but ideal WR3s,  or click the last page for a "Cheat Sheet"