Player Stock Ticker
Fantasy Football Stock Report: QB Carson Wentz might be inactive for the Eagles in 2016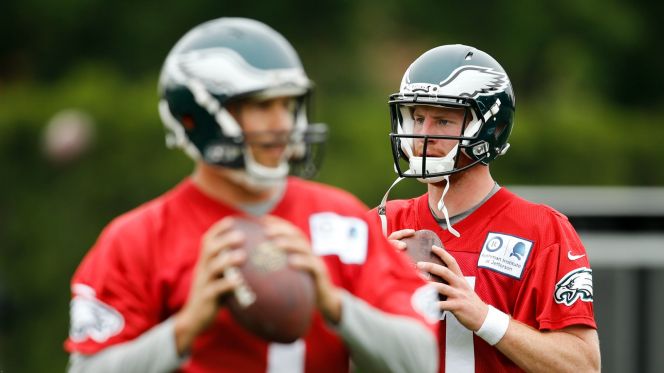 Every morning we compile the most important fantasy football links of the day for you to stay up-to-date and ahead of your fantasy opponents… This is your number one place for beat writer blabber, injury news, transaction tracking, and fantasy analysis from the experts who taught us a thing or two.
"With Sam Bradford slated to open the season as the starter and Chase Daniel penciled in at No. 2, Jimmy Kempski of PhillyVoice reports that there's a very good chance Wentz won't be active on game days."
– Michael David Smith, Pro Football Talk
Most experts and fans around the NFL were puzzled when the Eagles traded up for Carson Wentz, who played at FCS power North Dakota State. Wentz only played one complete season in college and has yet to play significant competition in his football career. Not only did they mortgage their future to get Wentz, but they also signed journeyman Chase Daniel in the offseason to a decent sized contract to backup Sam Bradford. Most assumed Bradford would start the first few games, but if Wentz does not even put his uniform on in 2016, Eagles fans would riot (although that typically doesn't take much). Stay away from all Philly quarterbacks in 2016 and the majority of their playmakers on offense.
"[Blake] Bortles and [Julius] Thomas continued to look nearly unstoppable in organized team activities and mini-camp this month. Thomas scored 24 touchdowns in his final two seasons with the Broncos. He'll get double-digit scores this season."
– Hays Carlyon, jacksonville.com
Blake Bortles already has a disposal of weapons with Allen Robinson, Allen Hurns, TJ Yeldon and Chris Ivory, and most forget about their major signing in 2015, tight end Julius Thomas. He struggled in his first year with the Jags and only recorded five touchdowns on 46 receptions in 12 games. If Thomas and Bortles are on the same page, the signal caller should take another big step after his brilliant sophomore season, where he threw 35 touchdown passes. We are extremly high on Bortles in 2016 and if he remains healthy, Thomas is someone you can have trust as a TE1.
"He's [Tyler Lockett] a legit player for us, and he's right in the middle of all our planning and all of our preparation," [Pete] Carroll said. "You have to deal with him in our offense. He's going to be moved around to a lot. He'll be in a lot of different spots. He can do everything. We're really pumped about him coming back. He looks so confident, which he always has. We had to make him prove it a little bit. But once we got a hold of the kind of dynamic player that he is, we used the heck out of him, and he's going to get a lot of play time, a lot of stuff happening his way."
-Pete Carroll via Sheil Kapadia, ESPN
All aboard the Tyler Lockett hype train! Pete Carroll has had nothing but rave reviews for the second-year speedster, who should be a big part of the Seahawk offense. Lockett performed best on short routes and YAC, but if him and Russell Wilson can utilize his speed downfield, that's a scary thought. Lockett will be a solid WR3/ flex option in a PPR league and should put up good reception and yardage numbers.
"I think I've gotten better, even though [the] numbers don't say so," [Mike] Wallace said. "I think I'll get better this year, and I'll show some people I have a lot up my sleeve."
– Mike Wallace via Jamison Hensley, ESPN
Barring one decent season in Miami, Mike Wallace's career has been on the decline since he moved on from the Pittsburgh Steelers. He has only caught 17 total touchdowns in the past three seasons, after finding paydirt 26 times in his final three seasons in Pittsburgh. But if there is one quarterback besides Big Ben who could maximize one of the league's best deep threats, it would be Joe Flacco, who is known for his deep ball and aggressive playing style. We wouldn't draft Wallace yet, but he could be a solid match-up based spot start candidate.
Not strictly fantasy: