Player Stock Ticker
The Anatomy of a $1M DFS Lineup: Dissecting the NFL Week 16 DraftKings Millionaire Maker Winning Lineup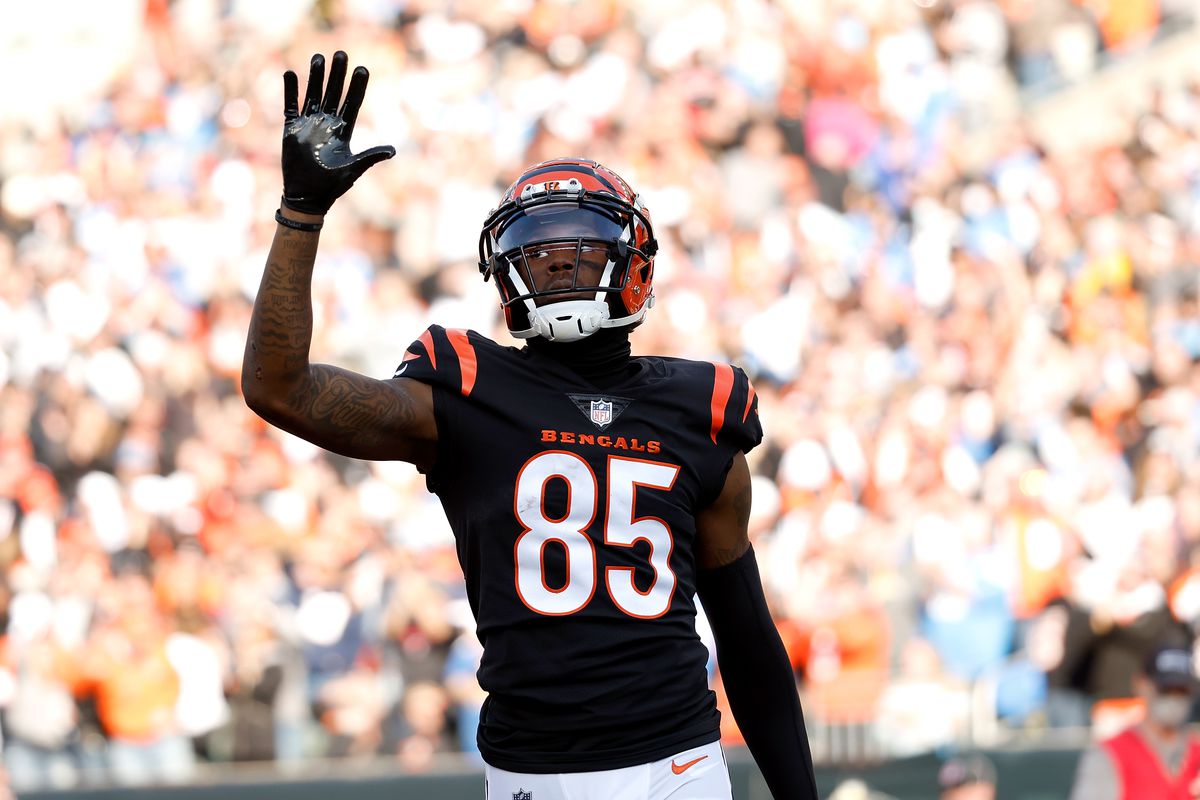 Each week, I'll be expanding on the DraftKings Millionaire Maker analysis provided by Adam Levitan here and The Wolf here. I encourage you to look at those articles first if you haven't already.
Breakdowns of trends in lineup structure for particular weeks can be found on the subreddit r/dfsports, and every week linestarapp.com gives you the highest possible scoring Millionaire lineup. Visit the latter to remind you how absurd this game can be, like how you should've stacked the Lions in Week 1, how Maxx Williams was apparently the tight end to roll out in Week 2, and Mike ThaGawd White at QB in Week 8.
In this series, I'll be looking at trends that DFS players track, diving into the skill/luck dichotomy, and more.
Last five winning lineups: Week 15, Week 14, Week 13, Week 12, Week 11
WINNING STRATEGY
Joe Burrow — $5900, 41.1 points, 12.4% ownership
Joe Mixon — $6900, 31.5 pts, 7.1%
Justin Jackson — $4200, 35.2 pts, 44.6%
Ja'Marr Chase — $7100, 22.5 pts, 13.8%
Tee Higgins — $6200, 46.4 pts, 9.3%
Braxton Berrios — $3500, 15 pts, 8.3%
Mark Andrews — $7000, 29.5 pts, 8.7%
Damien Harris — $5600, 31.3 pts, 4%
Eagles DEF — $3600, 16 pts, 9.2%
Total Draftkings points — 268.5
Stack: Triple, with a runback. I don't know the last time a winning lineup used a triple stack, if ever. I haven't seen any over the past three seasons
Lineup used all $50G, the 10th time the whole cap's been used. Stack/runback used $33,100 (66.2% of the cap, $6620-per-player, my OCD likes that coincidence)
RB in the FLEX, sixth time this season, compared to eight for WR, and two for TE
Stack used Vegas' fifth-highest projected overall points game out of eleven (BAL at CIN, over/under 43)
Burrow's second appearance marks the seventh time a QB has cost at most $6700
Austin Ekeler and Rhamondre Stevenson's absence enabled the season-long trend of RB value, at only $5,567-per-RB
Only weeks 1 and 6 saw a TE cost more than $4900 until the QB-proof Mark Andrews has seen the position cost at least $5900 for the three consecutive weeks he's been in the winning lineup
Total ownership percentage: 117.4
This was the highest Milly winner point total this season, and the lowest gap between the winning score and the perfect lineup's 289.9 points, percentage-wise (21.4 points, 7.4% of the perfect lineup score)
THE SKILL
If the myth, the legend, Josh Johnson came in for Baltimore and didn't shit the bed, the favor was on Mark Andrews' side to produce once again. And then that opened the door for the Bengals offense to do more than kill the clock to leave with a W, and open up the passing game against a depleted Ravens secondary.
Absences by Ekeler and Stevenson made Justin Jackson and Damien Harris clear top candidates to fill lineups, especially Harris considering the way he ran all over the Bills the last time they met when Buffalo had no reason to expect anything other than the run.
THE LUCK
A triple stack! Should a triple stack go under the luck category? It certainly helps separate a lineup from the field. But, then again, so would a quadruple stack. You know what, fuck it, make a lineup with only players from one team, see what happens.
Also, I'd like to put Johnny Manziel under center for Mark Andrews and the Ravens and see what happens. Sure, the Bengals haven't been good this season covering TE's, but with the myth, the legend, the immortal Josh Johnson in as Ravens QB, what could the defensive game plan be other than to stop the TE who just had two monster games? Or maybe, that was the game plan and the Bengals still couldn't execute. Lesson learned…if a Kendall Hinton/Andrews stack is ever available, take it, ha.
Regardless, a kick return TD from Braxton Berrios made somebody $921,052.63 (before taxes). That objectively belongs in this category.
HIGHER-SCORING ALTERNATIVE LINEUP
Joe Burrow — $5900, 41.1 pts
Justin Jackson — $4200, 35.2
Damien Harris — $5600, 31.3
Tee Higgins — $6200, 46.4
Justin Jefferson — $8100, 22.6
Antonio Brown — $4900, 23.1
Mark Andrews — $7000, 29.5
Rex Burkhead — $4500, 31.9
Eagles DEF — $3600, 16
Salary used — $50,000
Total Points — 277.1
Have you ever just recently decided to stop playing multiple lineups, just to have one burned into your mind because you could tell you were so close to submitting that particular lineup that you could taste it?
Ah well, part of the game, right? Enough about me, on to Week 17.
Got any good Milly Maker tragedies? Feel free to post them below