Player Stock Ticker
Fantasy Football Team Preview Rankings: No. 7 Houston Texans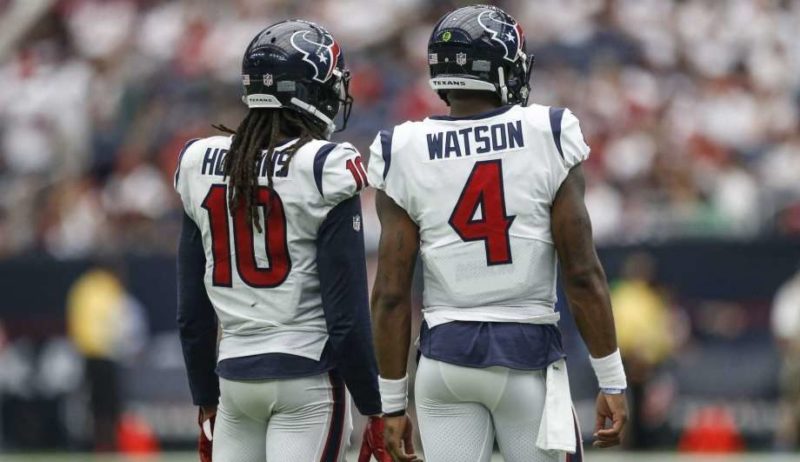 Fantasy Football Team Previews
#7 – Houston Texans
This team revolves around their franchise QB, who elevates the play of everyone else on the team. It was night and day with what this offense could accomplish once their rookie QB stepped in. Featuring one of the best receivers in the league, the aerial assault this team displays is a very welcomed sight.
QBs: Deshaun Watson (QB1)
The most polarizing fantasy QB returns from a torn ACL and finds himself atop The Wolf's draft board. Watson started slow with his first few starts, but when he got to his matchup with New England he just took off. Watson was putting up eye-popping numbers and just throwing touchdown after touchdown to the point where he was winning fantasy games all on his own. He's such an elite talent and should repeat with another beast season in 2018.
RBs: Lamar Miller (RB20), D'Onta Foreman (RB55)
With Watson slinging the rock, Lamar Miller and the running game took a back seat which was reflected in his stats. He had a solid 238 carries on the year, but a poor 3.7 YPC totaling 888 yards leaves much to be desired from a lead guy. Mix in the low touchdown totals, and there's a reason why Miller has a low ADP despite being the RB1 in Houston. What gives him some mid round value is Watson's presence. Miller performed drastically better with Watson at the helm (as most do), mostly because defenses didn't stack the box as they did with guys like Weeden or Osweiler. Watson also just opens up the field for everyone and takes some pressure off the run game.
I do think Deonta Foreman has some serous value late in drafts. He showed flashes in big plays before knocking himself out for the year with an injury.  He's also a bigger power back at 6'1 235 and I wouldn't be shocked to see him take over the starting role at some point this season. You can usually snag him in the last round or two for a deep stash as he's going to begin the year hurt.
WRs: DeAndre Hopkins (WR2), Will Fuller (WR28)
Stud receiver DeAndre Hopkins is such a beast. There's no other way to put it and his stats and play on the field back it up. 174 targets is crazy and finishing with a 96-1,378-13 stat line is absurd. To add on that, the quality of plays he makes with the absurd catches make him our WR2. He's shown that he's QB proof, but with Watson in the fold he's going to destroy secondaries this season.
In the ten games that he played, Will Fuller managed to rack up seven touchdowns and had some very serious games playing with Watson. I think Fuller is pretty underrated at this point in terms of his ADP and pairs very well with Watson's big arm. Fuller could work his way into WR2 territory, but I would feel great having him as my WR3 if it got to that.
TEs: Ryan Griffin (NR)
He's only on here because he's the starter for Houston. He didn't do much in 2017 and it's not some scrub at QB anymore dunking the short routes. Watson is slinging the rock to his talented receivers going forward.
O-Line:
Ranked as the worst offensive line in the NFL by PFF, maybe there's a reason Lamar Miller really struggled in the running game. It could be a big issue with Watson if he's getting knocked around consistently so they better improve their game or some fantasy seasons could be ruined.