Player Stock Ticker
Fantasy Football Team Preview Rankings: No. 13 Tennessee Titans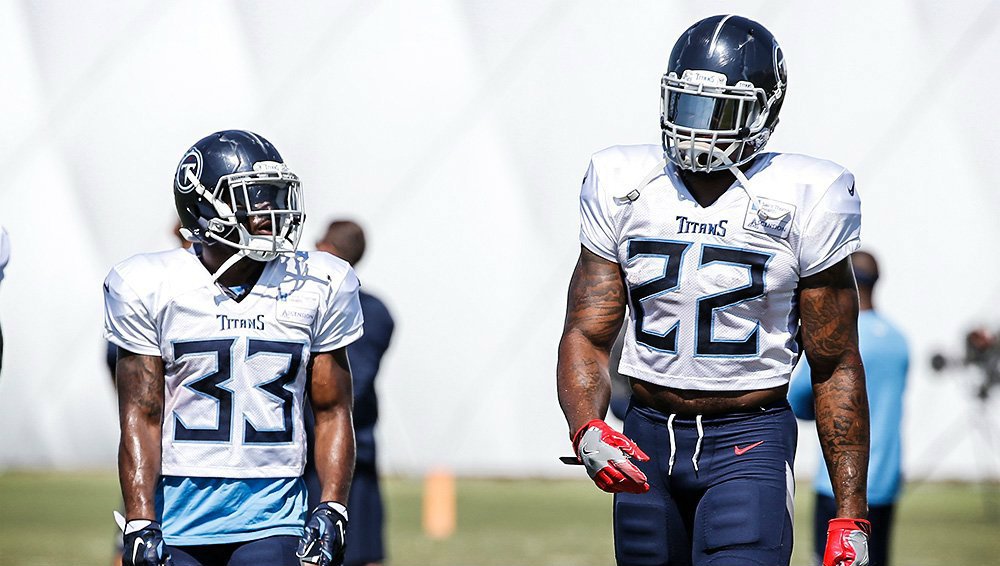 Fantasy Football Team Previews
#13 – Tennessee Titans
The Titans welcome Matt LaFleur to the organization in what should be a much improved offensive scheme for Mariota and the passing game. We were all very excited at the thought of a solo Derrick Henry backfield, only to have that ripped away and torn to shreds with a big free agency signing.
QBs: Marcus Mariota (QB18)
As excited as we all were for "Exotic Smashmouth" last year featuring the Titans two stud RBs, it killed Mariota's fantasy value. Now with Matt LaFleur in the fold running the offense, we're expecting a solid turn around for Mariota. What he needs to improve on is throwing touchdowns in the red zone. Sure his legs can make up a handful of points for him, but so many of his throws near the goal line just couldn't connect and boost his score even higher. He's got the talent and pieces around him, he is due for a solid year.
RBs: Derrick Henry (RB22), Dion Lewis (RB26)
When DeMarco Murray was released by the Titans, the nation rejoiced at the thought of having Derrick Henry the work horse in Tennessee. Then they go ahead and sign Dion Lewis. Sigh. I still think it's Henry's backfield to own. We know how much of a beast he is and he's displayed his skill for everyone to see. Unfortunately, he'll still have Lewis lurking over his shoulder and grabbing more and more touches from him and also in the receiving game. The team has mentioned Henry splitting out wide or into the slot on some plays. It's going to be a huge situation to monitor especially with both of them ranked extremely high.
WRs: Corey Davis (WR27), Taywan Taylor (WR65), Rishard Matthews (WR68), 
After his stellar performances in the playoff games, the stock for Corey Davis is going through the roof. A top ten pick in last year's draft, Davis took a while to get accustomed to the NFL and producing at a high level. We know the talent is there, and with LaFleur into the mix it should open up Mariota and the passing game. Davis has a high ceiling and has overtaken the mantle from Rishard Matthews. Matthews saw his numbers dialed back to mediocre range in 2017 to the point where he's falling off draft boards. His injury in the preseason holding him out did no favors to his draft stock either. The penny stock of the group is second year guy Taywan Taylor. He's been used in the screen game which LaFleur loves and has speed to burn. He seems like a guy that will make the most of his touches and force the team to get him the ball more often than not.
TEs: Delanie Walker (TE9)
Walker has been a Pro Bowler for three straight years and four straight years of triple digit targets. He's been Tennessee's best receiving option and is one of the premiere tight ends in football. Surely, Davis is going to start eating away into his production, but you know Walker has that chemistry with Mariota and will be a reliable player once again in 2018.
O-Line:
Tennessee has a very good offensive here ranked #5 in the NFL per PFF. The team just recently resigned Taylor Lewan and made him the highest paid offensive lineman. The team is also bolstered on the right side by Jack Conklin and Josh Kline. It's a very talented line for two great running backs to take advantage of.