Player Stock Ticker
Fantasy Football Team Preview Rankings: No. 16 Los Angeles Chargers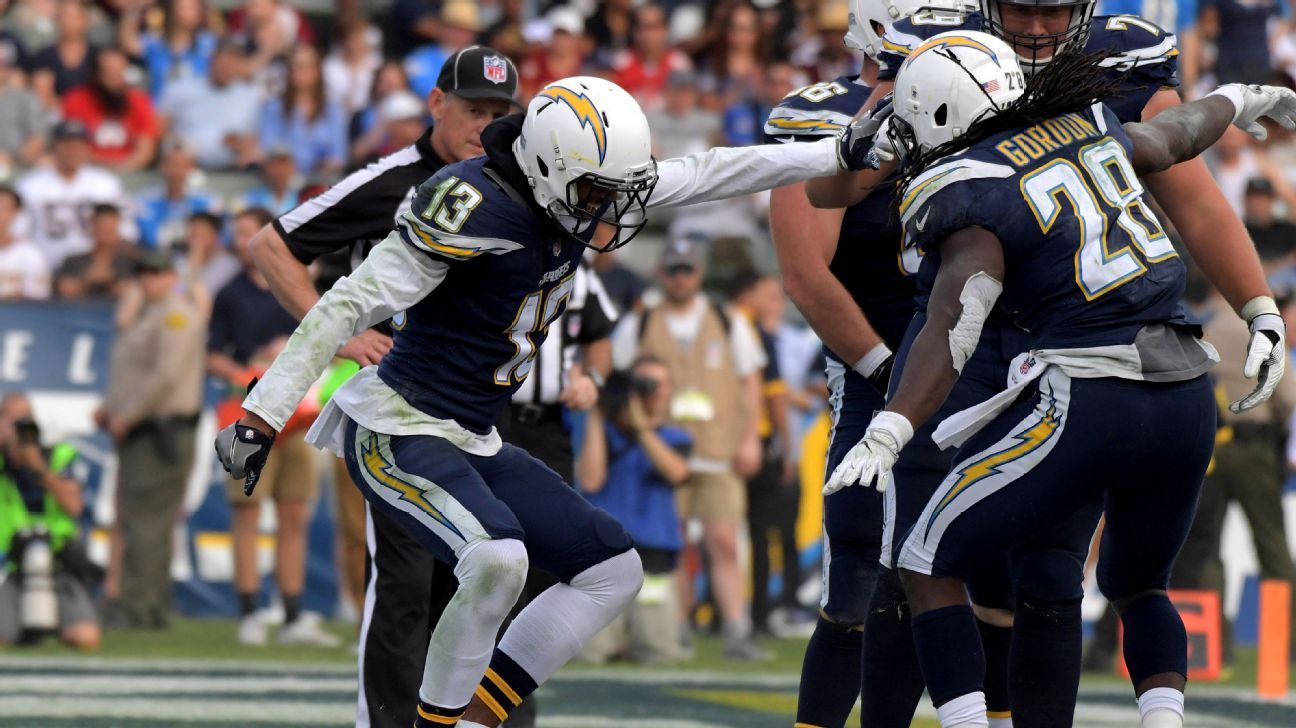 Fantasy Football Team Previews
#16 – Los Angeles Chargers
The offense features two elite fantasy players, centered on one old reliable. We had high hopes for a young and promising tight end this year, but maybe instead a forgotten receiver can step into the spotlight.
QBs: Philip Rivers (QB11)
He might have a zillion kids, but Philip Rivers continues to get the job done for fantasy owners despite always coming in around QB10-15 on pre-draft boards. The 36 year old posted another 4,500 yard season along with 28 touchdowns but is commonly being ranked close to QB15. He's the perfect example of waiting on a QB, and then in the very late rounds scooping him up and getting near QB1 production. He's an ageless wonder, although his receiving core has been depleted from injuries/retirements which hopefully don't affect his stats too much.
RBs: Melvin Gordon (RB8), Austin Ekeler (RB63)
Some thought he might have a letdown year after a stellar 2016 performance, but Melvin Gordon continued his success. He hit the 1,000 yard rushing mark for the first time with 8 rushing touchdowns, while adding 58 catches for another 4 scores. He's in the workhorse category which is special, but what makes him even better is his presence in the passing game. 83 targets last year is a GREAT number for a RB, and he's still going towards the end of the first or early second round. Very good value and a very safe pick assuming he stays healthy. He's arguably my favorite guy to target in the second half of drafts. If you do end up getting Gordon, then backup Austin Ekeler is a MUST OWN for fantasy players. The rookie last year flashed when Gordon was hurt and might get more work in 2018. Hopefully not too much more though, we like our bellcows.
WRs: Keenan Allen (WR6), Mike Williams (WR40), Tyrell Williams (WR76)
The pass catchers for the Chargers are all centered on stud Keenan Allen. A true WR1 in one of the upper tiers of fantasy receivers, he played a full 16 games last year to the tune of an absurd 159 targets going for a 102-1,393-6. Fantasy owners DROOL over targets like that because normal people play PPR leagues and the volume is most certainly there for Allen. The losses of both Hunter Henry and Antonio Gates could actually be huge for Keenan because that's another 114 targets to be spread around the offense. He's a late first round, early second round stud.
Aside from Allen, the Chargers have some serviceable pieces in their receiving core that play more of a waiver wire/weekly fill in role. The biggest penny stock comes from former Clemson stud Mike Williams who missed the entire 2017 season. The high draft pick was hoped to line up opposite Allen and form a nasty 1-2 punch. Who knows what we he'll bring to the table if healthy, but so far he's made some impressive catches thanks to his size and red zone prowess. He could be the coveted second receiver the team has been looking for. Then there's Tyrell Williams who is good for a long touchdown catch here and there in plus matchups. The two Williams' could be solid waiver adds or bye-week fill in status.
TEs: Virgil Green (NR)
It was a very sad day for the Roto Street Journal when news broke that Hunter Henry tore his ACL and would be done for the year. Antonio Gates has already retired, leaving Virgil Green as the last line of defense for the Chargers. He did nothing for the Broncos, and despite the large number of targets left void by Henry and Gates, I'm not expecting much of anything from Green this season.
O-Line:
Ranked #23 by ProFootballFocus, the Chargers have a lot to be desired from their offensive line. Forrest Lamp will hopefully be a big addition now, and the team brought in center Mike Pouncey from Miami this offseason. They couldn't have been much worse last year, so the only way to go for this unit is up.