Player Stock Ticker
Fantasy Football Team Preview Rankings: No. 18 Denver Broncos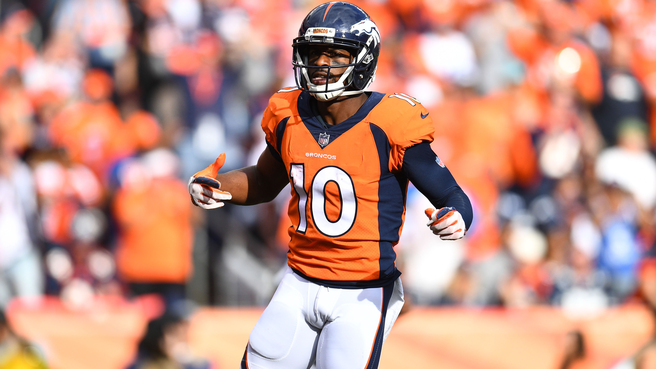 Fantasy Football Team Previews
#18 – Denver Broncos
The Broncos finally went out and got themselves a QB. However, it doesn't seem like Keenum is really the answer to bring their stud WR's back into stardom. The running back situation will be one to monitor as people have high hopes for the rookie if the coaches decide to unleash him instead of going with a committee.
QBs: Case Keenum (QB28)
The big move Denver made this offseason was grabbing Case Keenum from Minnesota to try and finally solve the Broncos QB woes. Keenum was a solid QB, but he wasn't anything spectacular in a fantasy sense. Now he's downgrading from top notch weapons in Minnesota to some aging veterans in Denver. I'm not sold on Keenum's value in Denver, and I'll be staying away in drafts.
RBs: Royce Freeman (RB23), Devonta Booker (RB56)
The Broncos drafted rookie Royce Freeman out of Oregon to essentially be their lead back going forward. However, Broncos coaches have said they expect to use multiple backs in their rotation meaning that Devonta Booker was thought to play a significant role early on. That's gone completely out the window. Booker did absolutely nothing with his chance, while Freeman has more than flourished in his time thus far. Freeman is breaking off numerous long runs and converting his touchdown chances. He's looked great and is flying up draft boards as a potential bell cow in Denver. He's clearly more talented and that should translate going forward.
WRs: Emmanuel Sanders (WR20), Demaryius Thomas (WR33)
The dynamic duo of Thomas and Sanders finally get themselves a QB who is going to be capable of getting them the ball. Demaryius Thomas figures to fit into the role of Stefon Diggs as the big play guy, with Emmanuel Sanders being the Adam Thielen slot guy racking up the receptions. Keenum is arguably the best QB these two have played with since Peyton Manning, which is a little alarming knowing its Case freaking Keenum. The ranking for Thomas is lower than most pretty much because The Wolf thinks he's a soft vegan puss, and I'm not sure he's wrong either. He hasn't been playing in preseason, which has allowed Sanders to launch his stock way up the board. Sanders is playing that slot role Thielen had to a "T" and is feasting in preseason action. Sanders has the highest target percentage of all receivers from their starting QB thus far in action as Keenum loves getting him the ball. Sanders even took an end around 30ish yards to the house for a score. He's become a force and is likely to see his ADP climb.
TEs: Jake Butt (TE25)
Jake didn't play a snap in 2017, and seems to be the top tight end left in Denver. He's not being drafted in fantasy leagues, he's probably not worthy of being in these articles, but hey, someone has to fill in this spot. It would be great if he just comes out of nowhere and I just end up looking like a fool. I'll take my chances though.
O-Line:
Denver has an average offensive line with a few good pieces. There's nothing special to write home about, but they aren't terrible to the point where it's a detriment. The definition of average.