Player Stock Ticker
Fantasy Football Team Preview Rankings: No. 19 Oakland Raiders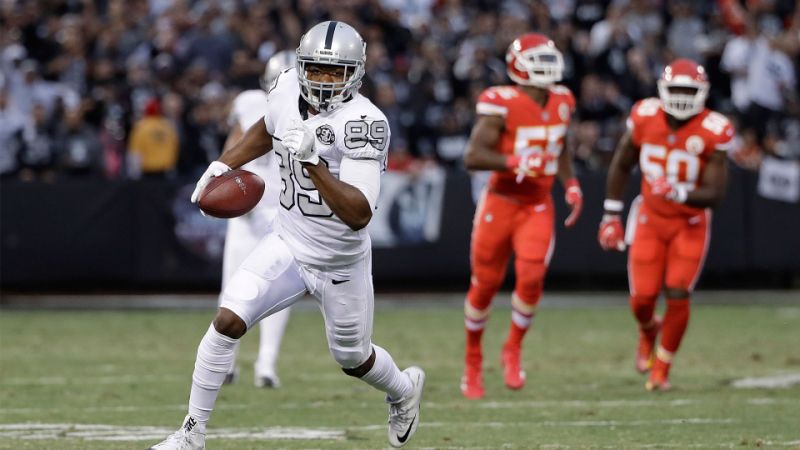 Fantasy Football Team Previews
#19 – Oakland Raiders
The Raiders may have been the biggest disappointment in 2017 all around. With new coach Jon Gruden in the wings, can he resurrect the offense and potential of his elite WR back into one of the league's best teams?
QBs: Derek Carr (QB24)
The Oakland Raiders along with QB Derek Carr had extremely high hopes in 2017 after a broken leg derailed both the two's seasons in what was an MVP caliber run. Both his yardage and touchdown totals dipped from the prior year and the offense as a whole just really struggled to get anything going. He was a sleeper last year for many people, but his stock has now quieted into a whisper or just pure silence.
RBs: Marshawn Lynch (RB24), Doug Martin (RB66), Jalen Richard (RB70), DeAndre Washington (RB74)
Both of these guys also had big promise going into 2017 and both were major letdowns. Age has caught up to Lynch who is now a crazy (for NFL RBs) 32 years old despite coming close to 900 rushing yards last year. You would think Lynch handles the goal line work as a power back so he could have some value assuming he has a nose for the end zone. He actually ripped off a long touchdown run in the first preseason game where his speed looked like something we hadn't seen from him in some time. He was running like the old Beast Mode, unfortunately that run came back on a holding call. There were signs of life in that appearance where he could have some sneaky upside now that he's reportedly back in top shape unlike last year.
Speaking of letdown year, Doug Martin totally flopped in what we thought would be a dream scenario. The suspension was going to drive down his stock and he'd return as a beast RB2. Unfortunately, none of that happened and Muscle Hamster owners were left sitting with their puds in their hands. Now he'll be playing second fiddle to Beast Mode after failing to record 500 rushing yards in a backfield all to himself. The other two backs figure to see little action unless for injury.
WRs: Amari Cooper (WR12), Jordy Nelson (WR44), Martavis Bryant (WR82)
If there's hope for this Oakland offense, it's from stud receiver Amari Cooper and the new presence of Jon Gruden. Cooper had a pretty awful 2017 year aside from one TNF game after garnering high praise in predraft rankings. His targets dropped considerably as did his receptions and yardage. Oddly enough, his touchdown total went up by one. Still, it was very underwhelming for Cooper owners. The team lost Crabtree in the offseason, but did bring in Jordy Nelson and Martavis Bryant respectively. Both of these guys are big question marks in 2018. With Cooper though, the encouraging sign comes from the history of Jon Gruden. Gruden has produced a 1,000 yard receiver in every year as a HC, which bodes well for Cooper. Amari has made some spectacular catches already this preseason and is trending in the right direction.
In Nelson's case, he's getting up there in age. Now at 33, he saw his numbers fall off a cliff in 2017 for which some of the blame could be put on having Brett Hundley throwing the ball most of the year. Still, serious arguments could be made that Nelson had the best 2016 season for WRs, working his way into Round 1 territory only to come out with a 53-482-6 line. Now he's downgraded at QB and stuck behind a younger stud, it's hard to envision a ton of success for Jordy. We still haven't even touched on Bryant. Another big swing and miss by the RSJ last season, Bryant did little to nothing as he was left spitting the pieces of dust Juju Smith-Schuster left in his mouth as he blew right past him. Right idea, wrong player. Now Bryant is looking like another WR3 in a weaker offense. Hard sell on him in Oakland for 2018.
TEs: Jared Cook (TE28)
"Nothing special", is an accurate term to explain Jared Cook's 2017 season. The target numbers weren't bad, and the reception/yardage totals were okay but the two touchdowns aren't going to get it done. Tight ends aren't supposed to be massive target hogs, but you make up for that with a decent number of touchdowns in the red zone. He won't be ranked much higher until he improves in that area.
O-Line:
What's annoying here is Oakland has one of the better offensive lines in the NFL. Ranked #7 by PFF, this should be awesome for Beast Mode and company to establish the run and move the offense down the field. Oakland also snagged UCLA tackle Kolton Miller with their first pick to add to an already solid line. Hopefully the team can figure it out.