Player Stock Ticker
Fantasy Football Team Preview Rankings: No. 26 Dallas Cowboys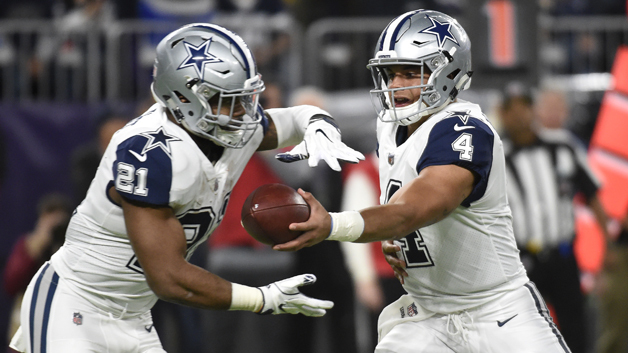 Fantasy Football Team Previews
#26 – Dallas Cowboys
Losses of Dez Bryant and Jason Witten are sure to play a significant role for the 2018 Dallas Cowboys. They will live and die by the legs of Ezekiel Elliott and their offensive line hoping to push them back into the playoffs.
QBs: Dak Prescott (QB24)
I'm not entirely sold on the fact that Dak Prescott is a good quarterback. He had a great stretch in 2016, but the receiving talent on this team has been severely depleted and he had such a rocky 2017 year. I'll be staying far away from Dak who's team did little to help pad the loss of two all-pro receivers.
RBs: Ezekiel Elliott (RB2), Tavon Austin (NR)
Hopefully he can manage to stay on the field for an entire season this year, because Ezekiel Elliott is a HORSE. With the departures to the receiving core, I'd expect Zeke to get a ton of touches this year — and hopefully more through the air. He can certainly handle those, as he's had plenty of time to rest between his suspension and the Cowboys not making the playoffs. One of the elite players in all of fantasy football, Zeke should be gone by pick #5 at the latest.
Dallas did acquire Tavon Austin this offseason and said he will play a role backing up Zeke on passing downs. I do not believe this one bit, he might get some receiving work in, but I don't see him taking away 10+ touches for Zeke every game. That would be so stupid. If anything, grab Rod Smith as a handcuff for Zeke.
WRs: Michael Gallup (WR53), Allen Hurns (WR55), Terrance Williams (NR), Cole Beasley (NR)
Obviously the loss of Dez Bryant is huge to Dallas' offensive look. He was a red zone nightmare and clearly the #1 target in the passing game. Now the Cowboys are left with a bunch of average guys to catch balls for the few plays where Zeke isn't handed the ball. Allen Hurns was a nice signing that you would think assumes the WR1 role for the team. Not so fast though. Rookie Michael Gallup will be thrown into the fire as well and has impressed so far in camp and preseason. He started as a good later round receiver to target but is starting to move up draft boards with his play. Terrance Williams has had his moments here and there, but I think Cole Beasley could be a great penny stock. He has the rapport with Dak and has proven to be a contributor for Dallas in the past. With so many unknowns, he's a familiar face that could stick out early.
TEs: Blake Jarwin (TE24)
Before the preseason even started, I had never heard of the creature known as Blake Jarwin. Now, he's racking in such a high percentage of Prescott's targets in preseason games, and you have to stop and think that a creature this grotesque might become a penny stock filling in Witten's old role.
O-Line:
We all know about the Dallas offensive line and how great it is, which helped to bump the Cowboys up a few spots in the team rankings here. Ranked #2 overall, the three all-pro linemen are enough to keep Dak upright for a long time and for Zeke to eat his way downfield for hopefully lots of points this season.