Player Stock Ticker
Fantasy Football Week 17: Who's Resting Their Starters?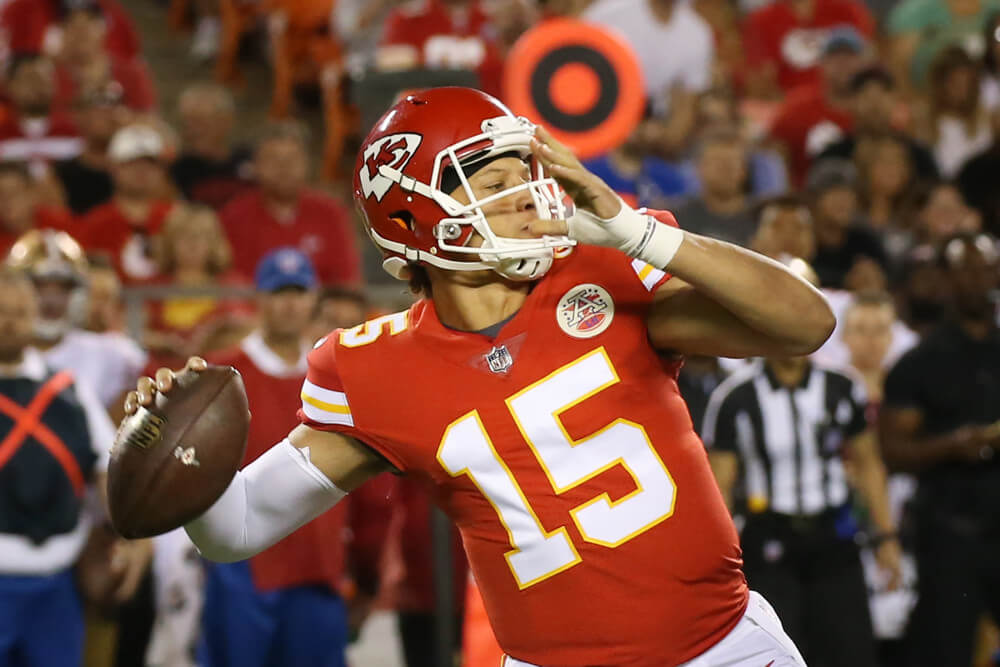 If you're in a league where your hard earned money is on the line and it all comes down to Week 17… you should have your commissioner impeached immediately. If you're the commish, you should stop reading this article and log off our website. Go listen to @FantasyMansion's podcast or watch Matthew Berry on ESPN, because we don't want you here. But if it's not your fault and you are just trying to win a championship, we'll fill you in on how much you'll have to rearrange your lineup for Week 17, where the majority of the teams don't give a shit anymore.
Check back here and on Twitter/Instagram for further developments on who will sit out Week 17.
What we know in the AFC
The Patriots and the Steelers are vying for the No. 1 seed in the AFC. The Patriots square off against the lowly Jets, while the Steelers take on the pathetic Browns. Even though their opponents suck, they're still going to play their starters since they're playing at the same time and need to win their respective games.
12/28 UPDATE:
Marcus Gilbert tells our @TimBenzPGH that the Steelers won't play Ben Roethlisberger or Le'Veon Bell in finale vs. Cleveland

— Joe Rutter (@tribjoerutter) December 28, 2017
Even with the Jaguars locked into the No. 3 seed, they're coming off a lashing by Jimmy GQ. Head coach Doug Marrone knows his team cannot stumble into their first playoff game in a long time.  "Make no mistake about it, just so there is not a lot of talk during the week: When the players come in (Wednesday), we are talking about how we are going to play to win and do everything we possibly can to win this game, period," Marrone said. "I am not even thinking about what happens beyond that, and that is the way we are going to go about our business this week." Even though Marrone claims he'll play his starters, it wouldn't surprise us if Leonard Fournette was scratched in order to protect their oft-injured star running back. If that's the case, Chris Ivory ($4,000 on DraftKings) and TJ Yeldon ($3,900) would get Fournette's work.
The Chiefs are locked into the No. 4 seed and Andy Reid is already on record that Patrick Mahomes ($4,700) will be the Week 17 starter. Mahomes possesses a rocket launcher for an arm, but it would surprise us to see it in use with speedster Tyreek Hill, who could see a series or two, but nothing too much. After getting a bunch of carries the last few weeks, Kareem Hunt should get a seat on the bench, meaning there will be a lot of Charcandrick West ($4,400) and even DeMarcus Robinson ($3,000) could get touches out of the backfield.
The Ravens and Titans control their own destiny and are both in with a win. These two squads will obviously be heavily motivated and would be good plays in DFS. If the obnoxious and injured DeMarco Murray sits with a THIRD DEGREE MCL TEAR, Derrick Henry ($5,500) would be a DFS lock. If he continues to be petrified of Henry taking his spot and plays through the pain, the Titans backfield will be a headache per usual.
The Chargers and Bills are still in the playoff hunt, but they need to win and get some help to get in. This means they'll both be balls to the wall with their starters to put themselves in the best position to make the postseason. As of now, Melvin Gordon is dealing with a sprained ankle, but he's optimistic about playing on Sunday. If he can't go, Branden Oliver ($4,000) would likely get the bulk of the carries with Austin Ekeler questionable to play. From the #BillsMafia point of view, LeSean McCoy ($8,000) would be an excellent DFS option, since they'll likely ride their horse with their season on the line.
12/28 UPDATE: DeAndre Hopkins expected to miss Week 17 with calf injury
What we know in the NFC
As we know, the Eagles have completely locked up the No. 1 seed. But since they're in a weird spot at the most important position, Nick Foles ($6,400) should continue to develop some chemistry with his receivers. Still, I wouldn't trust any of the Eagles starters in this meaningless Week 17 matchup.
Luckily for us, the Vikings need to win this week to clinch a first round bye. Since they need to win, feel confident in all of their offensive starters.
For some reason, Sean McVay believes that the Rams can win either at home or on the road in the playoffs, so he's benching Jared Goff, Todd Gurley, Andrew Whitworth and a few more key starters. This is the first questionable move of McVay's short head coaching career, and he could get hit with some #NFLKarma. Imagine the sucker in his Week 17 championship who rode Gurley all season, just for him to sit out the title game? DON'T BE THAT GUY. However, in DFS, Malcolm Brown ($3900) becomes a very viable "Punt RB" play as the expected starter. Hell, even Sean Mannion ($4500) and Josh Reynolds ($3000) could make the ultimate "bargain stack" if the starting receivers take a seat on the bench. Even though we don't love the decision by McVay, we believe in him with the backups and think this offense could still perform at least decently against a horrendous 49ers defense.
The Saints need to win to get their first round playoff game in the dome, so they'll have their foot to the throttle against the Bucs. Feel confident in rolling out Drew Brees ($6,500), the two-headed backfield and @CantGuardMike ($7,700) against the porous Bucs secondary.
The Panthers have clinched a playoff berth, but they could sneak into the two seed, or fall to the fifth seed this week. Cam Newton ($6,800) and the rest of the offense will look to light it up against the Falcons, who are vying for a playoff spot.
The aforementioned Falcons are in with a win over the Panthers. Matt Ryan ($5,900) and Julio Jones ($8,200) will look to take advantage of a suddenly shitty Panthers secondary. There should be some points scored in this game.
The Seahawks need a win over the Cardinals, and a Falcons loss to get into the playoffs. With both the Seahawks and the Falcons playing at 4:25 PM, both offenses will be highly motivated to put up points.
What we don't know 
So what really sucks about having your championship in Week 17, is the uncertainty of the motivation of the shitty teams who aren't in playoff contention. Is Player A in a contract year and wants to put up numbers in Week 17? Does Player B give a shit? Is Player C the franchise quarterback and his coach doesn't want to risk injury? For these teams, give us a follow on Twitter and Instagram and we'll be sure to keep you updated on their statuses.